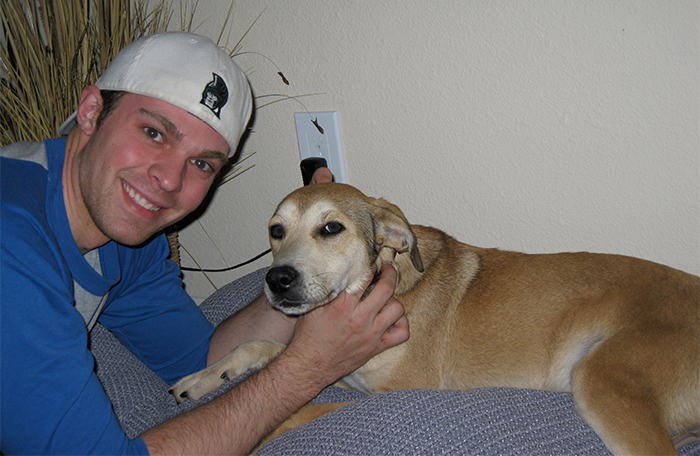 TULLY'S TAILS
One TV Anchor's Pet Adoption Story
By James Tully
"OK, can you show me the ones that have been here a while?"
A sentence that genuinely changed my life.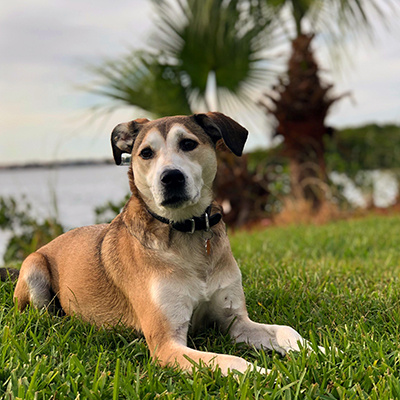 It was the winter of 2011, and I was working for the local FOX affiliate in Tulsa, Oklahoma, as a do-everything reporter. I did sports news on the weekends, but I'd rummage through any publication I could find for story ideas to pitch in editorial meetings during the week.
One morning, I found some write-ups in a local paper about overcrowding issues at local shelters. At the time, Tulsa had many problems managing stray dogs and cats. I pitched the story successfully, which I may add was rare back in those days, and I hit the road with a photographer. 
LACKING THE SPACE
The Tulsa Animal Welfare Center had well over 10,000 square feet of space dedicated to taking in strays and abandoned dogs and cats. Unfortunately, I wasn't informed about how the process worked, so I asked the shelter's director what happened to these dogs and cats. But I wasn't ready for the answer.
"Well, we're called a kill shelter, so on Mondays, we close the facility and have no choice but to euthanize several of the animals that have been here for at least 30 days."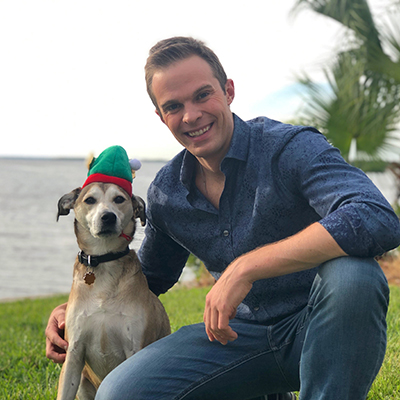 "There's no other option?" I remember replying.
"No, we need funding to expand this facility. It's a space issue. We want to keep them all, truly we do, but it's necessary so we can keep functioning."
Acting as impulsively as I ever have, I asked, "Can you show me the ones that have been here a while?"
I'll never forget the long walk down the corridors of cages, each one housing a uniquely different but beautiful mixed breed dog. Many were barking. Others I locked eyes with had a look that I can only describe as innocent, scared, and welcoming all at the same time. If you've ever walked through a shelter, you could understand; it's simply hard to describe.
I FOUND DUSTY
At the end was a set of cages with the dogs set to be euthanized in the next 48 hours. That's where I found my most loyal companion. That's where I found Dusty.
The shelter veterinarian picked him up on the side of a road, no collar, no microchip. Nobody knew anything about his past. He was just six months old.
Today, Dusty (the name the shelter gave him stuck because, well, he's a Dusty) is 11 years old, living with me, my girlfriend, and our two other rescue dogs Darcy and Zoey, in Tampa, Florida. Born out of my experience that day, I am a proud advocate for rescue animals. I always will be.
That's my rescue story and the inspiration behind Tully's Tails, which I created to share—along with your pet adoption story.
Every weekday morning, I anchor Good Morning Tampa Bay on ABC. On Mondays, we broadcast a new episode of Tully's Tails, in which one of our viewers gets to tell us about how much their rescue pet has changed their lives for the better. We also use that time to spotlight one adoptable pet from Pet Pal Animal Shelter in St. Petersburg, Florida.
I'm grateful to air heartwarming animal rescue stories, devoted pet parents, and their beloved companions and do my part to help many more deserving pets find their forever homes.
To submit your story for Tully's Tails, email James.Tully@wfts.com. Or join the Tully's Tails Facebook group or follow me at @jamestullytv on Instagram and Twitter and send me a message.