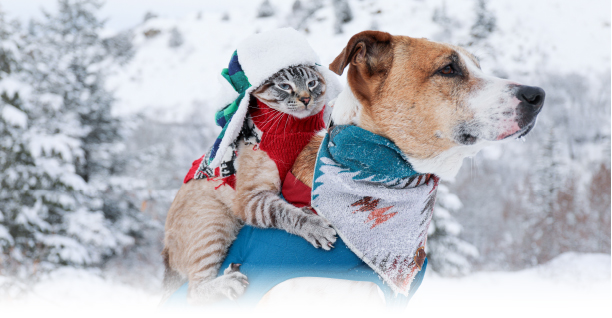 HENRY & BALOO
The Unlikeliest Best Friends
By Melanie Carden
With over 2.2 million followers on Instagram, you likely already know Henry and Baloo, the adventuring dog and cat besties. In addition, the beloved buddies—both rescue pets—have been featured on TV shows, including The Drew Barrymore Show, Good Morning America, and publications such as People, Shape, US Weekly, and many more.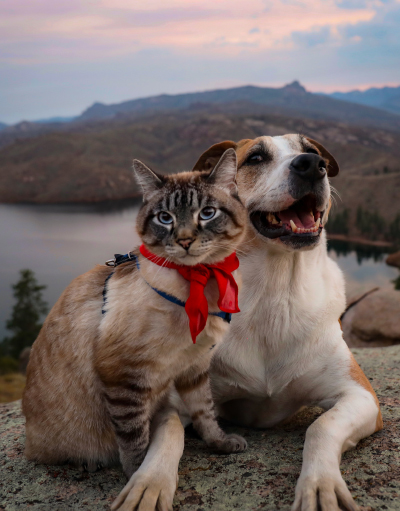 Pet Lifestyles met up with the owner, Cynthia Bennett, who gave us the inside scoop on life behind the scenes and all their adventures.
Can you share how they became so close? Did it just happen instantly? 
Henry, our dog, had issues with separation anxiety for his first few years. We tried everything we could, but eventually, we settled on getting him a friend to help keep him company when we were away, and Baloo was that friend. It only took them a day or two to become inseparable. Baloo was part of an abandoned litter, and he immediately attached himself to Henry. It was simply perfect because they both needed each other. One of the cutest things that happened is Baloo trying to nurse on Henry. Of course, it didn't go over too well, but it did make it obvious how close they would become. 
How did Baloo start hiking and adventuring with you and Henry?
He was adopted from a rescue here in Colorado and went for his first hike in Golden a few days after coming home. Another two days later, he was on his way to Telluride, Colorado, for a backcountry camping and hiking trip with Henry and me. He loves the car and hiking, and camping. The only thing he finds even remotely concerning is the sound of loud/fast rushing water.
How have the outings shaped your relationship with each other?
It brings us together. When you are out on the trails or in the mountains, there is nothing more important than your pack. It helps us all stay bonded and connected. The need to trust and depend on each other is hard to foster but easy to find when your pack is all you have.

For more information about Henry & Baloo, visit ourwildtails.com. Also available on the website is the book; 5 percent of each purchase goes to the Henry and Baloo Foundation.
Did the social media following grow over time, or would you say there was one post that seemed to be the one to go viral and jumpstart the process?
Henry was the sole subject of the account for three years and had accrued around 30k followers. Once we got Baloo, things grew exponentially, especially after the Cat Hat picture taken at Great Sand Dunes National Park.
What advice do you have for people adventuring with their pets? 
Start them early, stay safe and positive, and bring all the needed first aid and camping equipment. Healthy food is very motivating. Baloo loves chicken and deli meat
Inspired by your outdoor adventures, you started a foundation. Tell us a little about that.
The Henry and Baloo Foundation is a 501(C)3 nonprofit dedicated to preserving land in the American West. Our mission is to protect open land in perpetuity, freeing it from political and commercial interests. Nature has become such an essential part of our lives. We wanted to do more to help protect it. Seeing places, we loved and landscapes we thought were protected be sold to the highest bidder was gut-wrenching, so we decided to do something about it!
The Henry and Baloo Foundation directly purchases and permanently preserves open land in the American West. We are protecting acquired parcels of land in perpetuity by placing conservation easements on them which "run with the land," binding the original owner and, more importantly, all subsequent owners to the easement's restrictions.
Our goal is to conserve land and protect the wildlife that calls it home from changing governments and unrelenting corporate interests. Land can't be created, so it's crucial we preserve the little we have left. With your help, the H+B foundation will work to save as many forests, rivers, and canyons as possible.
You also authored a book, Our Wild Tails. Tell us more.
We received so many questions about how this all began and how they bonded to each other. So, we wanted to share it with our followers. The 150+ never seen pictures are just a bonus, and we still have yet to share hardly any of them.