CHICKEN SOUP FOR THE SOUL'S
EVA LA RUE AND THE ANIMALS SHE LOVES
By KC Jones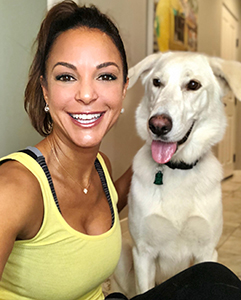 Eva LaRue, actress and host of Chicken Soup for the Soul's Animal Tales recently adopted Cali, a German Shepard Lab mix. Already having two other pups, Bingo the Schnauzer Poodle mix and Cholula the Teacup Pomeranian, life in quarantine has been eventful.
Eva's love for animals goes back to childhood. In rural southern California she grew up always having at least one animal in the house. There were ponies, dogs, cats, geese, bunnies, a goat that had triplets, a peacock that eventually flew away and a tortoise who would dig his way into neighbors yards that she called Tortoise Stew.
Bingo, the oldest, joined the family shortly after her daughter Kaya did. "He is super smart. It's almost as if he feels the guilt for other dogs. If another dog does something, Bingo will come and apologize." Cholula, who's seven years old, gets her name from the hot sauce that appears to have spilled on her furry white coat. She is a total diva, LaRue shares, a yapper and "she may be the smallest, but she runs the house."
Cali is the puppy and is Eva's late ex-husband's baby girl. John Callahan's passing was devastating and unexpected, not that anything prepares you for loss. Cali arrived "distressed and would walk in circles, she couldn't seem to relax." As Eva and Kaya have been dealing with their own grief, Cali in a way has been a beautiful distraction. The pup, just shy of 2, needed a lot of love and attention. After a month in her new home Cali has begun to acclimate and "every day she's a little better and a little calmer."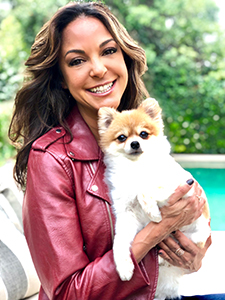 Cali's arrival has been a special extra helping of love and laughter. Cholula is still warming up to her. "Being a puppy full of energy she just wants to play, Cholula, eh, not so much and Bingo feels the need to protect Cholula." The territory markings became power moves between dogs. Bingo and Cholula needing to reclaim what's theirs and Cali needing to mark her new home. The idea of leaving them alone together is far off but for now the long drives as a family are reminders of gratitude.
Eva's time in quarantine with her pups "has been so layered," she says. "Interesting and kind of a magical run down memory lane." Longtime friends and colleagues from All My Children have been so supportive and comforting. She's focusing on the blessings in all of this. "Kaya not having to physically get up and go to school — The day we held a private zoom memorial it happened to be the one year anniversary of my dad's passing." This time has allotted many "lessons of self -forgiveness," she reveals candidly. "We're all being pushed, tried to our breaking points, and some are being handed more than others, but being present — being able to spend quality time as a family — that mindset is what makes it feel less permanent."
She adds, with a sense of purpose, "I can do this right now, maybe not forever, but right now, I got this."  Having a home full of loving animals is the glue that holds it all together. The unconditional love and unwavering loyalty of our furry friends keep us going, she believes, as it provides just enough strength to somehow get us through even the hottest of fires.