The Tale Of Two Angels
Fran Drescher and The Rescue Dog Who Rescued Her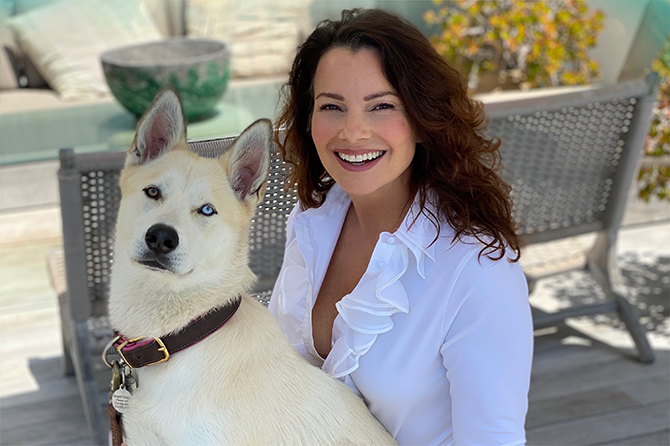 ©Peter Marc Jacobson
By Melissa Clark
She springs up on your screen, and within seconds, her compassion, humor, allure, and yes, above all, talent radiates through your heart. There is hardly a corner of the globe that does not know her—and love her.
A REAL-LIFE ANGEL
It is hard to believe that Fran Drescher has been in show business for over four decades; in fact, the screen appearance that started the buzz was in 1977's Saturday Night Fever. And like fine wine, the celebrated Nanny Fine gets better with age. Life lessons have taught her to prevail against all the odds. Her humility keeps her grounded. The 2020 pandemic even had an upside for Drescher: the addition of a real-life Angel—a furry, four-legged one at that!
Surprisingly Drescher discovered her love for animals when she found the charm of teddy bear-looking Pomeranians irresistible. How did this romance start? With Chester, whom we all know from her hit show The Nanny. Then there was Esther, whom Drescher refers to as a "living saint." Most recently, her beloved Samson sadly passed at less than seven years old. Losing Samson so suddenly was shocking to Drescher. The terrible anguish that followed was debilitating. Lamenting the loss of her sweet boy, Drescher lifted her arms to the heavens and pleaded with God to give her strength to overcome her pain. She asked Him to show her the way. Well, it appears He was listening. Out of nowhere, it seemed, she found the motivation to get up out of bed. What is the first thing she did? She turned her computer on and went to petfinder.com. There she would discover her Angel.
AGWC Rockin' Rescue in Woodland Hills, California had a German Shepherd/Husky mix up for adoption. Snowy, as the shelter dubbed this extraordinary dog, had been hit by a vehicle leaving the poor pup with a severed shoulder and a broken leg. At high risk of being put down due to her injuries, Snowy's luck took a turn: AGWC saved her life. She earned her reprieve on the same day that Drescher realized that rescuing a dog would be her way of healing. The posting on petfinder.com caught her eye. Learning of this dog's miraculous story of survival, she knew she had to meet her.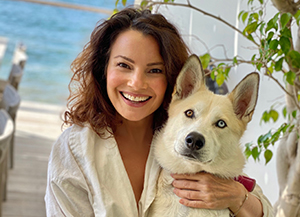 ©Peter Marc Jacobson
SIGNS ALONG THE WAY
En route to the rescue, Drescher noticed posters promoting adoption, and even a stranger praising her for her goodness. All these signs pointed to bringing this dog home. She explains, "My friend and I stopped for coffee. The barista handed me my coffee saying, 'It's on me because you are good…'" At that moment, still struggling with grief, she sensed the universe was pointing her in a specific direction. It was as if Samson was telling her: It is time to let go. Be open. Find a new dog who needs your love.
When Drescher arrived at Rockin Rescue, she requested to meet the one-and-a-half-year-old Snowy. It was barely a heartbeat before they fell in love. Within moments of setting eyes on each other, Snowy knocked her to the floor and started kissing her face. Instantly they were "long lost pals."
Fabienne Origer, manager of AGWC explains, "We appreciate the time Ms. Drescher spent here at the rescue to bond with Snowy. Her kindness, her generosity—she is amazing." Even if the adopting pet parent is a celebrity, the shelter has a protocol to ensure their rescues are going to a safe environment. And Fran Drescher was no exception. Origer adds, "Ms. Drescher was so gracious to let us into her home. We couldn't be more satisfied with this adoption which enabled us to release an animal to someone who will take such great care."
THE PERFECT TIME
What's so extraordinary about Angel Grace Drescher (Snowy's new name) is that this almost 60-pound beauty is a survivor, unique not only in her own life story but also with her dual-colored eyes, one light blue, the other brown.
Like any miracle, Angel came into Drescher's life at the perfect time, just days before California went into pandemic lockdown. Quarantine has given these two time and space to learn how to co-exist. Happily, long walks on the beach at Drescher's Malibu home have become a welcome routine. With each day, Drescher gets to know Angel Grace's strength (emotional and physical) as Angel encourages her mom to release the past and embrace their future together. A match made in heaven!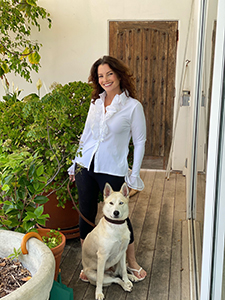 ©Peter Marc Jacobson
So, what does a health-conscious, organic lifestyle-committed, cancer-surviving Drescher feed her Angel? Well, she cooks for her little girl. She makes organic yams, vegetables, rice, pasta, pumpkin, and wild organic buffalo. It's a stew so natural, healthy, and tasty that humans would enjoy consuming it too. She also adds supplements with organic vitamins, probiotics, and ground organic eggshells. Angel Grace Drescher is one lucky dog! Well, when your mom is the founder of The Cancer Schmancer Movement, what dog would expect anything less than nutritious, delicious and oh so good for you food?
GIVING BACK
The diagnosis came at the age of 42: Stage 1 Uterine Cancer.
But the road to recovery was not smooth. There were false turns, misleading medical advice, and the devastating result: A radical hysterectomy. After her experience, Drescher made a vow to empower people to live cleaner, healthier lives. On June 21, 2007, The Cancer Schmancer Movement was established; made official on the anniversary of the surgery that began Drescher's recuperation from this, as she puts it, "dis-ease."
Venturing around the world, sharing her experience, and helping many maintain a holistic way of life, Cancer Schmancer has held Master Summit Classes since 2015. Drescher, Executive Director Susan Holland, and their team work closely with leading medical experts to address how the benefits of a toxic-free lifestyle help sustain wellbeing. Annually, Cancer Schmancer hosts a Cabaret Dinner Cruise in New York City, bringing together a wonderful community of friends, family, and survivors alike with Drescher and her team out for a joyful time. There is delicious food, cocktails, live entertainment, informative discussion, and a chance to meet new people facing similar encounters with cancer. A new addition to the Cancer Schmancer website is Corona Care 4 You a video series hosted by Drescher addressing topics not served by the conventional news media in this time of fear and confusion.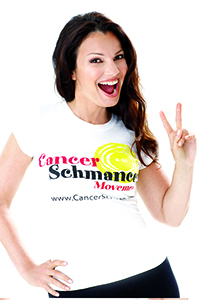 THE GOOD FIGHT
The New York Times bestselling author of Enter Whining (1996) and Cancer Schmancer (2002), head of a renowned cancer-fighting organization, award-winning philanthropist, and now owner of a prize rescue dog (her first), Fran Drescher is genuinely Wonder Woman.
Life has certainly thrown us all a curveball with the pandemic, she acknowledges, but with the country gradually opening, she hopes that the worst is behind us. Says Drescher of her plans for the future, "I am going to be even more aware of the health of my immune system. I think back to my travels, my meet-and-greets, it amazes me that I came home without getting sick. If there is one thing for sure, I do miss being surrounded by my close friends and loved ones."
With her pup Angel by her side, Fran Drescher is not alone. She's ready to love and to fight. Her love for Angel and their bond gives her the strength to fight against cancer. Her heart breaks as she acknowledges the many affected by COVID-19. But these tragic circumstances only increase her determination to do her best to make the world a safer, healthier place for us all.
---
FRAN DRESCHER TV STAR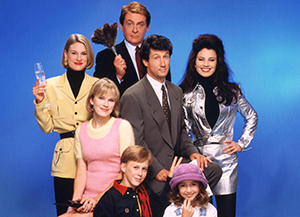 THE NANNY
We got to know and love Fran Drescher as The Nanny, the star of the 90s CBS-TV hit sitcom. Funny, romantic, surprising, and full of unexpected humor, she played a sassy, brassy 30-something, a Jewish fashionista from Flushing, New York who finds love and a job caring for three children born of British high society. This award-winning comedy riveted America and much of the world. Created and produced by Drescher and her husband Peter Marc Jacobson, it's authenticity was its charm as much of its inspiration came from Drescher's personal life growing up in Queens, involving names and characteristics based on her relatives and friends.
---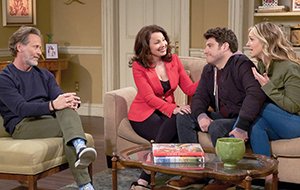 INDEBTED
This multi-generational comedy starring Fran Drescher and Adam Pall premiered on NBC-TV in February 2020. Timely and topical the show follows young parents Dave and Rebecca ready to reclaim their life after years of diapers and sleepless nights. However, things take an unexpected turn when Dave's parents show up unannounced and broke, leaving Dave with no choice but to open the door to the people who gave him everything. But these boomerang parents aren't great with boundaries and the question of who's parenting who quickly becomes blurred.