GEORGINA BLOOMBERG
FROM ANIMAL LOVER TO ANIMAL ACTIVIST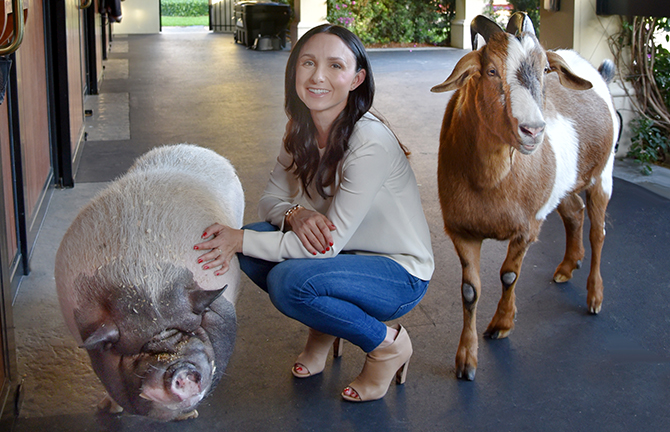 By Lori Zelenko
She's been known to leave a glittering Manhattan gala in the back seat of a cop car, rushing to the aid of an animal in need. You can find her in Florida, not chilling by the pool, but on her knees, nose to nose with her black and white pig, Wilbur. Of course, she's a champion equestrian winning (and losing) competitions the world over but what does she love to do most? Nurture her "pack," five dogs of her own - Rocky, Mona, Chopper, Bingo and Arnie, a few fosters, a handful of retired horses including a former NYC Carriage Horse as well as her own (13 in total), two mules, two barn cats, two cows, a rooster, a goat, and even a pigeon who decided to come join the menagerie and let's not forget, Wilbur, the pig with a face only a mother could love. All her animals are rescues and they all have a story to tell; the dogs came from situations that would break your heart; the pig found his forever home after Hurricane Sandy; the rooster and the pigeon simply arrived and stayed (they intuitively knew her home offered sanctuary); and the goat, well, he was just about road kill but thanks to advances in reconstructive surgery he's doing just fine.
WHAT FULFILLS HER
You hear the name Georgina Bloomberg and what do you think? She is committed to the glamorous life? After all, her pictures do grace the society pages. Does it surprise you to learn that what illuminates her life is not the glare of the paparazzi flashbulbs but her passion for helping animals, more often than not caring for a senior, abandoned four-legged creature often with special needs. Though fundraising galas may be a part of her life, rescuing, changing the lives of animals in desperate straits genuinely fulfills her.
Kind, patient, lovely, this 37-year-old single mom calls herself an "awkward nerd," although her natural grace and gentle manner belie the moniker. Georgina - or George as she is known to her good buddies - relishes her down time, after all being a world class equestrian is consuming. She admits with quiet humor to a secret fondness for reality TV (Below Deck, Real Housewives - any of them, and Vanderpump Rules are her favorites). Treasuring nights at home, she makes dinner for her 7-year-old son - and yes, she cooks for her pets too. What's on the menu? Never meat. Pescatarian is her choice. Her son Jasper makes her so proud when he explains to others that he doesn't eat meat - and he believes in rescuing animals. "Being an animal lover," she says about her beautiful boy who takes after her, radiating compassion from the inside out, "is his choice. But respecting animals and treating them well is non-negotiable in my house. He was taught right from the beginning how to take care of them, the importance of adoption and how to behave around animals." Jasper does enjoy going to the barn and riding but there's no pressure for him to even start thinking about competing. He is there to do nothing more than have fun.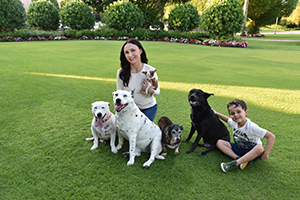 HOW SHE MAKES A DIFFERENCE
Georgina was born an animal lover: "I was always surrounded by animals. I was always drawn to them and they made me happy. It's unconditional love - a love you are born with and don't find anywhere else." Even though she loved animals with all her heart she realized that loving them just wasn't enough, she had to get out there and fight to make a difference for them. Actions, she realized after a conversation with Dan Abrams, Chief Legal Affairs Anchor for ABC News, would speak louder than words. She is proud to say she became an animal activist; a dedicated force for helping to change the present and the future of animals all over the world.
She serves on the board of the Humane Society of the United States and chairs a committee for this acclaimed organization called Humane Generation, a diverse group of inspiring young people whom, she says "will make the world a better place in so many ways." It is important to her to be part of an organization that does so much for so many - from lobbying politicians to saving dogs in puppy mills, she wants us to grasp that "HSUS does far more for animals than people may understand. They are making real changes, not just putting a band-aid on situations but getting to the root of the problem and making a difference that isn't simply for the moment."
Caring for animals is a lifelong passion for Georgina Bloomberg, and a commitment that's shared by her dad, former NYC Mayor Michael Bloomberg, a current presidential candidate. They have an interesting trade-off, she explains. He impresses upon her the importance of protecting the environment, and she educates her father about animal rights. In fact, he has four dogs he's rescued thanks to her influence. His beliefs as a candidate may not be precisely hers, but there is communication and understanding nonetheless - and a conscientious effort to shield her son from any negative fallout. Presidential campaigns can get vicious.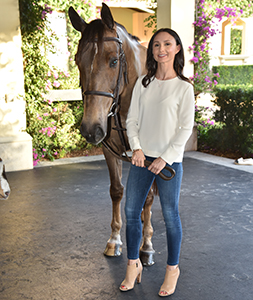 GIVING BACK
Georgina was 23-years-old when she began her own endeavor to help young women keep riding, The Rider's Closet. Coming from a child of privilege, the initiative to prevent young riders from dropping out of the sport when equipment or clothing costs become prohibitive reflects Georgina's sensitivity to those who - two or four legged - need a boost. The endeavor begun during college years but has grown tremendously since. "I would love to expand The Rider's Closet to make this sport more accessible and affordable to riders in more ways than just providing them with clothing and equipment at no cost," Georgina would be grateful if these long term goals were understood.
LIFE LESSONS
Georgina has also chosen to give back through her insights and advice in a series of young adult novels based on life on the equestrian circuit. The back story here, "I was approached to write a series of young adult novels. At first, I had no interest. But I thought about it for awhile and it seemed to me, I never had the opportunity to write about something I loved so much and knew so much about. I grew up on the horse show circuit. I knew it so well that writing about it came easily and the process was actually fun!" Georgina Bloomberg's series of young adult novels is available on amazon.com.
WHERE SHE'S GOING
Riding for Georgina began at age four, her first competition was at age six. Her mother who had ridden horses her whole life in England, encouraged her to ride as a child. It was a scary process at first, Georgina acknowledges, she speaks of being "terrified," but "being too stubborn to stop or admit that I was afraid." Her takeaway despite the fearsome situation? "I remember falling in love with the feeling of competing. The first time I won a class was more than a year later and after a lot of hard work, but that moment has stayed with me, I have never felt more satisfied and proud of doing anything."
Though blue ribbons and championship cups may be integral to Georgina's life, one she splits between her farm in North Salem, NY and her home in Florida, near Wellington, the focal point of world class equestrian competition during the winter months, the grueling schedule and intensity of the sport is not one she considers living forever. She has come back from terrible injuries - broken back - twice and yet she persevered, "my injuries," she says, "have made me stronger, not only mentally but physically in many ways. I have learned how strong I am and how much I can rise above something by healing and then overcoming my fears."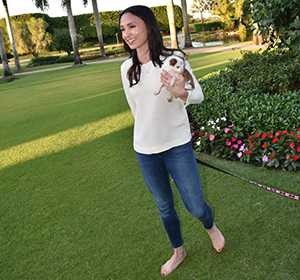 But with one small child centering her life, she looks to the future to "eventually slow down and concentrate on other things and expand my family." Don't mistake thoughts of retiring for a lack of commitment to the equestrian career at hand, "I love what I do and the rush of show jumping. But I don't want to continue the sport through my 40s. It is a tough sport on your body and your life." She will, she says, always be involved in riding in some way. I have put a lot of myself and a lot of time into this sport, when the time comes to move on and be involved in a way that is not actually competing, I think I will know and accept it."
WINNING VS. LOSING
"My favorite show is the Old Salem Farm Spring Horse Show - next up in May 2020 - the farm is right down the street from where I live now and where I grew up riding. All my best memories are from growing up here while me and my friends learned to ride." What does Georgina want the next generation of young riders to remember? "Losing is a big part of winning. Every rider in the world is going to lose more classes than they win, and learning to be a good loser in this sport is very important. It means you don't accept losing or don't try to win, but you roll with the punches and learn something from each class you don't win. You also have to let yourself be happy and celebrate the wins since they are going to be rarer than your losses!" No matter what show she wins or loses as a champion equestrian, Georgina is always going to be a winner in our book as she heads to the finish keeping an eye out for how she can make a difference for animals, the ones present among us and the ones she foresees will need our help tomorrow and the day after. This animal lover takes a powerful and active role in protecting not only the four legged best friends who share her home, but all those in need today, tomorrow and the next day.