The Great Animal Healers
Two Animal Communicators Share Their Insights
By Sebastian Rubino
When it comes to psychic - for pets or for people - one might imagine someone who sees into a person's future and reads their palm. Maybe throw in a crystal ball or a Ouija board too. But believe it or not, psychics are no joke. Their capabilities are far reaching and genuinely helpful. Psychics or Animal Communicators as such insightful individuals are also known can also help your pet heal and even determine the physical condition they're in when they're lost. Some remarkable individuals who possess this healing touch are Kelly Voorhis (infinityhealingny.com) and Libby Brittain (intuitivelibby.com). Their stories are touching and inspirational, to say the least.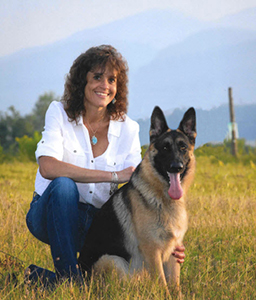 Infinity HEALING: REIKI, EMPATHY, AND COMFORT
Kelly Voorhis is the owner of Infinity Healing in New York. With Native American ancestry in her background, her treasured gift comes to her through generations, elders who have passed these insightful traits along. Voorhis is able to work with animals who are alive, lost, or who have passed away. "I'm intuitive which allows me to visually see things that are occurring, or from the past, and I'm an empath which allows me to physically feel illness, aches and pain," Voorhis explains. "I'm also a Reiki Master. Reiki is energy healing, so each session I do, the animal will get healing work done also." Pet owners come to her for a multitude of other reasons, whether it be to see if their pet is happy, to alleviate anxiety and stress, or to heal from an injury or illness. She is able to detect if an animal is capable of the persistence and consistency that would make them a good search and rescue or therapy dog.
With psychics, there will always be critics and skeptics who question their practices, but based on Voorhis' testimony, her best clients are the ones who are also the most skeptical. When approached by clients, all she wants to know is the pet's name and breed, and the purpose that the client has in mind. Her clientele trusts her as she is able to give specific answers unique to the pet and/or owner confirming to doubters that what she does is real.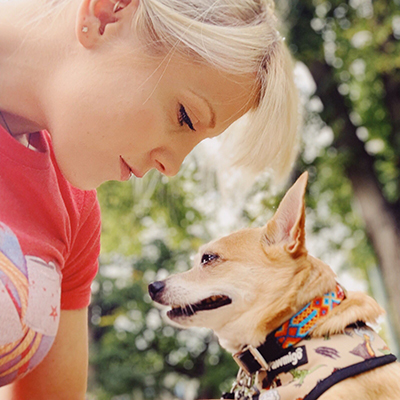 INTUITIVE LIBBY: DEEPENING THE BOND
Libby Brittain who is based in Los Angeles accomplishes similar feats for her clients who are not exclusively local. However she also has unique traits of her own. Like Voorhis, Brittain's clients consult her for guidance on their pet's health issues, behavioral issues, and closure after they have lost their pet. Others just want to deepen the bond with their pet and are curious to learn what the animal wants them to know.
"There is no better feeling than being able to witness the healing transformations that occur between a person and their pet," Brittain observes. "The worst part would have to be that since I'm an empath and because I connect with animals so deeply, I also experience the pain and sadness that much more deeply when working with clients whom have lost an animal."
Having worked with hundreds of animals, she has never met one who didn't remain loyal and connected to their owner, even when their physical presence is absent. Brittain says energy, once created, can never be destroyed. The same holds true for the love our animals have for us.
Both Kelly Voorhis and Libby Brittain have mastered the ability to connect people with their animal companions, whether they are alive or have passed on, i.e. crossed the rainbow bridge in pet speak. With guidance from these two animal communicators, pet parents are able to move one step closer to truly understanding and bonding with their furry friends.