holiday Adoption
By Annabelle Shapiro
The holidays are an opportunity to spend time with family and friends. Whether your family celebrates Christmas, Hanukkah, or Kwanza, or none, this time of year is intended to be filled with love, compassion, and the spirit of giving.
At Best Friends New York, our staff and volunteers take such excellent care of our animals that some may already feel a little at home, but the Lifesaving Center is only a rest-stop between their lives before and their forever families. For some however, the Lifesaving Center becomes a longer "rest-stop" than it should. Due to size, age, medical needs or anything else, some of our animals tend to find themselves spending months with us. Of course, these animals are available for adoption year-round—but they're hoping that the holiday season is their lucky chance at finding that perfect home they've been waiting for.
By adopting this holiday season, you're not only saving one life, you're saving many. When one animal gets adopted from a shelter, that opens up a space for another homeless pet who can find their chance at being adopted as well! Adoption is a chain reaction which makes it so much more impactful than many people understand. You're not saving one life—you're becoming a part of a community that is working toward the goal of no-kill by 2025!
Of course, not everyone is in the position to adopt a pet this holiday season, but for those who are able, it is the most and unequivocally sure way of saving a life. If you already have a pet or two, and can't make room for another, donation or volunteering are also great options and help immensely as well.
It's often easier to feel disconnected from the animals when you haven't met them personally so let us introduce some of our pets in need of homes this holiday season!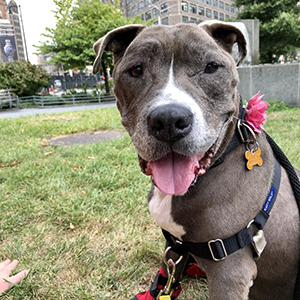 Meet Sheena:
Our longest current resident, Sheena has been waiting for her perfect home since February. When she came to Best Friends, she had an uphill battle—she was 10-years-old, overweight, and dealing with arthritis which made losing weight difficult. She was depressed due to not being able to enjoy her walks but with the love and care of our team and many devoted volunteers, Sheena began water therapy. After a few months, her weight dropped, and she began being excited for her daily walks around the block—she even started pulling her dog walkers out the door! Aside from her medical needs, Sheena is the sweetest girl and has become a staff favorite for her patience and cute little waddle. She'll let you dress her up like Santa and pose for pictures under a tree—won't you give her a home?
Another long termer looking for a home is Big Boy:
This handsome guy has been looking for his perfect family since April. He's five-years-old and although he's full of energy, Big Boy has received his "good boy" certification of doggy training! He has the most expressive face and ears and loves to be the center of attention. All he wants is to chase balls and go for walks with his favorite people. If you're making a resolution to be more active in 2020, Big Boy would help you stick to it! Will you make his holiday season the best one yet by giving him a home of his own?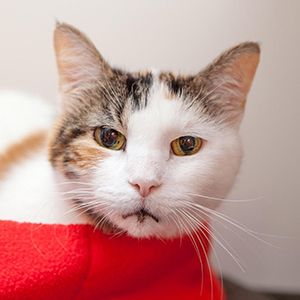 If you're more of a cat lover, look no further than precious Lulu:
Lulu has been with Best Friends since May, spending all of her time in loving foster homes. This six-year-old girl has chronic kidney disease which just means that she needs help getting her fluids! Luckily for you, the kidneys have no effect on how much she loves people. After the initial meeting period, Lulu will happily snuggle into your bed with you, returning all the love that you've given her. While Lulu is in a wonderful foster home being taken care of, we're sure she'd be even happier in a home of her own. Bring Lulu home this holiday season and fill your house with even more love.
Of course, we hope that every pet gets a home for the holidays this year, but we want people to remember that these animals are not just gifts. They want to become members of your family and when you adopt, you are committing to loving them for their entire lives. So, this season, consider adopting and heading into the new year with a new best friend and knowing that you've helped countless others at the same time. Together, we can work toward no homeless pets for the holidays, and it starts with you!