Super Pet Expo: 2020's Can't Miss East Coast Event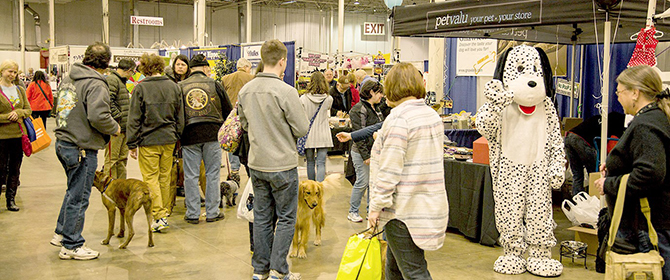 By Annabelle Shapiro
When people ask Brian Mason his favorite pet event of the year, he says enthusiastically, "Super Pet Expo!" A common response can be found among thousands of pet lovers who live in New Jersey and New York. This year will be his first event with his newly adopted Yellow Lab, Luna, but he attended for several years in a row with his beloved Chocolate Lab, Ellie Mae, before she passed last year.
"It was her favorite time of year! Christmas for dogs. She loved the treats and all of the attention. There was always an activity to do, or some new dog in the aisle to sniff. I just loved seeing her have so much fun."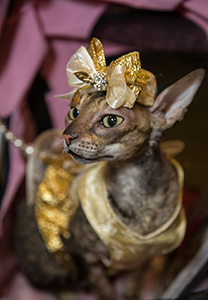 Super Pet Expo (www.superpetexpo.com) takes place February 7-9 at the New Jersey Convention and Exposition Center in Edison, NJ. No other pet event in New Jersey attracts so many pets and pet lovers eager to shop for their four-legged friends. From designer fashion leashes and collars and holistic health care options to organic, sustainable products for felines, there will be something for every pet lover at the once-a-year event.
In addition to a shopping extravaganza, you'll find lots to learn and see at Super Pet Expo, like the debut of Treibball, hosted by celebrity trainer Chrissy Joy and her pup, National Stunt Dog Champion, Good Dog Beasley. Treibball is a high-action canine sport, mixing positive-reinforcement training, soccer and a lot of fun! Dogs work to gather large exercise balls into a soccer goal. Attendees will receive an introduction to the competitive sport via demonstration, followed by a chance to participate in a workshop with their own dog.
If a dog prefers to do their own thing, they'll find solo fun on the Luring 101 (www.luring101.com) course. Back for a fourth year in a row, if your dog loves to chase, this is a no-brainer for running off extra energy. They'll love chasing the artificial lure as it's pulled across the ground at a high rate of speed, with a set number of turns and changes in direction. Any dog that's in good physical condition and loves to run is perfect for this activity.
If your beloved pet isn't a canine, you'll find plenty to keep you busy at the show, too. It's the Super PET Expo after all; not the Super Dog Expo. The first stop for feline owners should be Cat Alley! In this special shopping section, you'll find purr-worthy products including catnip, toys, cat trees and food. Cat Alley is anchored by a "Pet Me" Cat Area hosted jointly by The Cat Fanciers Association (CFA) and Garden State Cat Club. Guests can meet and greet friendly cats and their owners, eager to share their breed knowledge, care tips and general expertise with you. In short: Come pet the sweetest kitties in Jersey.
Debuting at the show this year is the "World Famous Hermit Crabs and Edutainment Show". Mister Crabs will provide educational demonstrations on Hermit Crab conservation, care and how to build your own crabitat. Attendees can also hold a live hermit crab at free touch and observe stations.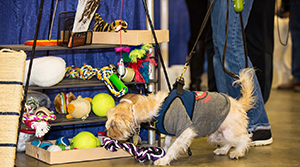 Finally, for those interested in walking on the wild side, remember to visit Repticon! Hundreds of reptiles and exotic pets from the nation's top breeders and educators have been featured at Repticon events across the country for ten years. At no additional charge, Super Pet Expo attendees can gain access to Repticon, with opportunities to meet with top breeders, shop supplies and reptile-themed products, plus learn more about a variety of amazing animals.
Super Pet Expo takes place at the New Jersey Convention and Exposition Center, 97 Sunfield Ave, Edison, NJ 08837. Leashed pets of all kinds are always welcome, but please note no retractable leashes are permitted.
Show hours are 3:00 PM to 8:00 PM on Friday; 10:00 AM to 7:00 PM on Saturday; and 10:00 AM to 5:00 PM on Sunday. Admission is $13 for adults, $8 for children ages four to 12, and FREE for kids three and under. Weekend Passes, valid for entry all three days of the event are available $20 for adults and $12 for children.
Buy tickets online at www.superpetexpo.com and avoid the line at the door. Use code LIFESTYLE to save 40% on Weekend Passes.