K-9 FOR COURAGE KATE WALSH SPEAKS OUT FOR SERVICE DOGS
By Lori Zelenko
We all know her from Grey's Anatomy as McDreamy's (Patrick Dempsey) wife on the TV show that's still enduring a decade after its premiere. And yes, she went to ABC's Private Practice from there and then the Netflix series, The Umbrella Academy and now coming up on her slate are sure to be box office hits starting with 3022, the Sci-fi thriller with Omar Epps, and moving into 2020 with Liam Neeson in Honest Thief. But it's not her career much less her more than two million followers and fans on Instagram that she's here to talk about.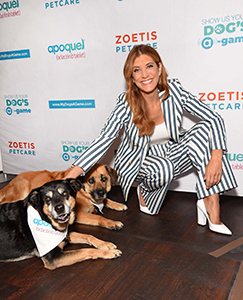 What's on her agenda is speaking to dog owners based on her own experience and helping us understand that even the smallest signs of allergies in pets - scratching, paw licking - can escalate into a crisis situation if not addressed with the right meds from your vet. She speaks from her own experience and acknowledges how pharmaceuticals improved her dogs' quality of being. Indeed the difference she feels is life-changing. But her relationship first as a dog mom, now as a spokesperson with Zoetis has evolved into a mission: Help her dog Rosie get her A-game back and help others recognize that their dogs are suffering - it may not seem extreme to us as humans, but the toll allergies take on our dogs can be more punishing than we immediately perceive.
But there's more to her message, after all she is an activist in the animal wellness community. What Kate wants you to know is that when people share a story or photo of their own pet's A-Game (a favorite pose or trick) on social media using #MyDogsAGame, a donation will be triggered from Zoetis to its K-9 Courage™ Program, a salute to our working dogs, www.k-9courage.com. Posts may also be featured on www.MyDogsAGame.com, where dog owners can learn more about allergic dog itch. Serving those who save us, the program provides healthcare and product donations to military, police, and service dogs. These dogs she empathetically communicates are our heroes. They protect us in the prime of their lives. It is up to us as compassionate human beings to look out for them as they age.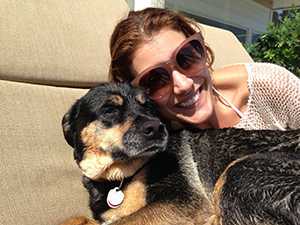 The K-9 Courage Program is a charitable healthcare donation program that provides financial and in-kind product donations that support retired police and military K-9s. Program contributions help assure caregivers that these courageous and loyal dogs continue to live happy and healthy lives. Each caregiver receives a $300 K-9 Courage Visa® Prepaid card yearly to use on anything at their veterinary clinic, including medical expenses, vaccines, medication... even dog food or treats. K-9 Courage also supports American Humane's Pups4Patriots™ program, which trains shelter dogs to become new service dogs, providing assistance to veterans suffering from Post-Traumatic Stress and Traumatic Brain Injury. Through the K-9 Courage Program, Kate Walsh hopes to show these four-legged heroes that humans can be exceptionally loyal, too.
Much as Kate Walsh loves dogs, she is not discriminatory: cats are part of her embrace too. Just a look at her Instagram tells you about their peaceful co-existence in her orbit. What are her plans for the Holiday season then with her fur kids? Long walks with Rosie near Washington Square, downtown NYC, where the lights will be glistening and Christmas cheer will bring goodwill to the service dogs who have so loyally helped us humans. This is our time, she wishes, for us to give back.