PRESCRIPTION FOR A HAPPY HEALTHY LIFE
NBC's New Amsterdam's Ryan Eggold and his Pit Jodie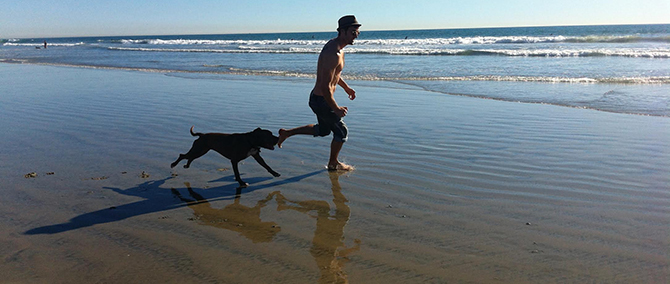 By Lori Simmons Zelenko

Ryan Eggold has a catch phrase - from NEW AMSTERDAM the hit NBC TV show - "How can I help?" That's a phrase he says has crept into his life and we suspect it is actually a mantra, an ongoing expression of his commitment to making a difference for animals in need. Funny, warm, intelligent, he's self-deprecating when it comes to his aptitude for caring, he plays a Doctor on the show (Dr. Max Goodwin) however coming from a family of medical professionals, he feels he'd be "a terrible doctor in real life." But he does confess in his conversation with Pet Lifestyles, that his need to express compassion has a focus: he's obsessed with animals, has been since childhood when he dreamed of having a pet bear. Funny thing, his nickname for his dog today is "Jo Bear." So it seems dreams can come true.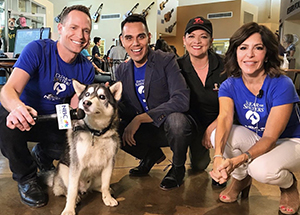 "My parents were animal lovers," he shares, "and we always had dogs, cats growing up. I had a pet snake once and my sister had a pet rat... we were all over the place. But dogs were always the constant. When my parents first moved in my Dad got my Mom a dog from a shelter for Christmas. They named him Bucks and he was our first family dog. He was the best." This love of furry creatures remains strong. And when Eggold asks "how can I help?" he means it! You could say he wears his heart on his sleeve, his genuine love for animals including his very own shelter dog, Jodie, a Staffordshire terrier (i.e. pit bull) is apparent in his touch, his gentle, kind approach to animals. He is a voice for the voiceless and that voice is heard loud and clear though his active commitment to Clear The Shelters™ / Desocupar Los Albergues® the annual, nationwide pet adoption campaign that is spearheaded by NBCUniversal Owned Television Stations, a division of NBCUniversal.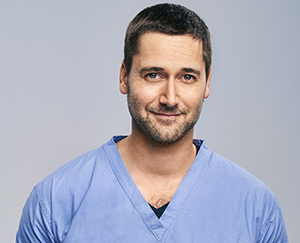 THE GOOD DOCTOR
So how did "the good doctor" find the right way to make his voice heard? He may only play a Doctor on TV but his willingness to stand up for the health and wellbeing of these vulnerable creatures desperately looking for forever homes - warrants the moniker. We inquire naturally, how he became dedicated to NBC and Telemundo stations' Clear The Shelters campaign? Apparently, he reveals, he was introduced to it two years ago or so: "I was asked to play with a bunch of puppies on camera, to which I said... can I stay forever? It's a great cause and everyone should see how many sweet, loving dogs there are waiting to come home with you." Spoiler alert: His best girl, Jodie, may have a sibling soon, "I'm actually thinking about adopting a new pup myself."
He truly enjoys getting the word out about these shelters. Finding these sweet animals a lovely home where they'll be be taken care of and take care of their owners, means more to him than we - or the animals - will ever know, he wants us to understand. He is proud to note that year after year Clear The Shelters doubles adoption rates and enlists so many thousands more pet parents ready to fill their homes and their lives with animals in need of giving and getting love.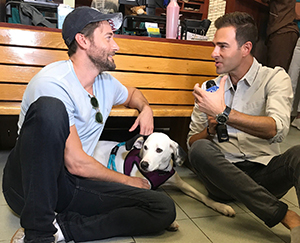 The stations Clear The Shelters campaign started in 2015 as a nationwide initiative, it began locally in Texas when a 2014 North Texas pet adoption event hosted by NBC 5 / KXAS and Telemundo 39 / KXTX and dozens of area shelters resulted in the most adopted pets in one day for North Texas. The initiative has grown to include NBCUniversal's TV stations, plus NBC and Telemundo affiliated stations who partner with local animal shelters and rescues in their communities every year to host Clear The Shelters events. So far in less than five years, Clear The Shelters has helped more than 400,000 pets find new homes.
When it came time for Ryan Eggold to look for a fur buddy to call his own, going on a decade ago now, he went to his local shelter, the closest to his home in Los Angeles. Like any guy on a first date, he arrived hoping for a connection: "There are so many amazing animals at all these shelters. It's all about rescue for me. I'm not a fan of puppy mills and breeders. This was the shelter closest to home. I walked through and fell in love a few times." He says with a sigh, speaking from the heart about his special girl, "Jodie jumped up on me and licked my hands. In just moments she seemed like a friend already. She was the sweetest from the beginning."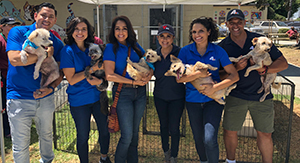 Jodie isn't up there with popular dog names or even kids' names, in fact the only celebrated Jodie this writer can think of is Jodie Foster, brilliant in The Accused the 1988 film that foreshadowed #metoo. So we have to ask our leading man, what is the thinking behind the name for his most significant other? "I like the name. It's kind of 90s but really, I just said a handful of names to her on our first trip home. And when I said Jodie, she looked right at me. So I said that's your name."
Well other than random gossip about a co-star from BLACKLIST the James Spader TV show Ryan Eggold was on for some time before becoming Dr. Max Goodwin on NEW AMSTERDAM, it seems like Jodie is his life partner. So hey, we have to ask what's the game plan here? What do you both like to do together? Hike? Play? Watch TV?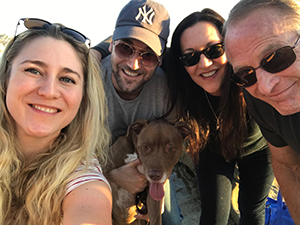 Thoughtfully, with all the consideration due an assessment of such a beloved companion he answers. "She is pushing 11 now. Meaning yes, she has slowed down. Although she had crazy energy when she was younger. Plus she was from a shelter so she'd see another dog on a walk and freak out. Being a pit bull, people would assume she was being aggressive but really she was just so desperate to say hello. She grew out of that and is much more mellow now. But she loves other dogs, loves to play."
But what is Jodie's sweet spot? How does she chill? "Mostly she's obsessed with her tennis ball. It's her happy place," we are told. "She loves catching her ball and refuses to let you stop throwing it to her. And if you do, she'll just set it in your lap and nudge you with her nose like 'hey man... throw this.'" But seems ball playing is not her Olympic sport; relaxing is where she excels: "She's also the best sleeper. She likes to snuggle in and be cozy."
Like any parent, pet or otherwise, keeping a work life balance isn't easy. Jodie isn't a regular on the set of NEW AMSTERDAM but she is thrilled to be included when it's an option, anything social is her game. After all, her owner says, "she's the life of the party." Naturally this begs the question, will Dr. Max Goodwin get a dog? Think we have another spoiler alert here, "Very possible! And a pretty good idea actually... might steal that one."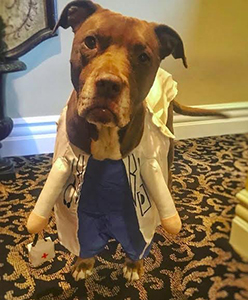 Right now Jodie is an only child. Is there a sibling in her future?
"Jodie is ten now! I can't even believe it... She's approaching 11," her owner says with resignation. "It's so wild. Yes," he agrees with the thought, "I think it may finally be time for a new adoption. That'd be exciting. "
Jo bear, as Jodie is also known, is a Pit Bull Terrier, possibly Staffordshire Terrier, they're very similar. Having grown up with mixes and a lot of Lab Retrievers, Ryan Eggold didn't choose Jo for her breed. But he confesses, "I have since fallen head over heels in love with Pits. They are so, so loving and caring and the stereotype that they're aggressive kills me. Jodie is good with other dogs, kittens, babies, people... she loves to love. So I hate to see people punish dogs for people's bad behavior... training them to be aggressive or mean. Take it from me, they're not born that way, they are the sweetest breed, they just want to love and be loved."