YOGI-DOG
THE ORIGINAL YOGURT FOR DOGS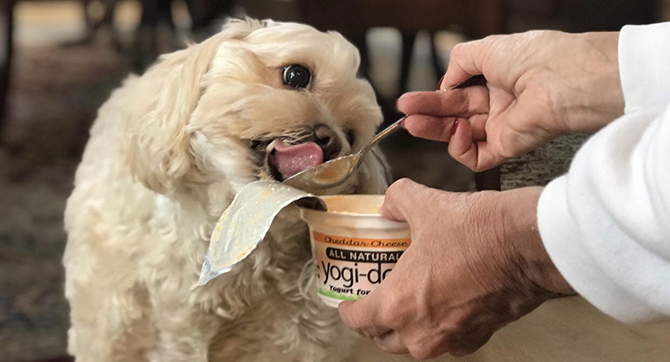 By Sebastian Rubino
Although people have been serving treats to their dogs for years, there's now a new and healthy alternative, and it's called yogi-dog (yogi-dog.com). Marketed as a treat and food topper, yogi-dog is the original yogurt made for dogs.
Yogi-dog was founded in 2017 by Dee Marie, and her business partner Mike Basal-a yogurt maker for 30 years who operates his own yogurt plant. Together, they've created a treat that is the first of its kind. The creators behind yogi-dog always consider dogs as part of the family, deserving of only the highest quality and healthiest ingredients.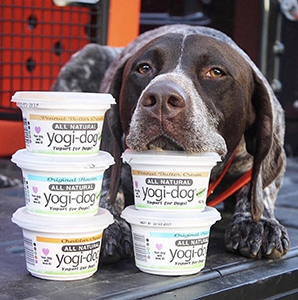 Their motto, "Feed your dogs with the healthiest treats you can provide to them," was used as inspiration for creating the dog-world's first yogurt, according to their website. In terms of ingredients, they start with 1% low fat and high-quality milk that the company purchases from local family-owned Lancaster cows in central Pennsylvania. Zero sugar is added, as sugar is never a healthy ingredient for a dog to eat. As an added precaution, they make Yogi-Dog lactose-free just in case a canine might be lactose intolerant. Most importantly, it's all natural.
The yogurt contains eight live and active cultures, which is almost twice what most human yogurts on the grocery shelves offer. Yogurt is also a natural source of calcium which is beneficial to a dog's nails, teeth, bones and coat health. Probiotics are also added to give an extra boost for your dog's daily digestive health. People who started feeding their dogs yogi-dog as a treat and healthy food topper generally saw their dogs in better condition. You should always consult your vet before making any dietary changes to your dog. Testimonials show Yogi-Dog has improved the intestinal systems of dogs who eat 1-2 spoonfuls per meal every day after a week or two.
Though Yogi-Dog is a refrigerated yogurt, in the summer months, you can pop one of your Yogi-Dog cups into the freezer for a cool treat. Just let your dog enjoy a portion of the cup for a few minutes of refreshing licks - then replace the lid and pop it back in the freezer for the next time. Not only that, but it's also one of those few foods you can share with your dog because Yogi-Dog is that good, and of human quality and grade too. There are three flavors to choose from: Original, Peanut Butter Cream, or Cheddar Cheese.
"Dog owners are increasingly paying extra attention to what is healthy for their dog," Marie said. "After all, it's a priority for themselves, so they make it a priority for their pet. It's true that dogs are our furry children, so pet parents are taking care of all aspects of their lives with greater attention than ever before."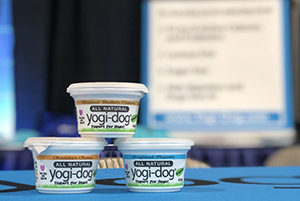 Yogi-Dog is available on grocery store shelves in the dairy aisle alongside human yogurt, though in some stores yogi-dog is in the refrigerators of the pet aisles. (And in a handful of smaller pet shops as well.) You can find Yogi-Dog in ShopRite, Big Y, Karns, Ingles, Food City, and a few King Kullen stores. While they started in central Pennsylvania, Yogi-Dog has since expanded throughout the East Coast, New England and the South. You can find Yogi-Dog in your local grocery stores in the following states; New York, New Jersey, Connecticut, Massachusetts, New Hampshire, Maine, Vermont, Rhode Island, Virginia, Tennessee, Georgia, Delaware and Kentucky.
Yogi-Dog won't stop there. They aim to grow and expand until they are in every state across the country and recognized as a national brand. To find your nearest Yogi-Dog location, view the locations map on the website, yogi-dog.com. You can also check out their Instagram and Facebook pages @yogidogyogurt. Interested in becoming a Yogi-Dog Ambassador? Tag @yogidogyogurt or DM them pictures of your pup enjoying Yogi-Dog for a chance to be featured on their social media sites!