WOODSTOCK FARM ANIMAL SANCTUARY:
A PLACE OF MIRACLES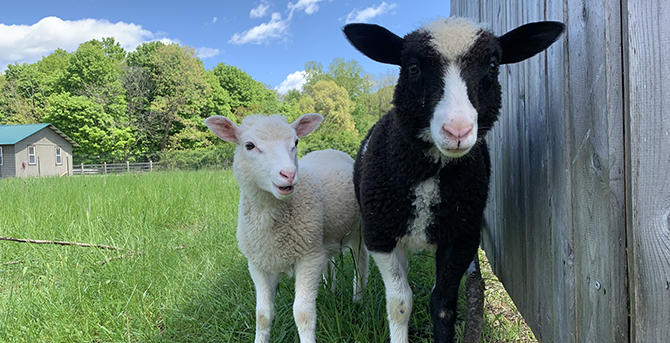 By Sebastian Rubino
While many animal shelters and sanctuaries emphasize giving animals a home, the Woodstock Farm Sanctuary's mission is a little different. Founded in 2004, the organization's mission is to save farmed animals and advocate on their behalf by giving them sanctuary, connecting them with people to advance veganism, and vouch for animal rights in alliance with other social justice movements. Located in High Falls, NY (original location being just outside of the town of Woodstock until 2015), the sanctuary has over 150 acres of land, currently providing a home to 370 animals. The space that the sanctuary currently inhabits is six times bigger than the original location, giving much vaster land for the animals to roam.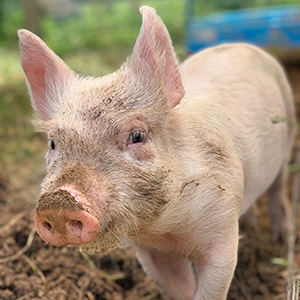 PIGS, COWS AND OTHER CREATURES
All the animals they protect are farm animals that are commonly exploited, abused, and killed in the agriculture industry. Animals seldomly get adopted from the sanctuary because of all the requirements needed to take care of creatures like pigs and cows. Instead, the Woodstock Farm Sanctuary focuses more on giving the animals a lifelong home, and not so much facilitating them until they find a home. "Their stories and lives are completely hidden from us, which is why people don't question the ethics of industrial animal agriculture," Executive Director Rachel McCrystal said. "Woodstock Farm Sanctuary works to save their lives and then amplifies their stories to encourage people to care about them." If any of the staff find dogs, cats, or other non-farm animals in need of rescue, they resort to contacting the Ulster County SPCA.
Some of the newest animals they rescued are two adorable piglets named Harvey and Marsha, who are both two months old. "They're the smartest animals, outside of elephants, dolphins, and primates," McCrystal said. "The average pig is way smarter than the average dog." They even put sunscreen on the pigs and place a tarp over their pens to prevent them from developing skin cancer. Since pigs can sleep up to 20 hours a day, the tarp and sunscreen are a necessity.
Another notable animal there would be a goat named Chloe. With great intelligence, she was able to open a goat-proof door with her teeth by grasping the handle, gathering the other goats into the barn with her without any assistance. She mainly serves as the matriarch in her section of the barn.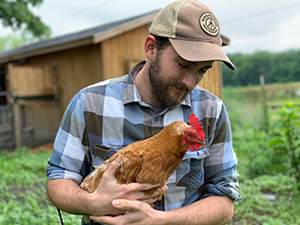 A PLACE OF MIRACLES
In a way, the sanctuary has also been what one may call a place of miracles. They currently have a Jersey breed cow named Maribeth that had a blood infection 7 years ago. "The doctor said she had a 10% chance of making it," Shelter Director Hervé Breuil said. "Now look at where she is. Maribeth has been a symbol of resilience for me." Despite her exceeding the expectations of doctors, Maribeth could die any day because of sensitive bone tissue she has that could easily crack. Every day, the staff are cherishing the moments they have left with her.
Surprisingly, many of the animals have been acquired from Pennsylvania, whether they be from slaughterhouses, farms, or found on the street. In addition, others come from New York City, as Rachel McCrystal said that there are about 80 slaughterhouses there. Six of the goats they house have escaped from New York City slaughterhouses, strategically exiting through open doors, or from transportation trucks.
THE MISSION AND THE DESTINATION
Since the sanctuary was founded, veganism has always been a crucial part of their mission. In fact, they advocate for a boycott of animal agriculture altogether. "When you're rescuing animals, the bottom line is that the best way to help them is to not eat them," McCrystal said. "Veganism has always been part of our agenda, as there is no humane way to exploit these beings."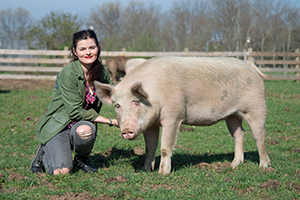 A more recent addition to the sanctuary is the Gray Barn, which is their new boutique inn. With five unique rooms (along with five individual bathrooms), guests are able to stay throughout the year, as well as get a vegan bed-and-breakfast every morning and an immersive tour with each stay. The Gray Barn was funded by an anonymous donor as a sustainable source of income and support for the sanctuary's nonprofit mission. Also, the proceeds go directly towards the care of the animals that call the sanctuary their home.
The Woodstock Farm Sanctuary has an internship and volunteer program, both of which run all year long. Onsite events happen throughout the year as well, such as summertime's June Jamboree and HalloWoodstock in the fall. More recently, the sanctuary has held the Yea Camp, which is a camp for adults who are interested in learning about activism. This year is the second year they've held it, as the camp is mainly based in California. There are currently no plans for expansion to the sanctuary.
It is also open to the public every Saturday and Sunday, April through October every year, offering tours between 10:30 A.M. and 4:00 P.M. The sanctuary is closed during the winter, due to extreme weather conditions and for the animals' safety. Every year, over 10,000 people visit the site to meet the animals and open their hearts.
The Woodstock Farm Sanctuary website is: www.woodstocksanctuary.org.