Introducing the Barkaron™
A Doggie Dessert that's Healthy for your Dog AND the Planet!
It's been one of those days. So, you decide to treat yourself to your favorite delicacy. After making it to the couch with your dog joining you, you find yourself about to take a bite of the decadent dessert when you realize that she won't stop staring at you while you're just trying to relax. What do I get? She seems to say, her face unimaginably sad since you're indulging and she's not. You stop in your tracks, feeling forlorn since you can't share the sweet treat with your pup. You don't want to experience this ever — especially not during the holidays: the time of giving!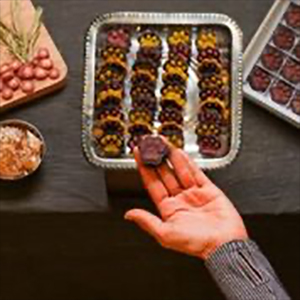 Dogs are more than our pets. Dogs are our family, our friends and our loved ones. We have full-on conversations with them. Many of us sleep with them in our beds. Some of us feed our dogs better than we feed ourselves! They deserve to be celebrated and indulged with something that is healthy, nourishing and super special. When so much on the market isn't real food, isn't organic or non-GMO, and comes in plastic bags that can't be recycled, wouldn't it be awesome if that indulgent and healthy treat was also good for the planet?
That's why Chews Happiness™ created and handcrafts the Barkaron™ French macaron-inspired, healthy, Decadent Doggie Dessert™. By providing America's pet parents with these wholesome, safety-tested, super-healthy delicacies, Chews Happiness provides them with a new experience to share with their pets.

Barkarons™ comes in elegant, eco-friendly gift boxes made with handcrafted paper. Everything from sourcing, to packaging, to distribution, is carried out with health, sustainability and happiness in mind; that's what Chews Happiness calls "indulging mindfully" with your pet..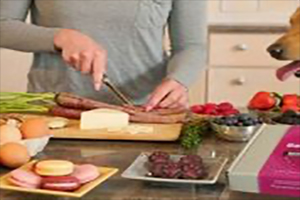 Chews Happiness' key ingredients come from some of the most pristine places on earth – far away from cities and factory farms – to ensure only the highest quality, most delicious ingredients and delicacies for your pet.

Chews Happiness believes that the treats we give our dogs tell a story. From the land where our organic ingredients are grown, to the pristine rivers where our trout is harvested, to the safety and wellbeing of the people baking our creations, to the preservation of the traditional lifestyles of the farmers that source our ingredients, there is a deep and inspiring story baked into each and every dessert we make
Barkarons are lovingly handcrafted in small batches in the Happiness Kitchen high in the Himalayan mountains. They feature healthy and ethically sourced ingredients – including Camel Cheese, a rare Central Asian delicacy, Organic Free-Range Chicken, and other antioxidant-packed, functional foods – to promote immune, digestive, and skin & coat health. Together, these ingredients create a nutritious, delicious dessert that has a satisfying crunch dogs love.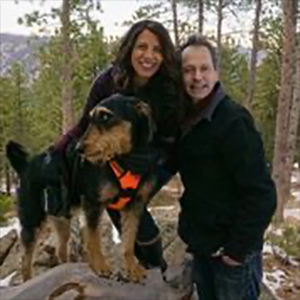 Chews Happiness' ingredients are fairly traded and benefit traditional lifestyles… from indigenous camel headers in the Gobi desert to bee-keepers in the foothills of the Himalayas. Most of their exclusive ingredients come from Bhutan, the country that introduced Gross National Happiness to the world – the idea that happiness is just as important, if not more so, than economic development. It is the only carbon negative country on earth, with 70% of its land covered in protected forests. The glacial waters flow directly from the Himalayas, the highest mountains on earth, making the water and food really, really high quality and pristine.

Chews Happiness thoroughly and comprehensively tests for safety, which includes checking for nasties like toxins, pesticides, PCBs, heavy metals, lactose and dangerous microbes.

That means you can relax and truly enjoy indulging your pet in something special and safe. Chews Happiness was founded by two people with a shared longing and a dream.
Tavor White and Meeta Gawande wanted to break out of the doldrums associated with their cut-throat corporate careers and dedicate themselves to doing good for the planet. During a trip to Bhutan, they were inspired by the country's commitment to protecting the environment, people, and culture.​ After returning to the U.S., they expanded their family to include a puppy named Bouncer. Like so many pet parents, they wanted the best for their little bundle of joy. However, they soon learned that finding safe, high-quality pet products with "good vibes" wasn't easy. It was at this point that they got an idea. Why not create great products that promote happiness for people, their pets and the planet?​

And so, Chews Happiness was born!

As part of their commitment to making the world a better place, 1% of all Chews Happiness' sales is donated to an amazing animal rescue in Bhutan. Plus, Chews Happiness offsets the carbon they generate.

Wait, A Doggie Dessert that's Healthy for your Dog AND the Planet? – How can you go wrong?