DOGWATER
H2O FOR DOGS ON THE GO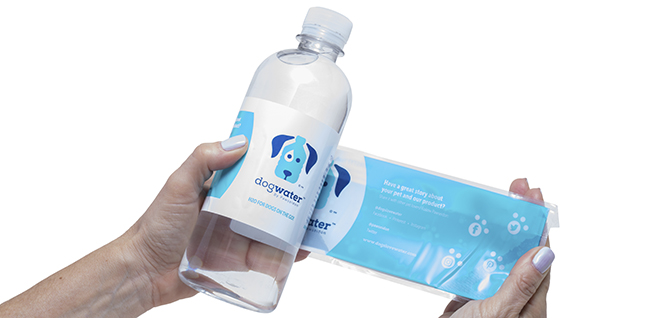 By Meghan Rodick
Following a hike with his dog Sam that resulted in a soaked backpack and broken phone, Lee Corbett created a product that all dog owners will greatly appreciate. After lugging around a travel bowl and a heavy bottle of water for his good buddy, Lee was rewarded with damaged belongings. Upon returning to his car, he found that water had leaked in his backpack, the bowl was soaking wet, and his phone was damaged beyond repair - drowned, basically. Returning home, Lee was further rewarded with mold growth plaguing his soaked items as they dried out – directly contradicting the purpose of their reusability. What was supposed to make his walks a pleasure and convenient was costing him more time, money, and effort than the ease promised. Left with his no longer usable essentials, Lee realized the need for change. This came in the form of an idea - a single-use water bottle with a detachable bowl. Useful to people, pets, and the environment we inhabit, this product is the perfect solution for owners and pets gearing up for a fun hike in the woods or a walk on the beach at any time of year, no matter what the temperature is outside, it is important to keep your pet hydrated. After all, like his website says, dogslovewater.com.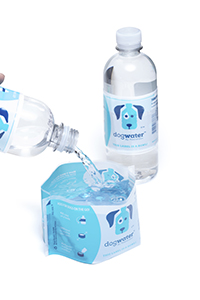 Ensuring that the bottle and label would be created with environmentally friendly materials became Lee's objective: "I cannot add to the destruction of this planet. It was, and still is my mission to be environmentally conscientious." This turned out to be a difficult feat, solved only through his shrewd observation that the length and height of a water bottle label was almost that of a water bowl. Four patents later, Lee created "Dogwater." Its label is made of environmentally friendly plastic which unwraps to become a bowl. The water AND the bowl are packaged together, with the label transforming into a dish within seconds of its unraveling. When you and your pup are done, simply toss it into the recycling bin. Both the bowl and the bottle are recyclable and perfect for earth friendly customers. Don't worry about sacrificing any quality either – the water is ultra-purified so it is safe for you and your pet!
Additionally, Lee created another bowl for those interested in carrying their own water container. You can purchase these "portaBOWLs" in a five or ten pack. They are small enough to fold and keep in your pocket if you prefer to travel light. Each pack is also accompanied by a carabiner that you can attach to your backpack or Yeti bottle, making it easy to be prepared for anything. Not only is PortaBOWL environmentally friendly, but it is owner friendly too! PortaBOWLs save space and weight in backpacks, purses, and duffel bags. If you fall in love with this convenient package and want more from the creator, it won't be long now before you can try Lee's next pro-earth, convenient innovation for dogs on the go who need H2O: He'll be attaching the label/bowl to recyclable milk-carton-like containers.
With Dogwater and PortaBOWLs, all of the things you love about taking your dog out for a day in the great outdoors are made simpler, easier, and even heathier - backpacks weigh less, your pup has purified water to enjoy, and no harm is done to the planet. Say goodbye to spills and overburdened backpacks (not to mention drowned cell phones) and say "Hello!" to Dogwater. The earth – and your pup – will thank you for it.