Strut Your Mutt—2019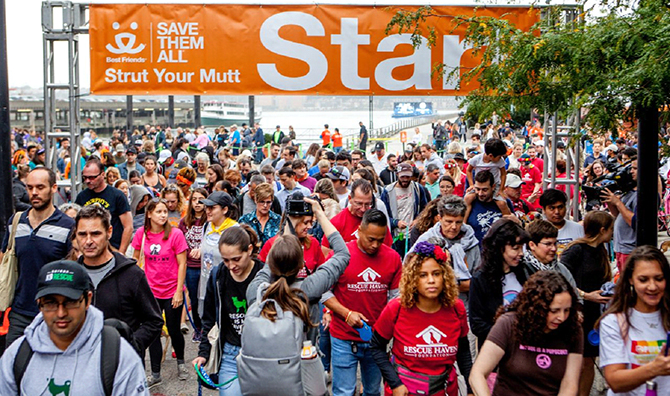 By Amy Gravel
Strut Your Mutt is back in New York City this year on Saturday, October 5th. Best Friends Animal Society will be hosting this fun community fundraising event at Pier 84, Hudson River Park starting at 10am, with the official strutting beginning at 11:30am. Want to be a part of our biggest year to date? Read on to find out how you can help Save Them All.
Strut Your Mutt has been an engaging community event in NYC since 2015 when the fundraising totaled nearly $280,000 for 33 participating network groups. Since then, the event has become an important source of fundraising for dozens of local groups! Last year was our biggest year ever, and with your involvement, we can make 2019 even more successful.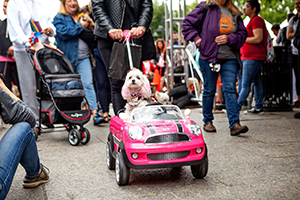 While raising money is the main goal for the participating rescues, Strut is much more than a fundraising walk. This is a fun-filled festival where all-legged participants of every age can take part in activities like doggy yoga, pet portraits, music, contests and more. Plus, if you're still looking for a strutting companion of your own, there will be opportunities to speak to local rescues about their adoption processes—and there may be a few dogs available to adopt day-of!
Registration is open now until the event start time of 11:30am, October 5th and registering in advance allows you to take advantage of the lower online fee. If you want to join in helping raise funds for a Network partner team, you must register online prior to the event.
If you're joining Strut as an individual, consider creating a team! It's more fun to strut with others—plus there are bragging rights for the highest fund-raisers! Create or join a team for a chance to win one of the top fundraising awards. Recruit friends, family, neighbors, coworkers, clients, pet sitters, your vet, your groomer and anyone else you can think of who might want to participate. You might find that Strut Your Mutt is the perfect way to get a conversation started about the great work being done to save the lives of homeless pets in our community and across the country.
And don't fret if you don't have a dog to accompany you—many people come to participate in a fun, community-based event, with the perks of petting some cute pups along the way! You can also offer to walk with a dog from a shelter or participating animal welfare group or consider volunteering at the event! It's no secret that fundraising is an extremely important aspect of the animal welfare world. Without it, the amazing lifesaving efforts going on across the country would be halted and it would be near impossible to make great strides.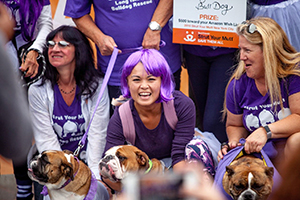 So how can you get involved? Those who take part in this annual fundraising event can choose to support and raise funds for Best Friends or their favorite local participating animal welfare organization. There are plenty to choose from and if you're not sure, you can see a list of participating rescues on our website, just visit strutyourmutt.org/NYC to get involved.
New York is among 12 locations across the United States that hosts a Strut Your Mutt event including Atlanta, Austin, DC Metro, Houston, Jacksonville, Kanab, Los Angeles, Minneapolis, Phoenix, Salt Lake City, and San Francisco. Last year, at events across the country, as well as online, participants came together to show their support for the animals. Together, they raised more than $2.3 million — with just under $2 million of that going straight to over 350 participating Best Friends Network partners (shelters, rescue groups and other animal welfare organizations)!
We're looking forward to making 2019 the most successful year yet and with your help, we can get closer to our goal to Save Them All.
To learn more about Strut Your Mutt, register, or support another team, visit strutyourmutt.org/NYC.