ONCE A YANKEE, NOW A PADRE
MLB'S KIRBY YATES AND HIS BULLDOG CHUBBS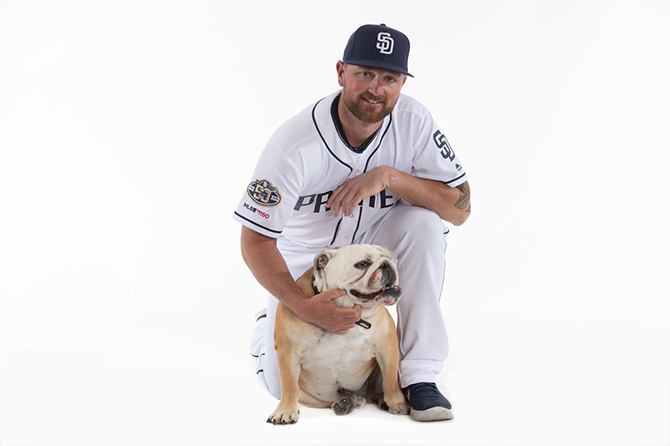 Kirby and Chubbs
By Anuj Singh
Currently a pitcher for the San Diego Padres, MLB's Kirby Yates is known to fans for his time on the Tampa Bay Rays, Los Angeles Angels, and even the New York Yankees. In 2019, Yates was named to an All-Star game, becoming a first-time All-Star at age 32 being virtually perfect this season with 23 saves in 23 opportunities. He also has a league-leading 0.96 ERA, a .137 batting average against right-handed hitters, and two scoreless streaks of 10 or more innings.
Apart from being a MLB baseball player, Kirby Yates has a huge love for animals being a dog owner and enthusiast himself. Growing up and living in Kuai, Yates and his family had two Doberman pinschers, Aki and Ninja. Eventually, these two dogs passed away and his family than adopted two new cocker spaniels, Midnight and Shrek, along with another chow terrier mix, Kaikea.
Kirby and his family presently own a bulldog named, "Chubbs," whose name is quite an interesting one: it comes from a pick-up line that Yates once used to address his wife by, he told her that if they ever got a bulldog, that's what they would name it. After adopting Chubbs, the family fell in love with bulldogs. The fun of raising these stubborn, chubby four-legged canines has them hooked, there's no other breed for them now.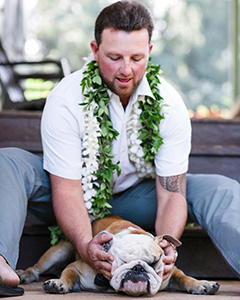 Kirby and Chubbs
Keeping Chubbs healthy is a priority for the Yates family as Chubbs has allergies as well as a face roll. To keep the allergies that plague him at bay, Chubbs requires a nightly cleaning of both his face roll and paws. Chubbs is a busy dog, his family includes him at every opportunity from daily walks to a leisurely lunch. Chubbs is also a huge fan of the beach as he loves running in the ocean so he's a regular at the local surf club.
Being a dog enthusiast, Yates wants to help put an end to animal cruelty as he believes that it is a devastating element in our world today. Although Yates would like to partner organizations to help end this, he hasn't had the chance to do so as he's moved around a bit with different MLB teams. In the Padres city of San Diego, Chubbs is known as a huge celebrity. Out of all the teams that Yates has played for, the Padres seem to be the most pet friendly one. He is proud to see that the Padres do a really good job involving all their pets and players.
As an aside it is worth noting that a love for dogs is just as strong in Kirby Yates wife, Ashlee Rowe, who started a babysitting business that babysat both professional athletes' kids and pets. Sadly counting Chubbs she is a full-time mother of three so her focus is now on babysitting a growing family of her own.