MIAMI MARLINS MIGUEL ROJAS
HELPING ANIMALS NEAR AND FAR
By Anuj Singh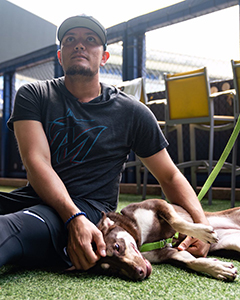 Miguel Rojas with his Dog
Miguel Rojas is currently the shortstop for the Miami Marlins in the MLB. Rojas has always had a respect for animals, love for them has come more recently. Growing up, Miguel didn't have any pets, but that changed when he met his wife, who owned an old English sheepdog. At first, Rojas feared the dog but eventually he grew to love it.
Currently, Rojas has partnered up with both the Miami Marlins and the Humane Society of Greater Miami focusing on helping animals in the Miami area. This includes sponsoring some animals at Mina's mini farm, a private animal rescue and sanctuary in Miami. In addition, Rojas does everything he can to also help animals in his home country of Venezuela along with his wife. Currently, they are working with people in Venezuela towards sterilizing all the cats they find on the streets once a month. Rojas wife plans on opening up a shelter such as, "Territorio de Zaguates" in Costa Rica.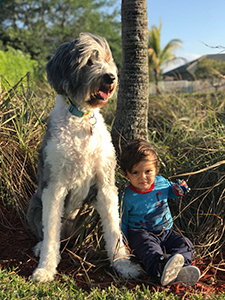 Miguels Rojas son and Dog
Besides hosting, "Bark at the Park Nights" for the Marlins, Rojas is always looking to support events that help animal causes and is currently planning more. He's also a dedicated advocate for saving and protecting animals. He is pro the "adopt don't shop" movement noting that not all breeders are ethical. He is concerned for the breeding dogs in puppy mills, aware of how bad conditions are doing what he can to raise awareness of the situation. He strongly believes families should head to their local shelter to adopt abandoned pets looking for a happy home. He believes as well that one of the best ways to help these animals out is to be sure they are not randomly reproducing and adding more homeless pets to the community. He also suggests that individuals express their commitment to animals in need of rescue by volunteering at their local animal shelters or organizations.
Rojas is always looking to help pets and even wild animals as he looks forward to showing his love and compassion for them every way he can. In Venezuela, his father was a livestock farmer, so as a young person, animals always surrounded him when he went to work with his dad. He admits that at first, he was quite scared of cats but he recently adopted a kitty during Christmas and now he's in love with his new feline friend. Although he misses his dog every day (it passed away not long ago), his heart is full of love right now for his cat.