Antone Exum Jr:
Athlete, Musician, Animal Lover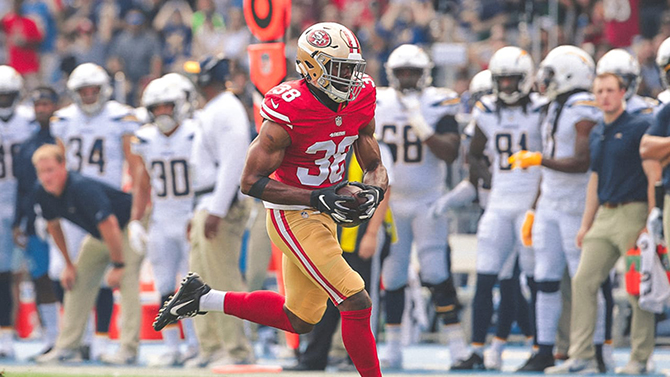 San Francisco 49er Antone Exum on the playing field. Off the field, he's a devoted animal lover
and the artist behind a new hip hop tribute to the controversial Colin Kaepernick.
By Joseph Freire
Football season is upon us, the time of year where families gather around the TV every Sunday to see their favorite team reach the end zone and score a touchdown. Antone Exum Jr. is one player who will be providing his talents on the defensive side of the ball for the San Francisco 49ers this season and he is indeed one to watch. Exum not only plays football, but in his free time he writes and performs music. And he is also an animal lover, devoted to his good buddy, his Schnauzer, Chief.
Exum's current stint with the 49ers is one that he says he loves: "I love coach [Kyle] Shanahan, I love coach [Adam] Saleh, it feels like a family there." Being an athlete is something Exum truly enjoys, he is honored with the opportunity to be a role model for so many. "Eyes are always on us and because of that we are able to inspire others," he says. Exum goes on to explain how athletes teach others to "deal with adversity. We work as a team to achieve a common goal."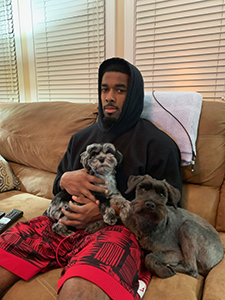 Antone Exum, San Francisco 49er. NFL Star, Musician, Animal Lover.
When Exum is not on the football field he is hard at work with his other passion, writing music. His recent hip-hop anthem, "oFFICER kAEPERNICK," is about the social injustices of law enforcement in America. It was important to him to bring to light issues that he felt were the reason Kaepernick took the knee during football games, the inspiration for his single.
After a long day of either making music or playing football, he comes home to his fiancée Chelsea and his dog, Chief. Chief is a Blue Merle Miniature Schnauzer whom Exum and his fiancé adore. Chief is rarely left alone, Exum explains, "Every second he is in our sight. If pets are allowed somewhere, he is usually with us." They won't leave him so much as in a room by himself for too long! After a long day Exum says, "Coming home to Chief and my fiancée puts a smile on my face, it is such a loving atmosphere at home."
Exum is also a strong believer in being a vegetarian. Abandoning meat has made him feel lighter, more agile, as if he "wasn't carrying his body around." All animals deserve to live is his philosophy. He has a beta fish, named Zee, and he believes his fish's life is just as important as a human's.
There is no doubt Exum is a skilled individual on and off the football field but he is also remarkably committed to the health and wellness of all animals. He can catch interceptions from star quarterbacks, and he can also write music. He also has a dog (and fish) that he loves very much and also values the life of all animals. What's success for him? "If I was the best that I could be on the field and after my football career, well, I see myself winning a Grammy." You can follow his very artsy Instagram @exumgod, and for the latest on his dog Chief, get the scoop at @bigboychiefy.