Isaiah Stanback:
A Jack of Many Trades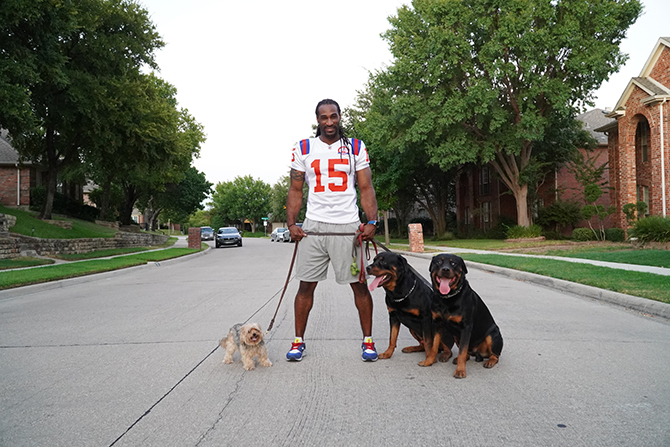 Isiah Stanback Former NY Giants Superbowl Champ with his best buddies. Always on the alert,
the Rottweilers are the family protectors looking after their two-legged friends with tremendous
love and devotion.
By Joseph Freire
He's won a Superbowl for The New York Giants, played for The Dallas Cowboys, been a star of the NFL and now he's a successful entrepreneur, Isaiah Stanback though would tell you that his greatest accomplishments are being a loving father and caring for a house full of furry friends.
When asked about his time in the NFL, Stanback called it a blessing. "I am glad to be the 1% of all athletes to have played in the NFL, and I am also blessed to be a champion." What does he love most about football? In a word, teamwork. Stanback says, "going through the ups and downs, you learn team building because everyone is trying to achieve the same goal." Being a professional athlete is not only about playing the sport, but also about preparing for your future after the sport, Stanback wants us to realize.
Stanback is the owner of a company called Steadfast Fitness, founded in 2013, its been growing steadily. Steadfast is a fitness center providing personal training and boot camp experience in a "family friendly environment." What's the goal here? Stanback is clear: "Steadfast helps people stay active and as we help all our client achieve their fitness goals, we are able to mentor and encourage their personal growth." He credits his time in the NFL as a giant stepping-stone to help him start Steadfast saying, "Being in the NFL helped me gain connections that allowed me to make a smooth transition from a pro athlete to a business owner."
Being a vegetarian is something Stanback sees as a remarkably positive change for his own health and wellness. An adjustment in the beginning, it has been beneficial in the long run. "Eating meat all your life, it's really hard to just cut that out of your diet. My family and I decided to turn vegetarian one day and here we are 6 months later." He says that he has dropped weight (about 7 pounds) and he feels as if injuries hurt less and heal faster.
Stanback and family are big dog lovers so it's no surprise they own three of them: two Rottweilers and a Yorkie/Chihuahua mix. Stanback explains that the family loves to take long walks with them around the neighborhood. Even if you're a former NFL Champ, sometimes you need a little extra motivation to go outside and his furry friends are just that, rain or shine, sunny days or chilly afternoons, he's glad to have his four-legged friends as a reason to keep himself and his family even more active.
His Rottweilers, though not trained to do so, can sense when his daughter has low sugar. "My daughter is a type 1 diabetic and we have had instances where they would show signs that she has low sugar and they would be right." Stanback also says that his big guys provide "security to the house and emotional support for the family."
Isaiah Stanback has gone from being a Super Bowl Champ to a successful business owner and a loving dad. He also does motivational speaking to businesses and sports teams. He's a proud to be a family man and couldn't be happier than when he's showing lots of love to his four-legged friends.