NY GIANTS WAYNE GALLMAN
KICKS BACK WITH APOLLO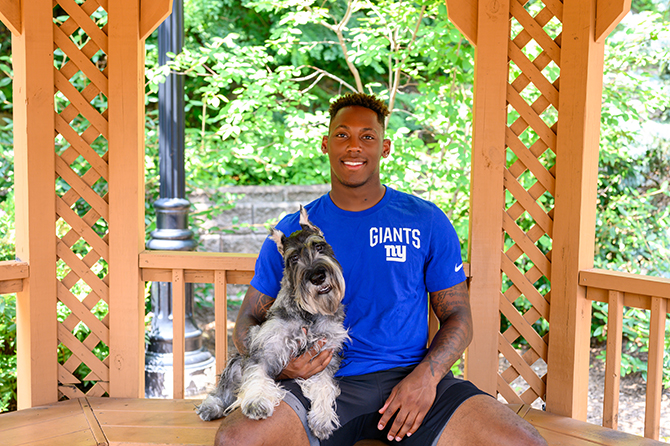 ©Tischman Pets Photography
By Zachary Holt
With the upcoming football season approaching and Fall camp underway, Wayne Gallman, one of the highly talented returning running backs for the New York Giants, is attempting to squeeze in as much time as possible with his partner-in-crime, Apollo. Rambunctious and playful, Apollo is Gallman's one-year old schnauzer who seems to have endless energy, but also the lackadaisical attitude to kick back and relax, much like his star-studded owner.
Gallman, an NCAA National Champion at Clemson, left college after amassing almost 3,500 rushing yards and 34 touchdowns on the ground. Since being drafted by the Giants in 2017, he has continued to showcase his ability to run the ball at the professional level, even emerging as a receiving threat out of the backfield. When Gallman's not bruising through defensive lines and secondaries, however, he's at home relaxing with Apollo.
The two are seemingly inseparable, as anyone can attest by viewing Gallman's Instagram page, which is littered with video clips and pictures of their adventures and downtime. Gallman explains, "We do really whatever. We wrestle around, go to the dog park. I took him down to the beach when I was in Florida. He loves going to the beach and being outside." According to Gallman, nothing is off the table for adventures they might go on.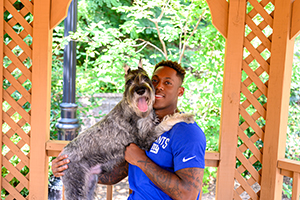 ©Tischman Pets Photography
But spending time with Apollo isn't the only aspect Gallman enjoys about his dog. He loves watching him grow from a young pup picked up from the breeder to the playful rascal he is today. He goes into detail saying, "Just seeing him grow and lose teeth and develop the characteristics and personality he has today has really been the coolest thing. You know, watching his facial expressions as he plays. It's weird because it's kind of like a little human."
Gallman's love for schnauzers didn't start with Apollo, though. It began many years ago while he was a child with his family owning a schnauzer named Max. Max led a great life and only recently passed away several years ago, leaving a void that needed to be filled in Gallman's heart. From that point, Gallman was committed to getting one for himself in Maryland, a drive of three hours from his home in New Jersey. "My uncle trained them and everything, giving me the love that I have for Schnauzers. Max died maybe six or seven years ago, but I always wanted one of my own," Gallman recalls.
As for Apollo during the upcoming regular season, Gallman will have to be away for extended periods of time with the team. That doesn't mean that Apollo won't have the adoration and care that he usually receives, though. There are a handful of his neighbors and friends that love to play with Apollo, vying to take him on walks and spend quality time with him. It's an unfortunate aspect that comes with the territory of being a professional athlete, but you can bet that Apollo will be even more excited to see his owner upon returning from trips.
From the look of things overall, Gallman seems to be living the life, and there's nothing truer from that statement than while examining his expected role with the Giants, come Week 1. With a handful of question marks surrounding the receiving corps due to injuries, trades, and suspension appeals, it's almost a given that Gallman will be targeted as a pass catcher, in addition to, his rushing duties as he splits carries with first-round phenom, Saquon Barkley.
When asked about his projected role for the team, Gallman stated, "This year, I think more so I'll be splitting carries. Last year, the way it went, when the running game got going, I did what I could behind [Saquon] and that's probably what's going to happen this year. But more so this year, I'm going to have a bigger, expanded role." He further elaborated on his role by sharing that he believes he's an all-purpose back that could catch, run, and block, further providing a premonition of his personal expectations for himself this season.
Regarding his outlook on the 2019 football season for the Giants, Gallman remains optimistic that they'll be able to improve upon last year's record, despite key departures. He predicts, "This year we're going to be better than we were last year, but it depends on how locked-in everyone on the team is and the preparation. You have to take it game by game."
Whether or not those results come to fruition, one thing is certain: Apollo and Gallman will continue to do what dogs and their owners do-spending time together, going on adventures, walking in the park, and in their downtime, just relaxing on the couch.