THE CHAMPION OF DOG DADS:
NFL GREAT ELI MANNING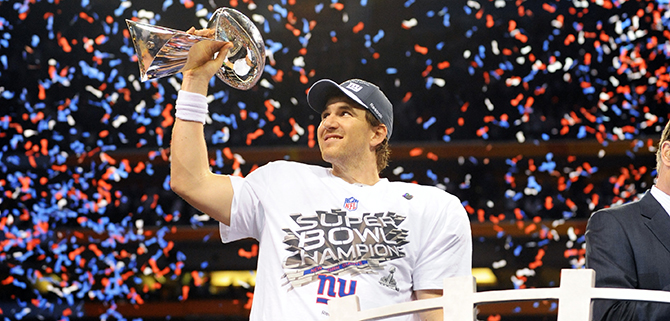 By Zachary Holt
On the verge of beginning his sixteenth season as an NFL quarterback for the New York Giants, Eli Manning is entering an elite category, one that is a pipe dream for so many rookie hopefuls as they begin Fall camp. That is, extending a playing career out for almost two decades. Players that come to mind who have accomplished this feat or are close to it include the likes of shoo-in Hall of Famers Tom Brady, Peyton Manning, Adam Vinatieri, and Drew Brees.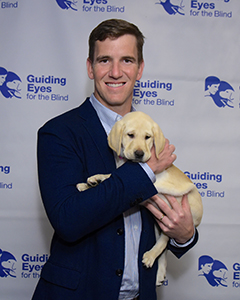 Eli Manning at Guiding Eyes for the Blind ©Guiding Eyes for the Blind
All of these players were able to near or surpass twenty seasons in the NFL despite the inevitable ups and downs that occur in the league, by continually improving skills relevant to their position, taking care of their bodies, and examining the game one play at a time. It's no surprise that Eli Manning has been taking notes of these success stories and in doing so, is creating an identical path for himself. Not that he wasn't already successful, though, having already won two Super Bowls and owning a current ranking of eighth all-time in touchdowns passes thrown.
Yet, these latter years in a player's career, should they have the opportunity to get there, make the difference between the moniker of esoteric legend status and that of those who ride out into the sunset with a dwindling career that quickly dissipates from mediocrity to being essentially all but forgotten. It is highly apparent though, that Manning is dead set on cementing himself through the former. In order to reach those legendary heights, Manning has been particularly innovative in helping add longevity to his playing career through non-conventional methods, much like Tom Brady has been doing for years through his TB12 plan.
Equally as impressive, Manning has been a champion of promoting the awareness of not only service animals, but those that are in need of a forever home. As it stands right now, the Manning family currently participates an event for Guiding Eyes for the Blind, an organization that specializes in training dogs to be used as a guide dog for the blind. Not to mention, Manning's family has been hosting this ongoing event for thirteen years. Much like Manning's illustrious career, his dedication has proven as effective as ever, only in this case, the benefit spans much wider than simply his playing career. His outreach and effects regarding these events have been well-documented and certainly, have led to highly positive outcomes.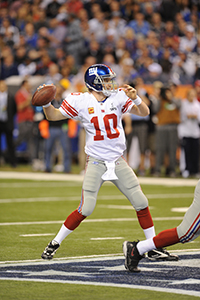 ©New York Giants
Aside from his philanthropic M.O., the Manning family has grown up with dogs, mainly Labrador retrievers, but currently, have a highly publicized King Charles spaniel named Chester. Chester has had no problems living in the limelight, though. Through being the "designated purchaser" for a luxury home on Long Island recently to being described as the protector of Manning's children, it's safe to say that he's living the life and there's no slowing down.
The interactions between Chester and the kids have been gleefully extolled: "He is very protective [of the kids] and keeps a good eye on them. He does not like when they go swimming. He's very scared for them in the swimming pool, you know. We've got a good eye on them, but it's sweet." The children also like to pay special attention to Chester by playing with him and seemingly harassing him every chance they're given. "He has two babies running around, and so, finally, the oldest has stopped grabbing the tail, but he's got a new 1-year-old. It's fun seeing my oldest starting to interact and wanting to play fetch and them having their own special relationship," Manning said. As Chester continues to grow with the Manning family, Eli continues to grow and adapt to an ever-changing landscape as the quarterback for the Giants.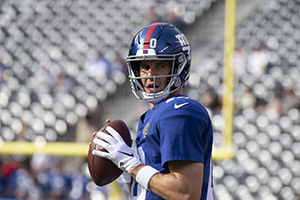 ©New York Giants
In an interview with ESPN's Sao Paolantonio, Manning responded to questions regarding his offseason regimen and how he was preparing for the 2019 season. Particularly, he was asked about meeting with his receivers at a high school, as well as, his desire to completely revamp his diet. As it pertains to his pass skeleton exercises with his receivers, Manning states, "Sometimes it's fun to, you know, kind of meet up with some of your receivers and just start working on some things. It's good just to throw routes." He also mentioned that there were some restrictions on how often or soon they could officially practice, so it was a leg up on creating or re-establishing that chemistry so crucial week to week in the NFL.
When prompted to speak about his age by Paolantonio, Manning explained how he felt being thirty-eight years old and what sort of changes he was making in his life to turn back the clock.
"I think you have to work harder the older you get. Eat different, 100%. It's all everything in moderation, obviously." The attribution of success in the NFL because of one's diet has been something highly analyzed by team personnel and scientists alike as they attempt to maximize the potential of highly valued players. However, sometimes athletes are required to think outside the box to get that extra edge in the competition.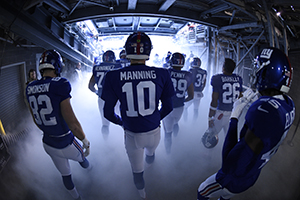 ©New York Giants
For reasons associated with prolonged arm care and arm strength, Manning searched out formed MLB pitcher, Tom House, to help preserve potentially the most important aspect of a quarterback, the arm. This past offseason, he once again went to House to ask for some advice as his career continues into unchartered territory. "It's not really baseball in the sense of, you know, how to throw the ball. It's more just he was just doing my weight training. You do a lot of arm care in that process," Manning shared. Manning's hoping that this advice and "arm care" work will translate into a better long ball with a higher velocity and more zip.
Whether or not these offseason regimens translate into a higher degree of success than the previous season has yet to be seen, but win or lose, Eli Manning is a champion. A champion of altruistic causes and support, as well as, a champion dad, or as you could say for Chester's sake – a dog dad.