MODERN FAMILY'S ERIC STONESTREET
AND HIS OWN SHAGGY DOG INSPIRE DUKE IN THE SECRET LIFE OF PETS 2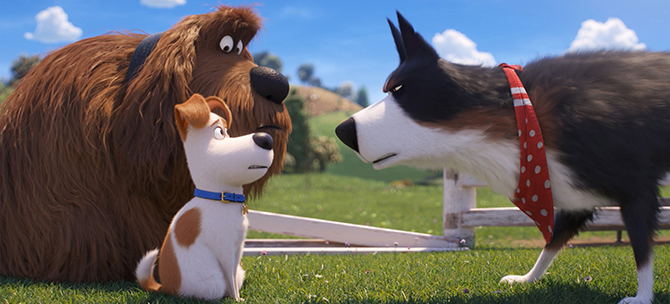 Duke (Eric Sonestreet) goes head to head with Rooster (Harrison Ford) the coolest farm dog ever in The Secret Life of Pets 2
By Samantha Story
We all know him as the eccentric and loveable Cameron Tucker on ABC's Modern Family and Duke from The Secret Life of Pets now Eric Stonestreet is bringing his character back to the big screen with the upcoming release of The Secret Life of Pets 2. His endearing portrayal of the shaggy rescue dog is a character influenced by the very animals within Eric's own life. His passion and genuine love for dogs is apparent when it comes to discussing his furry four-legged pals. He took time to chat with Pet Lifestyles Magazine to share highlights from his upcoming movie and the adoration he has for his rescue dog, Roscoe.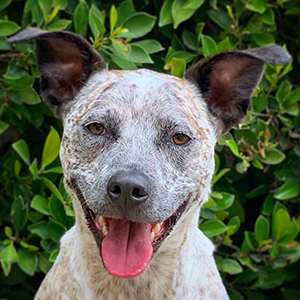 Roscoe from Wags and Walks Rescue in L.A. has stolen Eric Stonestreet's heart. He's earned his own place in the spotlight even appearing as a celebrity guest on TV talk shows.
PLM: Your dog Roscoe came from Wags and Walks Rescue in LA. What made you choose this rescue?
I lost my pal of 15 years, Coleman, a year earlier and I knew I would know when I was ready to even consider getting another dog. Around March of that year, I told Wags and Walks to let me know if they ever got a cattle dog/mix breed rescue. I knew them because a wife of a LA Kings player worked with them and I had been following them on Instagram.
They sent me a picture of Roscoe (name was 'Bolo' then) and when I saw him, I knew I needed to meet him. He was clearly very special even in a picture. He came over to the house and he immediately went and laid where Coleman was put to sleep. I later realized that the day they sent me his picture was the same day I had said goodbye to Coleman. It seemed pretty much like Coleman was letting me know I was ready to open my heart up to another pup. I had a vacation planned and said when I got back, I would take (Bolo.) So, on April 15th he came over for good to be my best PA.
PLM: I'm a big fan of Roscoe and I follow him on Instagram! What has been Roscoe's biggest celebrity moment so far since you adopted him 2 years ago?
Well, he's been on Ellen. That's pretty big. And He just did some press for The Secret Life of Pets 2. But like me, Roscoe enjoys just being at home in his backyard relaxing with close friends.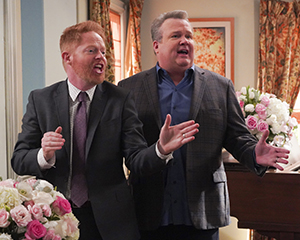 Eric Stonestreet as Cameron Tucker on MODERN FAMILY with Jesse Tyler Ferguson. A lovable, laughable couple
PLM: Has Roscoe changed your day to day routine?
Not too much. Like with Coleman, I have taught Roscoe the beauty of sleeping in when you can. He's pretty much on my schedule and is not happy when we have to wake up at 5 a.m.
PLM: Does he have any funny quirks or habits?
He's VERY affectionate and makes human noises while getting comfortable. It's very cute. He's keenly astute and ready in a moment's notice for any and everything. His aptitude to learn is very impressive and I wouldn't be surprised if in a couple years he's talking and driving a car. But for real he's a super smart dog.
PLM: It's always refreshing to see a person that just absolutely loves their dog. What has Roscoe taught you about dogs and love in the time you have known him?
I never knew how the unrequested affection of a big dog could make you feel so good.
Coleman was a little guy and while sweet, not overly cuddly. He had his own agenda. He did things on his terms. But with Roscoe, he will just out of the blue, come over, groan and lay on me. It's the cutest thing. But it does make my girlfriend a little jealous.
But I just look at her and say, "Babe. He was homeless. On the streets. In Pico Rivera. And she says, "Ya. TWO YEARS AGO. Roscoe is doing fine now."
PLM: Did you rescue Roscoe, or did he rescue you?
With both of the dogs I've had as an adult there is no doubt they came into my life at really important times. Coleman saw everything with my career. Ups and downs. From a small apartment to a nice house with a nice yard for him. And then with Roscoe, he helped me move on and forward and showed me that my heart was ready for another dog. I'm so thankful he came around when he did. I'm a lucky guy to have him and I'm lucky to have you too, Lindsay!! (I know she's reading this.)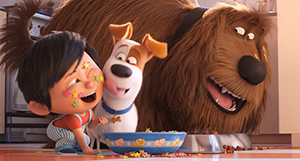 Duke one shaggy dog in The Secret Life of Pets 2 voiced by Eric Stonestreet known and loved as Cameron on TV's Modern Family
PLM: What would you tell someone considering adopting a dog?
Do it. You'll never regret it. The love you give is repaid 200 times with the love you get.
PLM: You play Duke in The Secret Life of Pets and the sequel which will be out on June 7th. Duke is a tough dog with a lot of heart. Where did you find the inspiration for the character you play in Secret Life of pets?
Just growing up around many animals and having Coleman is where the inspiration came from. Duke is a fun-loving fella and how I think most dogs probably are. Just eager and available for whatever. Whenever.
PLM: How will Duke's character evolve in the next movie? Are we in for another fur-raising adventure in the sequel?
Well, he's a parent now. Or so he thinks. So, he's trying to balance letting go and worry with Liam, his and Max's 'son' it's an amazing adventure. Even more epic than the first!! And hello!! Harrison Ford! He plays a cool farm dog named Rooster! Rooster is the coolest thing Duke had ever seen and what we all aspire to be. People are gonna love the movie and the heart in it!
For more of Roscoe and Eric Stonestreet's adventures follow them on Instagram @mynameisroscoe and @ericstonestreet. The Secret Life of Pets 2 hits theatres on June 7th.