Love Your Animal Heal Them Quickly
Fauna Care Introduces Breakthrough New Healing Sprays
By Samantha Story
Based on the belief that human wellness is directly related to animal wellness, Fauna Care, a breakthrough in pet care, was launched to help and heal all of our furry, fuzzy and scaly friends.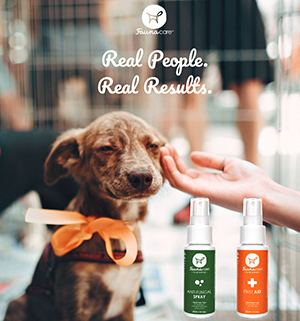 Pet Lifestyles sat down with Fauna Care founder, David Ball, to learn about his journey into animal wellness. "I found my motivation for creating the brand in my love for my own family and the importance that animals have always played in our happiness. My career has been motivated by entrepreneurship and the ability to connect that with my passion for animals has been truly rewarding. Pets have always played an important role in our family. Currently we have five cats, a dog, a gecko and we previously owned a horse. Our passion for pets made us well aware of animal care and the critical need to have effective, easy to use products available to all pet owners. When I was fortunate enough to find products I could really believe in, we launched Fauna Care to be a leader in animal wellness. We started with a focus on healthy skin and wound care because of the common issues many pet and pet caregivers face in this category."
What makes the Fauna Care line unique? "We are focused on having the most amount of active ingredients in our products and having them in a painless spray form to be easy for the caregiver and comfortable for the animals. The product stays in place and provides a painless, effective moisture barrier which kills bacteria, fights infection, and promotes a healthy, healing environment."
The Fauna Care products are patented, and the formulas are proprietary. They were developed through science and created out of passion for healing and care. Part of the uniqueness of the formulas allow the products to penetrate hair and fur without having to shave or alter the affected area. When you compare the products to others in the category, the difference is stark. Fauna Care provides much more active product for the money as well as no alcohol or irritating surfactants. Most other products rely on formulas containing over 90% water, which ends up serving as little more than a wash.
The current line up consists of four products:
Silver Spray, Antifungal, Condition + Protect, and First Aid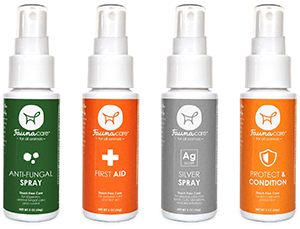 Fauna Care Silver Spray is the only Silver + Zinc sprayable combo on the market today. The healing powers of silver and zinc are well known and make the product useful for a multitude of conditions such as hot spots, scratches, wounds, post-op sites and general skin care. This spray speeds healing and eliminates infection…fast.
Fauna Care Antifungal Spray uses the power of ketoconazole to solve and manage a wide variety of itch and fungal conditions.
Fauna Care Condition + Protect Spray is great for general skin care and conditioning. It's amazing for rough, dry patches and skin that is in the later stages of the healing process.
Fauna Care First Aid Spray adds bacitracin to the formula for immediate treatment of any skin condition, wound, or irritated area.
David Ball and the Fauna Care team want all pet owners to have an opportunity to treat their animal's skin as well as or better than their own. "Our products represent a new perspective on preventative, restorative and healing for the animal skin care category. We believe all animals deserve the very best. It is important to me personally and I KNOW these products work as I have used them on all of my family members including the pets."
Fauna Care addresses most general and common skin and wound conditions. Please consult with a Veterinarian for extreme cases where medical care may be required.
For more insights into Fauna Care and how these breakthrough products can help you and your pet go to www.fauna-care.com