Pilots to the Rescue:
Saving Shelter Animals, One Plane Ride at A Time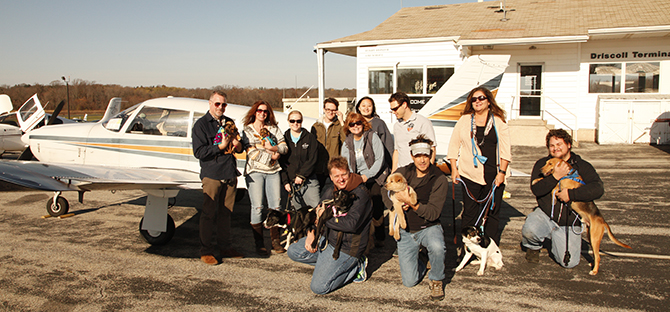 Pilots to the Rescue bringing pets to a place where they'll find love and compassion.
By Aaron Greenbaum
Picture if you will, a building where pets are housed in concrete cubicles with wire fences for doors. Cries and yelps echo off the walls, piercing your heart. Dogs and cats, some of whom have never known an affectionate hug or a bed to call their own, stare at you longingly as you walk down the drab corridors. No, this isn't a puppy or kitten mill; it's an animal shelter.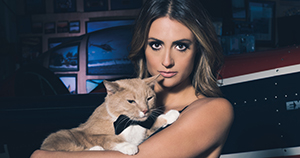 Former top model now top animal advocate Katie Cleary poses for Pilots To The Rescue annual celebrity calendar. Photo Kent Miller
While most shelter workers give these animals as much love and attention as possible, unfortunately shelter animals can easily become depressed. Even worse, overcrowding is a common problem, and euthanasia is a popular solution. It frees up space by disposing of animals deemed unadoptable due to health or behavioral reasons, or if they've just been in the shelter too long. Some people believe this is a humane practice, but many disagree.
If the animals are lucky, they will end up in a no-kill shelter and will wait to be adopted. If not, odds are they will be put to sleep. However, there's hope for some animals facing euthanasia because of Pilots to the Rescue (www.pilotstotherescue.org).
Today, Pilots to the Rescue primarily saves pets from euthanasia, but Schneider has bold dreams for the organization's future. He hopes to expand operations and fly sick humans to life-saving doctors and treatments. Moreover, he envisions a dedicated fleet of planes transporting those in need — a dream that is one step closer to fruition, thanks to a recently-acquired 1977 Piper Lance plane.
Flying into the Future
Pilots to the Rescue is a non-profit organization that not only is dedicated to rescuing pets from the threat of euthanasia - maybe the pet is old and not well or maybe it's an abandoned litter of puppies - the criterion is need not age; this compassionate group is equally dedicated to spreading the word about the need to save pets from being unnecessarily put to death. Thanks to founder Michael Schneider's leadership skill and contacts, Pilots to the Rescue has grown into a reliable network of pilots and drivers who pick up animals in kill shelters and take them to families, no-kill shelters, and adoption centers anywhere from South Carolina to Canada. However, Vermont is one of Pilots to the Rescue's most frequent destinations, since according to Schneider, it is a popular adoption state for rescue pets. Regardless of the destination, the staff at Pilots to the Rescue coordinate to make sure their fuzzy cargo arrives safe, sound, and ready for a loving home.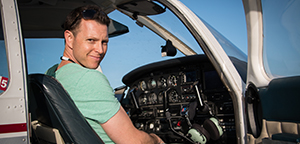 Michael Schneider founder of Pilots To The Rescue
Volunteering is the name of the game at Pilots to the Rescue. The pilots and drivers are not reimbursed financially for their work. They take time out of their busy schedules to courier pets into the hearts and laps of waiting families. Many celebrities also volunteer for the organization. They pose for promotional calendars and help spread the word about the often desperate state of animals in need of forever homes. Schneider believes their status as influences can reach and educate a myriad of people. While some celebrities, such as actress and model Katie Cleary, were well-versed in the world of animal and pet welfare before lending their faces to Pilots to the Rescue's calendars, others like singer and Broadway actor Constantine Maroulis were neophytes before joining the organization's cause.
How It Began
The seeds for Pilots to the Rescue were planted in 2014, when Schneider and his good friend Brian Orter caught wind that ten recently-rescued dogs were about to be euthanized. This motley crew of canines consisted of a litter of puppies that had been abandoned in a ditch, a Chihuahua, and several mutts — all of whom had ended up in a kill shelter. Schneider and Orter took the initiative and flew the dogs to safety.
Of course, no pet rescue is complete without at least one complication. According to Schneider, one of the dogs broke loose, on an airport runway no less. The furry little guy gave Orter quite a chase, and even the airport staff got involved, since few things in this world are more dangerous for a dog than running around an active airport runway. However, the escapee was finally caught, loaded onto the plane, and delivered to a loving home along with the other dogs.
Several months later, Schneider took a number of courses at Landmark Worldwide, recruited some close pilot friends, and raised over $10,000 with GoFundMe. Pilots to the Rescue was born, led by Schneider, one of the few private pilots legally allowed to fly using a plane's instruments alone, which is a boon when he has to rescue animals in bad weather.
Giving Extinction the Stink Eye
Schneider makes sure Pilots to the Rescue usually accepts emergency adoption and rescue missions that are financially viable and not a waste of donation money. However, sometimes the staff takes on a case that is a bit risky. In 2017, a Pilots to the Rescue volunteer ferried an endangered red wolf from North Carolina all the way to the Wolf Conservation Center in South Salem, NY.
According to Schneider, this rescue went off without a hitch, and the wolf arrived safely. He later sired two healthy litters of ten wolf pups in total. The conservation center considered the births to be momentous occasions since fewer than 30 red wolves remain in the wild. These pups are vital to the survival of the species.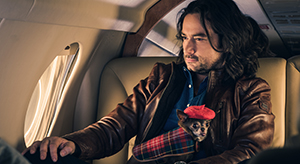 Constantine Maroulis of ROCKTOPIA with influencer Chloe Kardoggian on board with Pilots To The Rescue. ©Kent Miller
Schneider hopes this rescue is only the beginning of wildlife missions. He envisions saving other wild animals and even wants sea turtles to grace the cabins of Pilots to the Rescue's airplanes. With enough donations, volunteers, and permanent planes, that dream might one day become a reality.
As a non-profit organization, Pilots to the Rescue is dependent on donations and volunteers. If you would like to help the organization by donating your time or money, or you just want to get in touch with the brave volunteers, feel free to visit their website at www.pilotstotherescue.org.