Dr. Pussums Catnip: Pure Catnip Your Cat Can't Get Enough Of!
By Crystal C. Long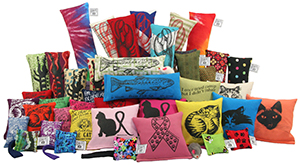 Everything fun, fab and feline in the natural catnip category from Dr. Pussums. Wicked good for your cat's pleasure and great for their health. Shop for it on drpussums.com
©Susan Shaw
Cats love catnip. That's no secret. But what exactly is this magic herb? It comes from a plant that showcases a combination of green leaves and small, delicate fragrant flowers that are either pink or white with spots of light purple. In fact, the name Catnip originated from the euphoric reaction cats get while playing with the plant; the pure oils contained in these leaves and buds give cats a natural high.
Maine-based The Pussums Cat Company certainly know their catnip – making catnip toys filled with 100% pure catnip since 1982, their products never contain any fillers or additives, making them the perfect toy for your beloved kitty. With a range of all-natural catnip toys and products, family-owned The Pussums Cat Company provides superior catnip toys and products guaranteed to please even the pickiest feline.
The bright-colored fabrics and fun graphics make playtime with your puss even more enjoyable, for fur babies and pet parents! We especially love the Kitty Krates Gift Boxes, what a marvelous selection of Dr. Pussums Fancy Feline Elixir Cat Nip Toys (made for the classiest cat of course), a Kick Nip, a regular sack, two small sacks, and three toss abouts – everything you need for the purrrfect gift for any feline. For the cat that's always the life of the party, there is nothing like the Combo Party Pack. Having the option of an Assorted Girl Cat Colors or an Assorted Boy Cat Colors, your precious kitty will be meowing over the crate of various catnip sacks and a fur mouse.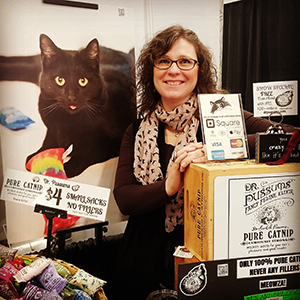 Susan Shaw of Dr. Pussums making sure this all natural catnip is simply the best for our favorite feline friends. ©Eben Shaw
Coming in all sorts of super cute graphics and colors (we just love the Dr. Pussums Soft Sack), "curiously strong" Dr Pussums catnip toys will keep your feline entertained for hours. The owners, the Shaw Family, know the importance of having good, quality, cat toys for your cat and these "wicked good," hand-made in the USA, all natural 100% pure catnip toys are the best ones your cat can get! But don't simply take our word for it, just ask Chester, Sula, Gato, and Timba, their resident feline supervision team. Get one for Fifi or Fluffy now at drpussums.com.