PICTURES WORTH A THOUSAND WORDS
TAILS OF THE DOG TOLD THROUGH ART THE AKC MUSEUM OF THE DOG OPENS IN NYC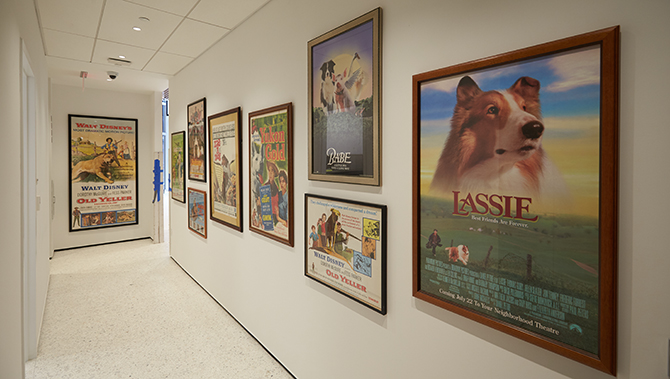 Something for everyone at the AKC Museum of The Dog. ©David Woo
By Chrysa Smith and Lori Zelenko
We adore our dogs. We treat them like our kids. We even capture selfies to preserve our memories with them. So it's no surprise that artists and photographers have captured these loveable family members (and champion)s for eons and passionate dog lovers have collected and treasured them for an equally long time.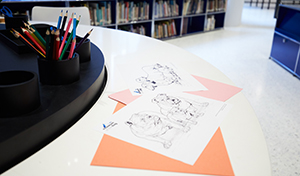 The library at The AKC Museum of The Dog
so popular it looks like a tornado swept through on a Saturday morning. ©David Woo
Enter the American Kennel Club (AKC). They are more than the official authority on all things dog, but are also curators of a museum. The Dog Art Museum to be exact. And you don't have to travel far to catch a glimpse of its exhibits, because it has returned right here to NYC.
The museum, located in Midtown at 101 Park Avenue (The Kalikow Building), was once in NY, then relocated to Missouri, and now back to the city. It contains two stories of fine art—on the wall, hanging and encased in glass, sculpture and even doggie memorabilia. The surroundings designed by Gensler Architects form a beautiful, modern, bright and airy backdrop to the art, unobtrusive yes and functional but sleek, welcoming and in an understated way, luxurious.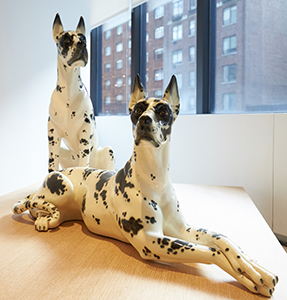 Just one of the fun exhibitis at The AKC Museum of The Dog. Lots to explore in this entertaining environment. ©David Woo
According to Alan Fausel, Executive Director of the AKC's museum, "It is exciting to bring this collection back to New York City. The museum is a beautiful ode to man's best friend and we are pleased to bring these pieces and exhibitions to new audiences." One of the things that pleases this Director the most is seeing the exciting mix of people pass through, 5,000 in the first week alone. From the classic New Yorkers like Gossip doyenne, Cindy Adams, renowned Yorkie lover to kids loving the interactive digital "games" to the students of dog lore delving into the library, which Fausel says looks like a tornado hit it with pencil shavings, papers flying everywhere and books tumbling off the shelves come Saturday mornings. He is thrilled to see this resource getting so much use.
As with all things interactive, this museum is as well. 'Arty' the virtual dog leads visitors through the space, making it fun for those of all ages. 'Meet the Breed' is a sort of canine encyclopedia that provides info on the characteristics, in case you're searching for a new pup. And there's 'Find Your Match', where people and their doppelgangers find true love. But Dogs in Art is more than a fun romp through our furry friends, it is also home to some of the finest dog artists in the world.
Among those on exhibit are works by English painter and sculptor, Edwin Landseer, whose first painting of a St. Bernard debunked the myth of them carrying 'spirits' to aid the lost or distressed. Domestic and wildlife painter Arthur Wardle, who held a particular passion for terriers. And Maud Earl, known for a wide variety of canine work with names such as Power of the Dog and An Inquisitive Look—messages all dog lovers can relate to.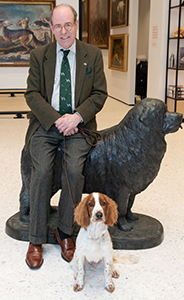 Executive Director of The AKC Museum of The Dog, AlanFausel, with his dog Gemma, a Springer Spaniel. ©Geoff Tischman
Don't forget the gift shop. It has everything a dog owner could dream of - and more. Fun stuff for every age from kids books and stuffed animals to jewelry and hand bags. Stop in to discover the unexpected yet perfect gift for anyone who loves dogs.
The initial exhibition an extraordinary blend of the AKC collection and the Museum's best works is on until the end of June. Among the shows coming up in the future, Dog Photography sure to be engaging after all who doesn't want to see the beauty of dogs in the eye of the beholder, Dogs in War and Peace stories of bravery and dedication in the face of danger, and in about two years, Fausel says, a Dog Collars no doubt ranging from the sublime styles of Royalty to the modern technology of today. In any event under Fausel's direction, the Museum is rapidly becoming an enlightening destination for anyone who has ever had a dog - or anyone who ever loved one, and Fausel reminds us that the Museum is inclusive, cat owners are welcome too.
For more information, visit www.Museumofthedog.org. Woof!