Days of Our Lives Star Victoria Konefal and the Star in her Life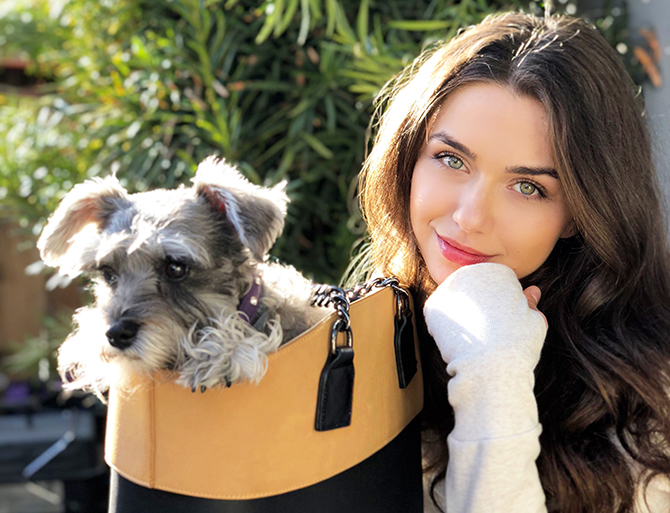 Victoria Konefal with her dog Lola
By Crystal C. Long
Known as Ciara Brady on the long-running daytime soap opera Days of Our Lives, native Brooklynite Victoria Konefal has been captivating viewers with her charm, beauty, and acting chops on the soap since 2017. Having grown up with dogs her entire life, Konefal started a life-long friendship with a sweet and fun-loving pooch named Lola when she made a spontaneous decision to welcome a dog into her life. "Getting Lola was one of the most spontaneous decisions I've ever made in my life." Konefal told Pet Lifestyles Magazine. "I was going through a tough breakup and I was sitting on my couch and thought, 'it's time for me to get a dog'" And needless to say, the rest is history.
Having grown up with Schnauzers, Konefal knew exactly which breed she wanted to get. After a visit to a breeder, Konefal found the perfect little angel: a miniature Schnauzer – and oh boy, does Konefal adore her! Now three years old, the two do everything together, "I try to bring her to as many places as possible. When she was six months old, I even put her in my purse and brought her with me to church on Easter Sunday!"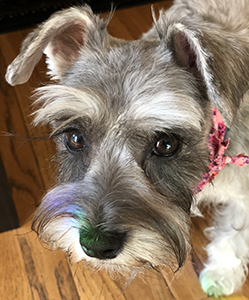 Lola
Getting a pet is one of the best things anybody can do for themselves. Other than just companionship, comes along a lifetime of priceless memories and special moments that you will cherish – and I am sure a dog-lover like Konefal would agree. "My favorite memory is when I took her (Lola) on a plane for the first time and had to calm her down by singing, 'Happy Birthday' to her. I don't know why, but it worked, and she curled up in my hoodie and fell asleep. It was so precious." Yes, having a pet is one of life's greatest joys, and all we pet parents return the favor and do our best to make our little fur babies happy. "One of my favorite things to do with her is bring her camping on the beach. She hasn't gotten used to the ocean yet, but we are working on it! Our absolute favorite thing to do is play ball. She has a collection of teeny, squeaky tennis balls that she goes absolutely ballistic for, there's even one shaped like a football. I don't know why, but all of her other toys pale in comparison to the tennis balls. Sometimes she'll even lay on her back and hold it in her paws and throw it in the air to catch it in her mouth. She's so smart."
The bond between human and pet is absolutely invaluable, and part of the fun is getting to know your furry best friend as they grow up – some might even say it's the best part. Konefal is no different, "She is like a rabbit/goat/deer/puppy hybrid. She straightens all her legs and hops around when she gets really excited. She'll also get these really energetic moments sometimes, and she'll just run around the house in circles until she's exhausted."
Pet-parents will do anything to show their fur-babies how much they love them: from dog birthday parties to dog spas, nowadays, the options for treating our dogs are endless. "I indulge her with love and affection! I guess the craziest thing I've done for her is spend $100 for her last birthday on treats and toys. I got her this cute little lamb, freeze dried sushi roll treats, three bags of various doggy cookies, a yogurt ice cream cake and 15 tennis balls that I threw at her all at once! She lost her mind. Her favorite thing was her tennis ball, for sure." Konefal chuckles at the memory.
The 22 year-old star has garnered recognition within the industry as Ciara Brady, earning her the title of "#1 Soap Actress" in TV Source Magazine's poll for multiple consecutive weeks. She has also showcased her talent in roles opposite Vivica A. Fox and fellow soap stars Lindsay Hartley and Lesli Kay. Konefal will also soon be playing the villain role in the upcoming horror indie flick Fog City. One thing we know for sure, Lola will be by her side for every step of the way.