Do you get a bit of a sinking feeling when you have to board your dog before leaving on vacation? Well, skip it. Instead, pack your best buddy's bags and head out on a warm-weather road trip. These destinations have curated experiences with you and Fido in mind, so take full advantage of their incredible hospitality. Whether you're looking for beach vibes, historical outings, or full throttle doggie dream camp, there's a little something for everyone.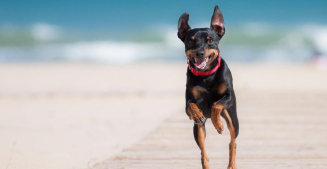 OCEAN EDGE RESORT & GOLF CLUB
Cape Cod, MA
Enjoy summer's lingering sunlight while meandering with your pup at Ocean Edge Resort & Golf Club. The property offers 429-acres of iconic Cape Cod scenery and allows you to seamlessly toggle between beach vibes and a bit of luxury—without boarding your best buddy. Book a stay at the property's pet-friendly Arbor Villas, and enjoy the elevated amenities such as a pet bed, food, water bowls, a mat, and treats. The Abor Villas include private patios or balconies and proximity to the property's extensive offerings, ranging from the 18-hole golf course, nine different dining options, and activities such as kayaking and bike rentals. Whether you rent one of their classic Cape Cod cruiser bikes or walk, your dog will be spoiled rotten on the 26-miles of Rail Trail access and local dog-friendly beaches. Info: oceanedge.com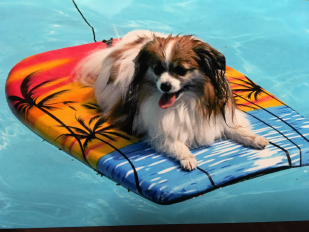 CANINE CAMP GETAWAY
Catskills, NY
If your goal is not to include your dog but to design the vacation entirely around his wiggly whims, enjoy the all-inclusive Canine Camp Getaway. The company holds two events each year, one in The Catskills and another in the Gettysburg area of Pennsylvania. Their 5-day pup-centric hotel experiences are designed for dog owners who unapologetically adore their dogs.
The plan for each day is spilling over with activities for you and your dog, 6-8 activity options per hour such as agility, flyball, barn hunts, freestyle dog dancing, veterinary workshops, swim lessons, guided hikes, and more. There are over thirty-five different activities, classes, and educational talks. Or your pup may decide to play it cool by enjoying some time at the dog-friendly pool. And, in case you're wondering, yes! Of course, there's a yappy hour each day. Info: caninecampgetaway.com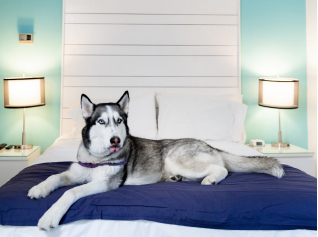 CANALSIDE INN
Rehoboth Beach, DE
Canalside Inn, located in downtown Rehoboth Beach, Delaware, has been voted best of Delaware twice in the past three years. It's no surprise, though, since the beachy-hued spaces are so utterly welcoming – even to dogs. The property welcomes dogs of all breeds and sizes.
The boutique hotel offers thirteen individual rooms and suites, each with a small fridge, microwave, and access to Netflix. You'll undoubtedly be spending time at the beach, and your hosts offer free use of their many beach chairs and bicycles. Then, when it's time to put your pup at the center of the day's schedule, nearby Junction & Breakwater Trail offers fifteen miles of well-maintained walking trails. After working up a sweat, the staff at Canalside Inn can help direct you to the area's dog-friendly beaches to cool off. Or, if Fido prefers, skip the beach and head straight to Salty Paws—a doggy ice cream bar. Info: thecanalsideinn.com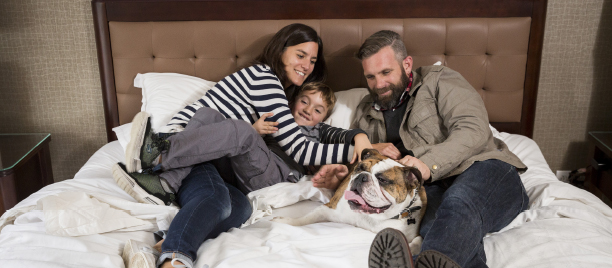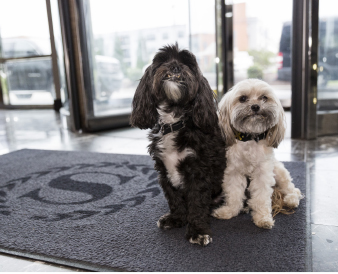 REDEFINING PET-FRIENDLY
Montgomery County, PA
The folks in Montgomery County, PA—lovingly referred to as Montco—rolls out the red carpet for dogs. Half of the area's eighty hotels are dog-friendly, making it easy to include your dog on a getaway to this historic area, which features Valley Forge National Historical Park. The park alone offers 3,500 acres and twenty miles of trails, but there's so much more.
Whether you choose the Sheraton Valley Forge or the Alloy King of Prussia, a DoubleTree by Hilton property, you and your fur-baby will be welcomed with open paws. The area includes outdoor adventures such as kayaking and horseback riding and shopping, golf, cultural outings, and many historical sites. But the area is also known for its dog-friendly restaurants, shopping, dog bakeries, and almost one hundred miles of dog-friendly trails and parks. Montco doesn't just want Fido to hang out with you at the hotel; the entire area is a puppy paradise.
Info: valleyforge.org/place-to-stay/pet-friendly