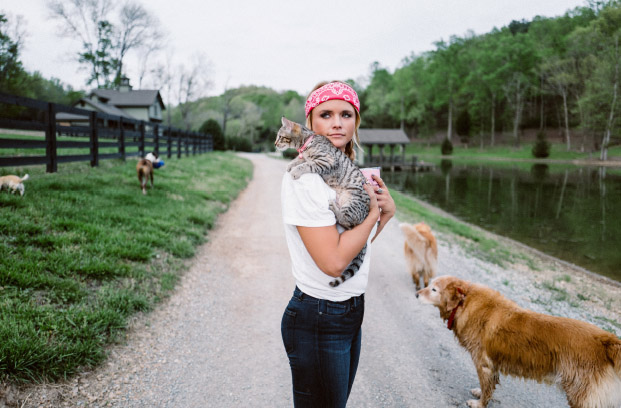 Miranda Lambert
Lifting up America's Shelter Pets
By Jennifer Kennedy
Country music superstar Miranda Lambert will never forget how helpless she felt watching Hurricane Harvey's devastation in her home state unfold on the news from her London hotel room. The most decorated artist in the Academy of Country Music history was wrapping up a European tour and immediately called her parents. "What is happening in Texas?" she pleaded as record rainfall created catastrophic flooding in Houston and chilling images filled her news feed.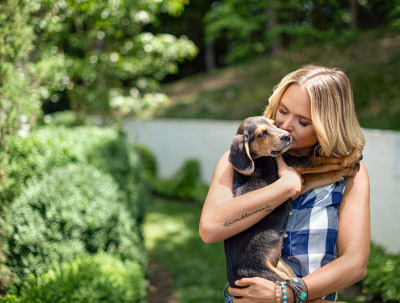 Two hundred miles north of the category four storm's landfall, Bev and Rick Lambert were safe in the family's hometown of Lindale and packing their vans to leave. Instead of evacuating, they were mobilizing volunteers and loading boats onto trucks to head into the destruction. The governor's office and The Humane Society enlisted MuttNation, the shelter support foundation that Miranda and her mom, Bev, founded in 2009, to provide relief to animals in need - especially in the face of natural disasters. "You can't imagine what that much water looks like until you see it for yourself," Bev recalls, "It's devastating."
"I'll meet you there. I'm flying out tonight," Miranda told them as she quickly packed. "You're exhausted. Can I talk you out of this?" her manager chimed in. "Nope." was her determined response.
The Lambert family and a team of volunteers were "boots on the ground" working around the clock for five days through strenuous conditions and little sleep. There was an urgent need to transport animals from crowded shelters to make room for stranded pets so they could be reunited with their owners.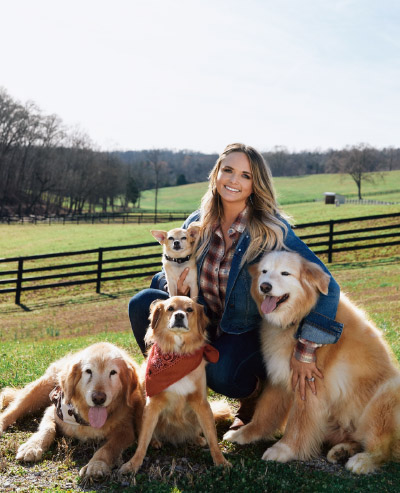 "Anyone that is working disaster relief knows how grueling and emotional it is. It was one of the hardest but most rewarding things I've ever been a part of. Nobody likes to look adversity in the face but it's worth it to help innocent creatures that couldn't help themselves. That's greater than anything else even if it is exhausting and there are tons of tears shed," Miranda tells Pet Lifestyles Magazine.
They transported hundreds of animals to Oklahoma to be vetted, fixed and later sent to partner shelters to find their forever homes. The 2018 Country Music Hall of Fame Artist in Residence immersed herself in the arduous day-to-day work and instagrammed stories of adoptable dogs to her millions of followers. MuttNation created a social media page and hotline. "We seized the day. The greatest thing is every dog we rescued lived and was adopted. They all made it," Bev says. She adds there are likely many pets named Harvey and Harvetta out there.
This wasn't their first encounter with disaster relief, nor would it be their last. Years earlier when an EF-5 tornado leveled the town of Moore, Oklahoma just 100 miles from Miranda's home, buildings and houses were destroyed leaving animals distressed and displaced. The governor's office granted MuttNation permission to convert the state fairgrounds into a makeshift shelter, complete with a pet bulletin to help with reunification. Bev remembers, "When you see a family come in disheveled, desperately looking for their pet and they find it – it is something to behold. It's breathtaking. They thought they'd never see them again and then to be able to tell that family that lost their home – don't worry, we'll take care of your pets until you get reestablished. You take care of you and they'll be right here when you get back."
To further the relief, Miranda joined a star-studded list of musicians for an emotional performance in the "Healing for the Heartlands" benefit concert that raised millions for tornado victims. Last year MuttNation provided disaster relief for the tornados in Nashville, wildfires in California and Oregon and Hurricane Laura in Louisiana.
As 2020 created novel challenges, the foundation rose to greet them with innovative support. They partnered with organizations for a historically large Covid-related transport from Hawaii to Washington State and supplied dog food to Musically Fed for struggling music community members with pets.
When Miranda's back-up singer's dog became ill just as the pandemic was halting live performances, they were inspired to offer a new kind of assistance. The MuttNation Fund at Waggle is structured to help those in the music industry financially impacted by the pandemic with vet bills. The Foundation was recently the recipient of a generous grant from the Country Music Association allowing it to continue providing aid during post-covid recovery.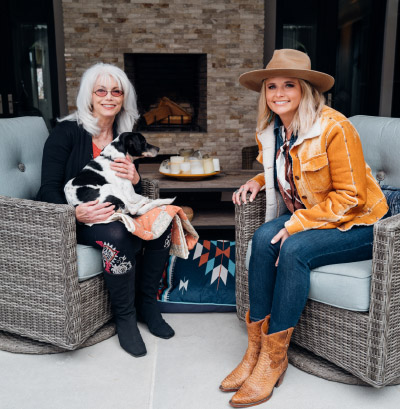 Fans and fellow artists have joined her crusade. Through the Fill the Little Red Wagon program, ticketholders bring requested supplies to concerts and carloads of donations are then delivered to local shelters. Emmylou Harris is part of MuttNation's new adoption outreach campaign, Love Harder, that aims to bring attention to dogs that are often difficult to adopt. The program highlights the beauty of senior dogs, dogs with disabilities, big black dogs and pit mixes through a yearlong multi-platform effort that will include radio and televised PSAs. Miranda stresses how important it is to open your heart and not overlook these special dogs when searching for a pet, "Dogs choose you anyway, all of my dogs have done that."
Choosing rescue as her platform was no surprise to her animal loving family. Miranda's most determined mom, Bev, laughs as she describes their holiday gatherings, "There are more dogs than people." The Lamberts, who ran a private investigating firm, were always "taking in whatever needed taking in" on their Texas farm. The Foundation, she says, "Is born out of our hearts and souls."
From Miranda's very first dog, Scooter Brown, who slept underneath her crib from the day she was born, the Pistol Annies' singer loved each and every one of the stray dogs, cats, rabbits and chickens who called her family farm their home. Bev distinctly remembers the first time she saw Miranda "truly live out that compassion on her own." Bev's husband Rick found a small puppy with mange and horribly matted fur. Seven-year-old Miranda comforted the dog as they worked for hours to clean and care for her. "I saw her singlehandedly take over the job and immediately take this little animal as her own. She doesn't just watch, she gets in there with both hands to help."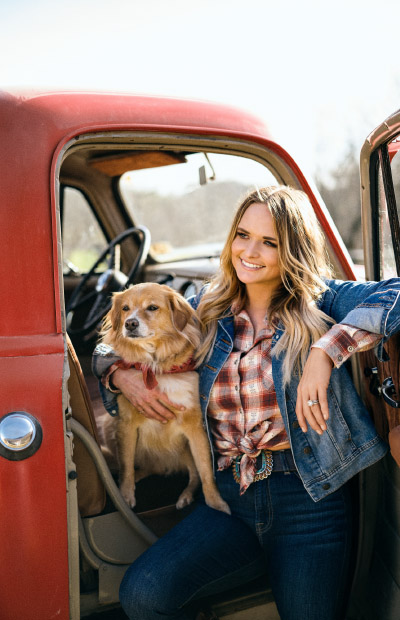 Today the Best Country Album Grammy winner is a proud mom to six dogs, two cats, five horses, two mini-horses, and two goats. A sign that says, "There's always room for one more dog," proudly hangs in her Nashville home. Her clothing line "Idyllwind" is named after her first horse, Elle Idyllwind. She fell in love with riding at age thirty but describes the experience as "fun and a bit scary at the same time." The brand of stylish clothing, boots and accessories mirrors those feelings of "taking risks, being brave and trying something new."
Three years ago when she met her husband Brendan McLoughlin, she had a record twenty-two pets and laughs as she recalls telling him from the start, "I hope you like animals." Although the former NYPD officer was an animal lover, growing up with six siblings in the city, he never had one of his own. Miranda says he's handled the adjustment with ease and more time together at home with their animals on their Tennessee farm was an unexpected blessing of this past year. "It was the first time in almost twenty years that I've had some time off. I think I learned how to balance life better going forward. Push hard at the times you are supposed to and then let it be okay to take time off."
As life returns to normal, she is thrilled to be performing again in front of fans and celebrating her new Nashville restaurant Casa Rosa with friends. The Tex-Mex Cantina is the first on Nashville's Broadway from a female artist. The nine-time Female Vocalist of the Year is also proud of an authentic new project with fellow singers and songwriters Jack Ingram and Jon Randall. The Marfa Tapes is a raw acoustic album written and recorded entirely in the small, middle of nowhere, desert town of Marfa, Texas. They used just two microphones and did only one take of each song with the sounds of nature echoing in the background. She describes the experience of creating a record outside of a studio, as "very freeing, organic and pretty magical really."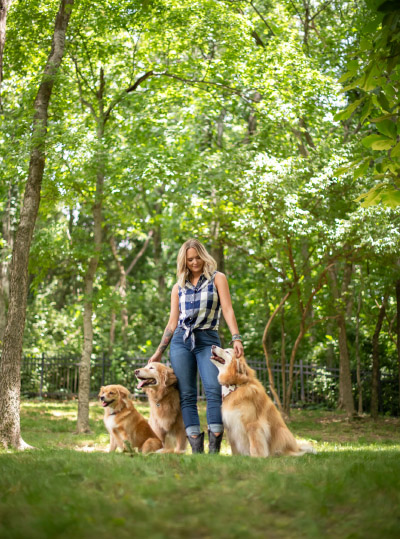 Miranda, who recently won Music Video of the Year for "Bluebird" at the CMAs, is thankful for the immense platform her career has provided, giving her the resources to support her lifelong commitment to rescuing animals. "I'm glad I've been able to use what country music has built for me for the greater good. This is what I am called to do. Holding hands with those that have the same goals; that is my favorite thing. I'm grateful to be able to shine a light on the incredible people I am able to work side by side with. It's a hard job, I've done that kind of work in shelters, and I know it's exhausting - especially for your heart. With MuttNation we are able to ask: 'What do you need? How can we make things better?"
Bev explains that the foundation doesn't operate a shelter but instead, "We hold up the arms of those who do. This is where we belong and worth everything we have put in the last twelve years." Their many valuable programs and mobile adoption events are designed with this goal in mind. A partnership with Tractor Supply Company allows them to sell an exclusive line of MuttNation On the Farm pet food, as well as bedding, toys and supplies in stores and online to help support the foundation.
For those hesitant to adopt a mutt, Miranda is quick to point out that she sees the uniqueness that mixed breed dogs offer as a plus, "You get all these amazing qualities of these different breeds mixed into one. I think it's fun to try to figure it out and wonder about the mystery."
She adds that even if this isn't the right time in your life to own a pet, there are still countless ways to give back to animals in need. Volunteer at shelters to walk dogs, play with puppies or foster a pet. Even a small step goes a long way to improve the quality of life of a shelter pet.
As far as her own recues, many of which she found herself as strays, Miranda says, "I have a very public job, but they just know me as mom. It keeps me humble and has added so much joy to my life. No one is more excited to see me when I come home than my babies. What I give them is not even close to what they give me back. It's unconditional love. I love all animals, but there is something different about a rescue dog or a shelter pup. It's like they know…and they appreciate it forever."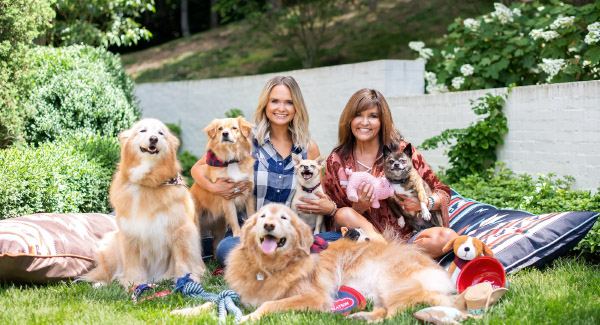 By Jennifer Kennedy
In 2014, growing donations to MuttNation Foundation from Miranda Lambert's fans across the USA led her mother Bev to come up with a creative way to spread the financial resources needed to help animals across the nation. Mutts Across America was created to award a shelter or foster-based rescue in each state a surprise $3,000 donation each year. A former private investigator, Bev meticulously researches each organization before choosing, along with other Board members, which outstanding nonprofits to honor. The carefully vetted selection criteria ranges from a successful adoption rate and impressive volunteer activity in the community to fiscal responsibility. This year thanks to the generosity of title sponsor Tractor Supply Company, Mutts Across America was able to increase each of the 50 donations to shelters in need to $5,000. Since the initiative's inception, the program has supported more than 300 shelters with over $1.3 million in grants.
2021 Pennsylvania recipient, Home at Last Dog Rescue Director Colleen Scheuren emphasizes that the much-needed funds couldn't have come at a better time. The rescue was unable to hold in-person fundraisers due to the pandemic, creating significant financial challenges from mounting medical bills. Scheuren feels the importance of their support extends beyond the unexpected donation, stating, "There is a growing need for rescue, advocacy and nationwide exposure for all the dogs in need. MuttNation Foundation has been amazing, very much at the forefront in not only saving dogs, but being a help to all of us in the rescue and shelter community as an advocate by continuing to shine the public eye on our commitment and our cause."
Tractor Supply Company has evolved from a Mutts Across America sponsor and business partner into one of the organization's largest fans. While MuttNation awards the surprise donations to deserving shelters, Tractor Supply CEO Hal Lawton had one of his own for the foundation– an additional $200,000 check presented to a shocked Miranda's after the company's Neighbor's Club Concert in May. The Grammy winner says, "Tractor Supply's generosity has exceeded anything I could have imagined. Their dedication to the welfare of animals has always been something I admired – it's such an important authentic part of who they are as a company and as individuals. I'm so excited about all of the good we're doing together."
To help support Mutts Across America and other programs MuttNation products are available at Tractor Supply Company stores and online at tractorsupply.com/tsc/cms/muttnation. The lifestyle retailer is the exclusive home to the MuttNation On the Farm line of pet food, bedding, toys, and supplies. A percentage of each sale goes directly to the foundation to promote the adoption and wellbeing of shelter animals.