MUST-BUY PET INNOVATIONS FOR THE NEW YEAR
By Aaron Greenbaum
With Holidays and a glorious New Year on our minds, now's the perfect time to buy innovative gifts for friends and family. And, for the pet lovers on your list, here is a nifty selection ready to make life with their beloved fur kids that much smarter.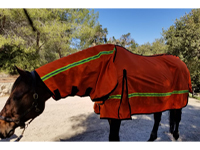 Equisafe
Ask anyone who owns a horse, and they will probably tell you they would love to keep an eye on their not-so-little equine 24/7. Moreover, horse owners are often especially worried about barn fires, but protecting horses from fire burns isn't as easy as simple monitoring. To help, clothing designer Dalia MacPhee created the Equisafe blanket, the world's first fire retardant horse blanket. And she has also created a version for dogs after all dogs and horses go together. You can pre-order two different blankets for two different levels of protection for dogs and horses.
Info: daliaonline.com.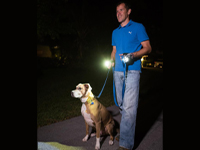 RunLites
Sometimes, your dog wants a midnight walk, and while they have night vision, you don't. To see in the dark, you need a flashlight, and speaking from experience, it's awkward to wield a flashlight and pull out a bag when your dog inevitably poops. RunLites, however, changes all that. They are gloves that also serve as flashlights, which warm your hands on cold nights, guide you in the dark, and help you find and pick up rogue poops.
Visit: mangatalites.com.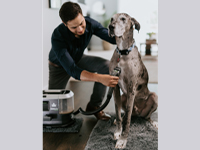 BarkBath
Say your dog is playing outside and gets dirty. You could carry them into the house for a bath or drive them to the groomer, but those options are too messy. Instead, you should bring the bath to your dog with the BarkBath. The device uses less water than a household bathtub; and it can shampoo, clean, and bathe a dog outdoors. Never worry about wet or muddy dog fur flying everywhere in the house (or car) again.
Info: bissell.com.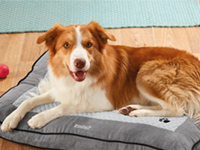 Zoofari Dog Bed
If you ever visited a Lidl supermarket, you might have seen the Zoofari dog bed for sale. It may look like other dog beds on the market, but it sets itself apart by reflecting dogs' ambient heat back at them, which keeps them warm on chilly winter nights. And, when summer rolls around, you can flip the bed over to the non-reflecting side to keep your dog cooler than a cucumber. The only downside to the Zoofari bed is it's a limited stock item, so if you find one, buy it because when it's gone, it will probably be gone for good. Lidl stores carry this item so check the website to find one near you, coming soon to the NY area.
Info: lidl.com.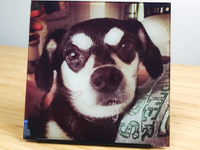 Fracture Photo Prints
If you want to confuse your friends and family this holiday, ask them to get you a Fracture. Despite its name, the Fracture is a picture printed on glass, which means it's attractive and doesn't need a frame. Best of all, you can get a Fracture of almost anything, including your beloved pet. Just upload their picture to the Fracture site, order the size you want, and wait for delivery. Who wouldn't want to show off a picture of their pet that is photo, frame, and protective glass all in one?
Info: fractureme.com.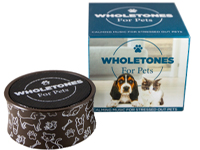 Wholetones
Nobody likes to leave their pet home alone when they go to work. However, you can ensure they're entertained for the day with a Wholetones music CD. Not only does it prevent separation anxiety, Wholetones also calms them down and curtails barking via soothing music. Of course, you have to keep the CD playing while you are gone, but at least you won't come home to a nervous pet.
Info: wholetones.com.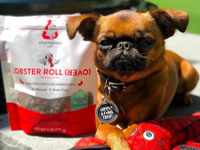 Shameless Pet Treats
While dog treats make for a quick and easy pet gift, the factories that make them usually aren't good for the environment. If you want to make your pet happy and be ecologically responsible at the same time, you might consider buying some Shameless Pet Treats. Unlike other treats, Shameless' treats are crafted from upcycled ingredients, i.e. foodstuffs that would otherwise go to waste. Apple pulp, lobster shells, leftover pumpkin; they're all used to make Shameless' treats. With Shameless, you can give your pet a snack and cut down on wasteful behavior at the same time.
Info: shamelesspets.com.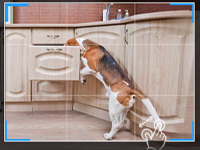 Zmodo Sight 180
Zmodo creates a variety of cameras, and while the Zmodo Sight 180 isn't one of the company's newer models, it's extremely affordable and ideal for remote pet setting. The device can't toss out treats like other pet cameras, but it lives up to its name and provides an unobstructed view so you never lose sight of your pet. Best of all, you can watch them from the comfort of your phone.
Info: zmodo.com.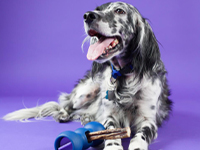 Bow Wow Labs Bully Buddy
If dogs could talk, they would probably tell you how much they love bully sticks. While some puppies chew slowly and carefully, others go nuts and create choking hazards-in-waiting. That's where the Bow Wow Labs Bully Buddy comes in. This device is about as low tech you can get, but it secures tightly on the ends of bully sticks and prevents dogs from choking on them. While the Bully Buddy isn't one size fits all, there's a Bully Buddy for a dog of every size.
Info: bowwowlabs.com.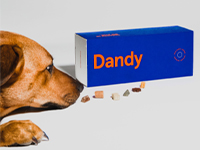 Dandy
Dandy is less of a gadget and more of a service that involves a laboratory full of gadgets that design tailor-made treats for your pet. Each treat is created via an algorithm to cater to your dog's specific health needs. While Dandy should be in full swing by the Holidays, you can sign up for their newsletter and be the first to treat your pet to the future of treats.
Info: lovedandy.com.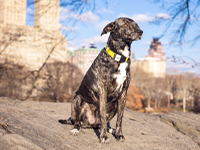 Fi
A lost dog is heartbreaking. Definitely not something you want to experience especially over the Holidays. Fi tracking collar lets you instantly track your dog's location no matter where they are in the US. It lets you keep an eye on dog walkers and caretakers. Unmatched battery life. Put it on and forget about it. Avoid anguish. Achieve serenity knowing you have precise tabs on Fido's whereabouts.
Info: tryfi.com.