YOU'LL BE SINGIN' IN THE RAIN WITH THESE COLORFUL
RAINCOATS FOR YOUR PUP
By Crystal C. Long
Having a dog is very much like having a child; no wonder we call them fur babies! You have to take care of all their needs and wants, you take him/her (mostly) everywhere you go, and immediately they become the light of your life. Yes, us crazy pet parents treat our dogs just like children. What's more fun than being a proud parent?
Love to parade your dog around town? But realize that just like it is with kids in tow, you have to make sure to pack going-out essentials – although your dog may need a little less stuff than the average kid. A good traveler always knows to be prepared for the unexpected, like rain. Nothing ruins a day of fun playing outside more than dark storm clouds and a torrential downpour, of course even a drizzle can put a damper on things.
Pet Lifestyles is here to bring you the cutest selection of raincoats for your pup to keep them happy and dry. Don't let rain ruin your pup's day. With one of these chic and practical raincoats, rain or shine, your pup can now be as happy as Gene Kelly and Debbie Reynolds in Singin' in the Rain.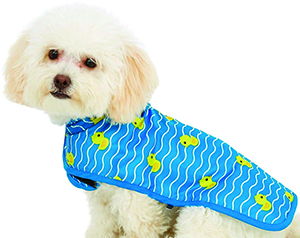 Raining Ducks
What's cuter than rubber duckies? With a super cute yellow ducky print, your dog will be oh-so-stylish and dry in this Rubber Ducky Dog Raincoat from Frisco. Made from a water-resistant material, the belly straps attachment and leash hole will make your pet feel secure and help keep the raincoat in place. Info: chewy.com
---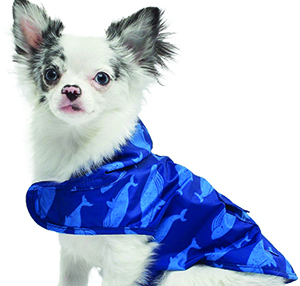 Whaling Out
Your pup will look super snazzy in this Whales Dog Raincoat by Canada Pooch. A versatile snap-back hood design will let Fido be prepared for any weather, rain or shine. This chic raincoat features a wrap-vest design and fuzzy fastener to let your dog get ready in a flash. The polyester fabric makes it a breeze to clean. Info: chewy.com
---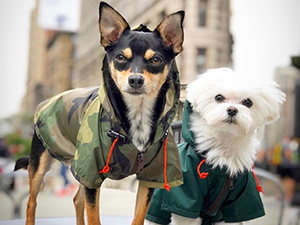 Courtesy of @thebklyndog
Road Warriors
Ready to take on the urban jungle this camo-clad team opts for wagwear to keep the peace. Fighting off wet and gloomy weather with style and efficiency your dog will stay dry and look great doing it. City or country, wagwear has Fido covered. So brave the elements, you're as prepared as any road warrior. Info: wagwear.com
---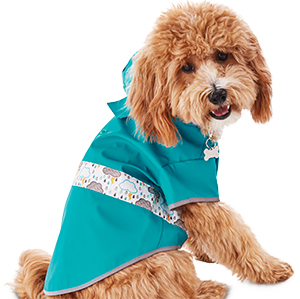 Rainy Day Blues
Your pup will be ready to chase away the rainy-day blues with this Reversible Dog Raincoat from Good2Go. Providing a two-in-one style, your pup can have the choice of a cute all-over storm cloud print or a storm cloud accent stripe against a beautiful blue background. Reflective details provide night visibility for your beloved pooch. Info: petco.com
---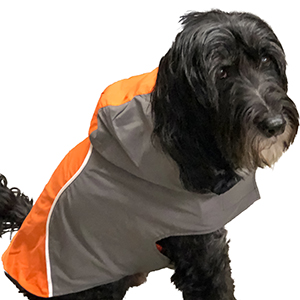 Double Duty
This stylish raincoat from Royal Animals does double duty for your pet with its removable lining and detachable hood. Made of water-resistant material in bright colors and edged with reflective trim so you can see your pup in the dark, this good-for-all-seasons raincoat will surely keep your dog happy, warm, and dry. Info: target.com
---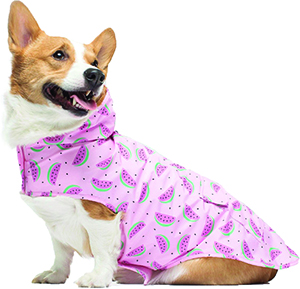 Summer Vibes
Inject some summer vibes into your pooch's wardrobe with this oh-so-adorable Watermelons Dog Raincoat from Canada Pooch. Just like it's Whale counterpart, this raincoat features a versatile snap-back hood design, a wrap-vest style, fuzzy fastener strap closures, and machine-washable polyester fabric for easy cleaning after a romp in the rain. Info: chewy.com
---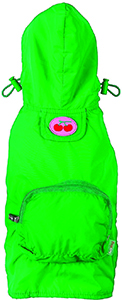 Easy Travelin'
You and your pup can travel easy in the rain with this Travel Raincoat from Fab Dog. Featuring a mesh lining, an easy fastener closure, and a toggle adjustable hood to guarantee a perfect fit, this ultra-convenient raincoat can also be folded up for easy packing for on-the-go convenience. Coming in eight colors, this 100% waterproof nylon raincoat will be sure to please every pet. Info: chewy.com
---
Courtesy of @samforest_loolim
Sizzlin' Shades
When the weather outside is frightful these colorful ensembles for your pooch from wagwear are delightful. You and Fido are sure to get noticed while you are out puddle jumping. Puppy chic as they dub the wagwear look has never looked better. As snappy a style statement as you can find, one that's equally suitable for the streets of Tribeca or the sands of Cape Cod. Info: wagwear.com
---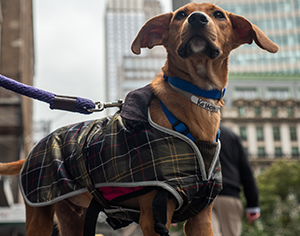 Dapper in the Rain
Strut down Park Avenue with your pooch in this Barbour Waterproof Dog Jacket from Orvis. Waterproof and breathable, this dapper jacket protects your dog against the harsh weather while keeping him/her warm and comfy with its cozy fleece lining. We love the Brit style elements, such as the distinctive tartan print, making sure your fur baby will stand out in the crowd. The reflective edges keep your dog safe in low-visibility conditions, and elastic leg straps provide a perfect fit. Info: orvis.com
---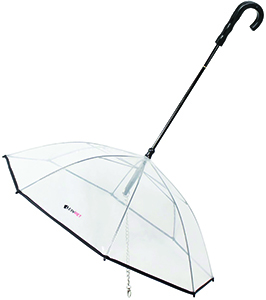 Umbrella, Ella, Ella
Your pup will surely attract the attention of any crowd with the Dog Umbrella with Leash from LesyPet. The transparent design allows you to have clear visibility of your precious pooch as it shields Fido from wind, sleet, rain, and even that last of the season snow. Durable and weather-proof this umbrella features stainless steel ribs and frame plus an ergonomic handle. Info: chewy.com