PUP'S GOT THE POWER
WOODROW WEAR HELPS COMFORT CALIFORNIA'S PETS ANIMALS
INJURED IN THE WILDFIRES FIND RELIEF FOR BURNED PAWS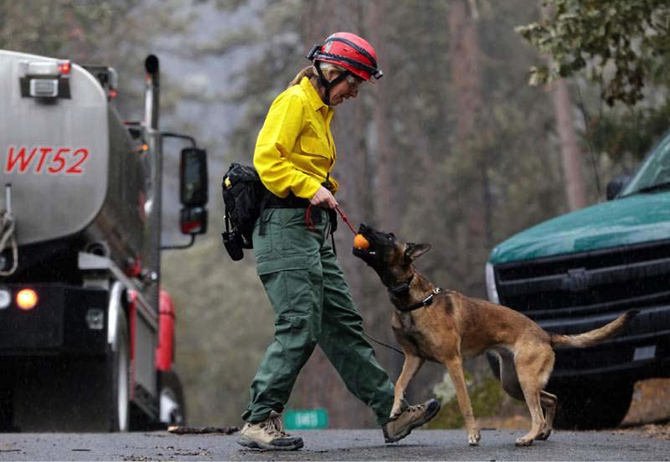 By Annabelle Shapiro

Woodrow Wear was started to help people and pets by providing an indoor traction solution for dogs struggling on slick floors. Immediately, their product, Power Paws, started protecting paws outdoors too in snow, ice, and salt, and then from allergens and also extreme heat. Woodrow Wear exists to help people and their pets achieve a better quality of life!
PETS ON FIRE: COMING TO THEIR RESCUE
California has been on fire this month. First, the Camp Fire in Paradise, and then more fires around Los Angeles. The owner of Woodrow Wear, Lorraine Walston, personally has friends and family in both places. At first, the news showed burned homes and people in shock. But soon after, photos began to show pets with burned paws, singed bodies, and sad faces.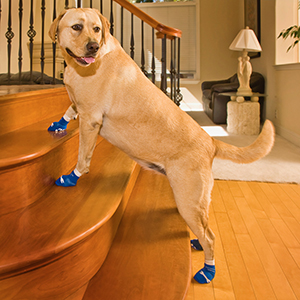 It became clear Woodrow Wear was in a unique position to do something that others weren't, "I thought of quietly sending 50 or so sets of Power Paws to groups in both locations," she shares. " Then I turned to friends and family who were more aware of the organizations I should contact. I posted on my personal Facebook page offering help for the animals, and asking to be connected to the veterinarians and rescues directly involved. Overnight, I was given 10 or so contacts, and lots of suggestions. I posted  a similar message on the Woodrow Wear Facebook page. That post was shared over 80 times in 24 hours, and MANY more people offered suggestions, and gave connections to people directly involved in the care of the injured animals. Even a vet commented that she left her practice to go help in Chico, and any Power Paws I could provide would be appreciated."
Starting with a list of 12-15 organizations in need, Walston made just two phone calls so far to inquire about the sizes and quantities they could use. She was surprised to learn that most of the need is for cats, but we have a size for cats too!! Woodrow Wear committed to nearly 500 sets of Power Paws to help both cats and dogs -- 310 sets to Paw Works, and 145 sets to the Little Angels Project. Those boxes were shipped right after Thanksgiving weekend.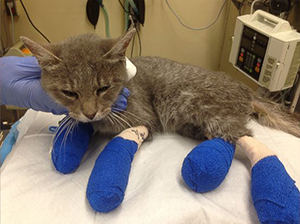 HEALING OUR PETS: RESTORING INJURED SPIRITS
Power Paws will be used to cushion and heal burned, injured paws. They will be help comfort and keep pets warm, especially those with burned fur as the weather gets colder. They will also for all pets, even healthy ones, provide traction and make movement easier on slippery indoor floors. And outdoors, Power Paws will cushion and protect paws from sharp objects and debris.
Woodrow Wear has provided 500 sets of Power Paws to pets injured in the California wildfires, but there are still many more pets in need, and Walston still has connections to organizations that she'd like to reach out to. Generosity like this should not go unrewarded: Power Paws needs help covering the cost of the donations.
MAKING A DIFFERENCE: YOU CAN DONATE TO CALIFORNIA'S PETS
At the urging of people who would like to help, Power Paws created a GoFundMe page. The page is https://www.gofundme.com/help-warm-comfort-heal-pets-injured-in-ca-fires. All donations will help Woodrow Wear continue to send socks to pets in need.