Katie Cleary:
From 'America's Next Top Model' to America's Top Animal Advocate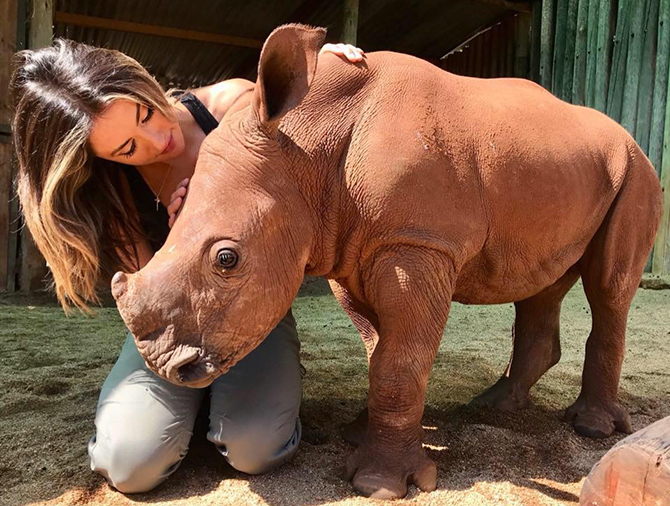 By Crystal C. Long
Katie Cleary always knew she wanted to help animals. Ever since she was a little girl, Cleary knew in her heart that helping animals was something she planned to do in life – one way or another, this was her calling. First appearing in the media spotlight on the popular TV show "America`s Next Top Model" Season One, Cleary went on to have a successful career in the entertainment industry. It wasn't until 2012 that she solidified her animal advocacy career when she founded Peace 4 Animals, a non-profit animal welfare organization, and World Animal News, an animal news network reporting on the latest breaking critical news on animals worldwide - two projects that re-ignited Cleary's childhood passion for helping animals.
Cleary's mission to protect animals started when she was just one and a half years old, "I was told that my first word was bird when I was about 1 ½ years old, that makes perfect sense, although I was too young to remember that." She told Pet Lifestyles Magazine, "My first actual memory was rescuing kittens that we found under a bush next door. I remember bottle feeding them until they were old enough for us to find them forever homes. My mom and I would always find animals in our neighborhood who needed help, and we'd rehabilitate them." This deep-rooted childhood memory undoubtedly shaped Cleary's passion for animal advocacy for the rest of her life.
PEACE 4 ANIMALS
In 2012, following a friend's suggestion to start her own charity after seeing Cleary raise funds for many other organizations & campaigns, Cleary came up with the idea for Peace 4 Animals. She immediately went to work designing the logo, which signified her passion for big cats, and held the charity's first official campaign with Born Free: the "Satpuda Landscape Tiger Programme" where they aimed to save Bengal tigers in India. Presently, Peace 4 Animals focuses on many different areas of animal advocacy: animal welfare and rescue, anti-poaching, plant-based campaigns, documentaries, grants to other organizations, and providing rescues with much-needed medical care, just to name a few. "We recently helped an amazing woman named Raabia Hawa fund her first anti-poaching project for Ulinzi Africa Foundation in Kenya to save elephants, rhinos, and many other endangered species from extinction. We are also helping Orangutan Foundation International purchase an important piece of rainforest land in Borneo that will be prime habitat to save orangutans from the destruction of palm oil plantations, thus helping to save their species from extinction in the wild." Cleary stated.
Cleary's vision for Peace 4 Animals is completely altruistic – her ultimate goal is to grow the animal advocacy organization on an international scale and to make animal welfare mainstream. She also hopes to one day build a sanctuary for the rescue and rehabilitation of endangered species in Africa.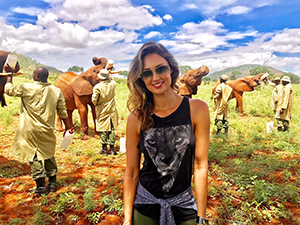 WORLD ANIMAL NEWS
Cleary also founded World Animal News (worldanimalnews.com) in 2012 to bring critical animal issues from around the world into the spotlight. The website posts breaking news, exclusive stories, and distributes press releases on critical animal welfare issues. It also aims to highlight the remarkable work being done around the world to save animals. "At the end of the day, our goal is not only to deliver the news in the best way possible, but to get our audience involved in order to create real change for animals worldwide." Cleary emphasizes.
GIVE ME SHELTER
This passion drives not only Cleary's philanthropic efforts, but also her personal life – Cleary genuinely believes that by living a plant-based lifestyle, one can personally save thousands of animals in a lifetime; something she talks about in her new documentary "We Are One" that she is currently working on. The film will be a dialog with people making a difference in the animal kingdom, ranging from saving rhinos and elephants in Africa from the poaching crisis, to saving the rainforests and the remaining Orangutans from the destruction of palm oil that is destroying their habitat. It will also speak to the polemic topic of factory farming and the suffering that farm animals go through. This hard-hitting documentary is the follow-up to Cleary's first documentary "Give Me Shelter", an award-winning film created and produced by Cleary and directed by friend Kristin Rizzo. "Give Me Shelter" focuses on the dedicated people who devote their lives to rescuing domestic and wild animals; the Best Short Film winner also concentrates on those raising awareness for critical animal welfare issues worldwide. "Give Me Shelter" premiered on Netflix in May 2015.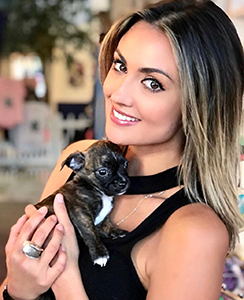 Cleary's own fur-family inspires her and her efforts on animal welfare, "My pets are all rescues, and all have adorable individual personalities. I love them all and they have encouraged me to stress the importance of adopting and spaying and neutering to prevent over-population in shelters." She speaks from the heart, concerned that "so many animals end up getting put down because the shelters have no space for them. All of my dogs and cats are angels that I believe came into my life for a reason. I don't know what I would do without them." It is clear that Cleary's bond with her pets is special, and is a driving force in her desire to save animals.
ADVOCATING FOR ANIMALS
An animal advocate, producer, philanthropist, filmmaker, actress, and model, it seems like there is nothing that Cleary can't do. Perhaps it's because of her drive and ambition plus her kindness and not to mention, her beauty inside and out. Always being mission-oriented, she talks about future plans "I would like to continue producing and directing animal welfare documentaries and shows to educate the public on important issues happening around the world, so more positive change can be made in the movement. Also, I hope to one day open a Peace 4 Animals wildlife rescue and rehab for endangered species in Africa." She also talks about plans to develop an interactive app for World Animal News where animal lovers worldwide can connect and help to raise awareness on saving animals - in hopes of mainstreaming animal welfare on a global scale.
Visit Peace 4 Animals at peace4animals.net and World Animal News at worldanimalnews.com to see how you can help save animals – they will thank you!