SMART GIFTS FOR TECH-SAVVY PET PARENTS
By Aaron Greenbaum
The Holidays are here and your gift list is already long. You can forget a cousin or two but don't overlook your four-legged friends. Feeling like your pup or kitty is so spoiled already that nothing is going to please them? Fearful you are out of ideas for making dinnertime or playtime more fun for your furry loved one? Addicted to running your pet's life through your smartphone? Maybe we're enabling you but for sure, your pet will be pleased with our smart solutions.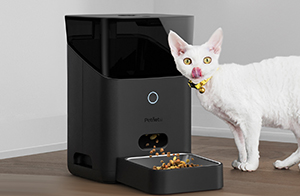 PERFECT PORTIONS
PetNet SmartFeeder portion control for your pet, because a healthy pet is a happy pet. petnet.io
Nutritionists stress portion control for us two-legged creatures, but the same applies to our pets. Of course, without the guidance of a smart feeder, it's easy to get suckered into over-indulging our furry BFF's at mealtime; they do know how to manipulate us. Luckily, smart feeders are immune to puppy dog eyes. The PetNet SmartFeeder is the latest in pet feeding automation. It not only feeds your pet for you (beyond useful when you're out of the house), but it also doles out pre-programmed amounts. Plus, thanks to built-in sensors, the feeder tells you when it needs to be refilled. After all, a healthy pet is a happy pet and feeding your fur kid just the right amount is something to measure.
---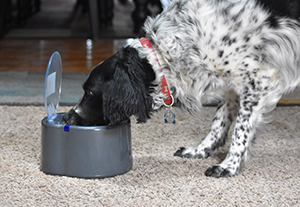 TAGGING THE FAMILY PET
SmartLink Feeder feeds and waters your pet while you're out…and keeps you up to speed on how Fido is enjoying his dinner break. ourpets.com/ipc/
Want a family of smart devices to go with your family of pets? The wizards at OurPets have invented the SmartLink devices, a series of interconnected tools that keep your pet fed and watered while you're away. Just attach the Bluetooth SmartLink Tag to your pet's collar, and it will take care of the rest. The tag tells the SmartLink Waterer to start pouring purified water when your pet is nearby. It makes the SmartLink Feeder open its lid and feed your pet the correct amount of food (which is also perfect for pets who love to steal each other's dinners). And, the tag also communicates with the WiFi Pet Care Connector to keep you appraised of your pet's eating and drinking habits while you're away. One size fits all doesn't only apply to people anymore.
---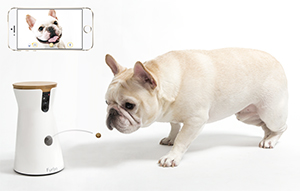 HOME ALONE
Furbo is the fun new way to get puppy selfies. Lets you entertain your dog even if you are in the office. shopus.furbo.com
Nothing's harder than leaving your pet alone when you go to work. Even if your dog doesn't whine, bark, or scratch at the door to come with you, many are bored out of their minds waiting for your return. And, a bored pet can become a destructive one. But, thanks to modern technology, you can keep an eye on your pet even when you're not at home. The Furbo Dog Camera records your pet doing everything from lounging on the couch to tearing apart your favorite pillows. And, if that's not enough, you can use the Furbo to toss out a few treats to get their attention and then talk to them with two-way audio. Plus, if you buy the Furbo Dog Nanny, you can receive puppy selfies and alerts regarding any mischievous behavior. Big Brother isn't watching you, but you're watching your pet.
---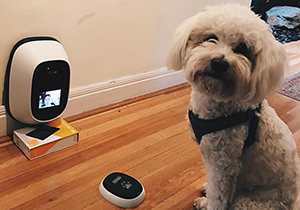 DIGITAL DAYCARE
PetChatz ends boredom for your stay-at-home pet with this innovative video phone. petchatz.com
If just talking to your pet isn't enough, then give them the greatest invention since Skype: PetChatz. This video phone is a one-two punch. First, it attracts your pets with a treat and a chime. Once they investigate, you can start a (one-sided) conversation with them. And, unlike similar devices, PetChatz features a screen that lets your pet see your face. After all, seeing is believing. But, PetChatz isn't just a one-way street. With the PetCall accessory, your pet can initiate the conversation or play a game with PetChatz providing treat rewards. PetChatz will make sure your stay-at-home pet is never bored again.
---
CHALLENGING FIDO
CleverPet exercises the mind, just as valuable as exercising the body. clever.pet
Your pets might never be able to play Super Mario Bros., but you can still challenge them to a rousing game of Simon Says, thanks to CleverPet. Buttons flash on the device; your pet presses the buttons; and presto, food pops out as a reward. CleverPet tests your pet's ability to recognize and remember sequences, and the smartphone app keeps you in the loop on their progress. Plus, the app lets you change the patterns and difficulty for a tougher or easier challenge. Exercising the mind is just as important as exercising the body.
---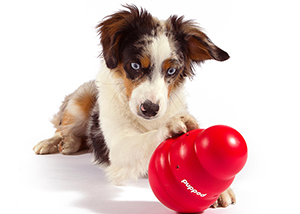 SMART TOY
PupPod looks like a Kong but acts like a puzzle, the ultimate learning experience for your pet. puppod.com
In 1927, Ivan Pavlov demonstrated dogs can associate stimuli with food. In 2015, Erick Eidus ran with that concept to create the PupPod. It looks like a Kong chew toy, but it's filled with enough electronics and sensors to detect when your pets are nearby, then teach them puzzle-solving skills that revolve around touching the PupPod. Plus, the device was made with inclusivity in mind. If your pet is blind, they will be attracted by the toy's squeaks, and if your pet is deaf, the PupPod lights up. With the PupPod, your pet will learn pattern recognition in no time.
---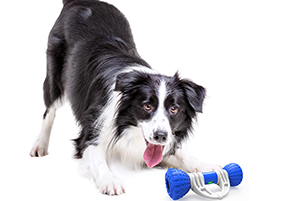 PLAY BACK
GoBone Pet parents can't go wrong with a toy that plays back. mygobone.com
Have you ever wanted your dog's favorite bone to be a little more lively? That's why the GoBone was invented. This tech-smart toy moves around on its own, which is more than enough to entertain most dogs when their owners are busy. Anyone who wants to join in on the fun can remotely control the toy with a smartphone app. You can't go wrong with a dog toy that plays back.
---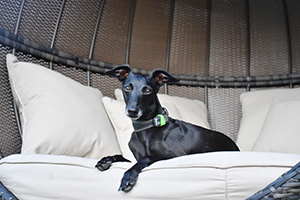 FITBIT FOR PETS
Actijoy is a canine Fitbit that helps you monitor your dog's lifestyle. A must for the modern pet parent. actijoy.com
If you want to keep track of your exercise habits, you wear a Fitbit. But what if you want to monitor your dog's exercise? The market isn't exactly overflowing with pet activity trackers, but plenty of companies are hard at work on their own canine Fitbits. One such attempt is Actijoy. This little device attaches to a dog's collar and keeps track of everything they do. And, thanks to special food and water bowls that connect to the device, Actijoy will note your dog's caloric intake. Oh, and did I mention Actijoy lights up for nighttime walks/bathroom breaks? Actijoy isn't ready for distribution just yet, but sign up on the product's official site (actijoy.com) to be notified when it's available for pre-ordering in early 2019.