Tiger Tiger New York Artist Invites You
TO WALK ON THE WILD SIDE
"Never negotiate with a tiger when your head is in its mouth." - Winston Churchill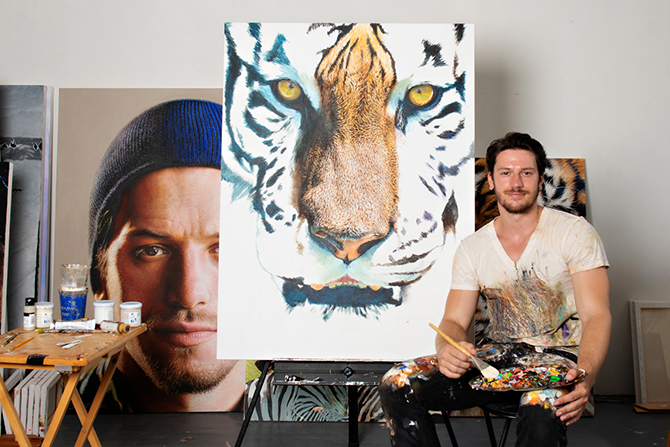 Nick Sider captures the tigers that have possessed his imagination since the age of five. For details on NYC exhibits and studio visits, nicksider.com. ©Geoff Tischman
By Marcy MacDonald
Surrounded by Nick Sider's enormous canvases, you have the distinct impression that his subjects are staring at you, actually you could say stalking in the most sexy way. His tigers, hyper-realistic subjects and huge, invite themselves into your life. Their presence is beautifully unsettling…they are an undeniable invite, to paraphrase Lou Reed, to walk on the wild side, an opportunity we all want to explore.
OBSESSION BECOMES LIFE
In his recent New York exhibition, his obsessions - exotic beasts - do appear to leap off of the canvas-surprising you, surrounding you. "I know as soon as I have the eyes right, everything else falls into place," reveals this artist who enjoys a quantum of fame for his obsession with the tremendous beauty of tigers. Why tigers? Not many tigers prowl his native Canada or the Pennsylvania of his youth much less the New York of his present, except for those in zoos.  But Sider began his obsession and his quest at the age of five, long before his vivid realizations of these majestic beasts began to virtually leap off the canvas. Still, "As a kid, I was obsessed with tigers. Only natural then that tigers became Ground Zero for me as a painter."
"My work creates an opportunity - for myself and the viewer - to be up close to the animals. Before I even begin to paint, I study them very closely, capturing the image as it is in real life is an intuitive process" Sider reveals that his goal is always-as a hyper-realist to reveal in "more detail than you normally see (think Vermeer) the animal as if it's live in front of me - and the person who ultimately owns the artwork."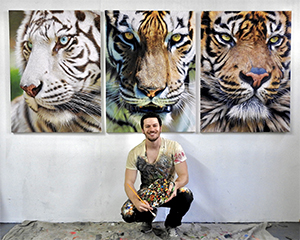 Sexy stalkers, tigers, inviting us to take a walk on the wild side, come to life in Nick Sider's hyper realistic paintings. New York Show in early December, studio visits by appointment after. Email info@nicksider.com
FOR THE LOVE OF TIGERS
Sider waxes philosophical about his subjects, "Especially with the tiger paintings, they're all personal to me: My work symbolizes completing a childhood dream; a time when I drew tigers all the time. Now, to each painting, I give a different name, and every little part of the painting is a different emotion combined with my pursuit of the soul; I just try for that moment when emotion and intellect come together. I want people to experience these animals as if they were present, living among us, instead of just a photo on their cell phones."
MEET THE ARTIST
Studio visits to Sider's uptown Manhattan location are always welcome post his show in Manhattan, November 30 through December 2, 2018 at 7 East 14th Street, New York, NY 10003.
For more information on upcoming shows, studio visits and to contact the artist, nicksider.com.