SUPER PET EXPO
FUN FOR PETS AND PET PARENTS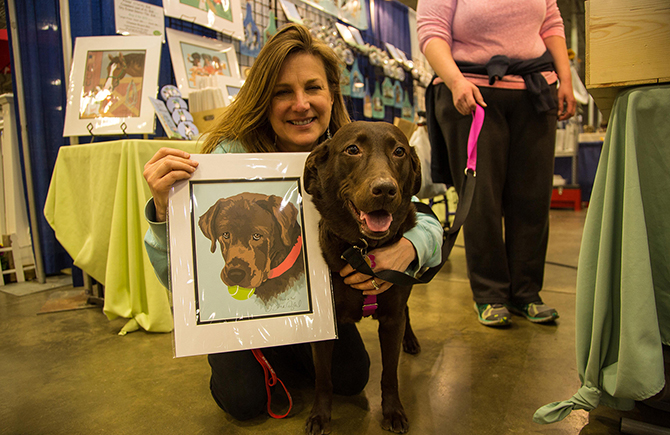 By Lori Zelenko
For several thousand pets and pet lovers from Central and Northern New Jersey, the February Super Pet Expo is the most anticipated event of the season! This year's pet-extravaganza will take place February 8-10 at the New Jersey Convention and Exposition Center in Edison, NJ.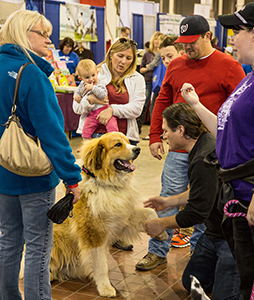 Over 200 exhibitors will be on-site and guests will find three days of shopping, engaging activities, educational talks and of course, lots of furry friends to be made. If you've attended the Super Pet Expo before, you know there's nothing that brings more joy than walking the aisles to meet and greet pets of all kinds. From Newfoundlands with towel-toting owners to sassy kitty cats in sweaters! Take a walk in the Rescue Zone and you might fall in love with a new furry family member.
SHOPPING
As has been the case for 19 years running, a variety of pet product mainstays such as collars, leashes, harnesses, toys and beds will be available at the show. But humans will find a little something for themselves as well! Grab a fashionable set of handmade, clip-in ears from Here's to Ears. Visit SpoiledRottenDogz to peruse the funniest tees and sweatshirts for pet lovers, including breed-specific designs. And if you're interested in adding some fluffy flavor to your home design, visit with Bright Ideas Arts and Crafts for artwork, prints and table décor.
ACTIVITIES & ENTERTAINMENT
If you believe a well-exercised dog is a happy dog, you'll find ways to let them burn calories and have fun at the Super Pet Expo.
Let your dog loose on the Luring 101 track for a high-speed chase of an artificial lure, with varying speeds and a set number of turns and changes in direction. No experience is needed, and any dog in good physical condition is welcome to try luring.
Join a Trick Training Workshop with Chrissy Joy and Beasley of Bone-A-Fied Talent Group. Beasley is the current National Stunt Dog Champion, and with a little help from his human, learn the first steps to connecting with your dog via training.
Catch a fast-paced and entertaining show with The Marvelous Mutts. Featuring some of the world's finest canine athletes, this team of Mutts, each adopted from shelters and rescues, thrills crowds across the US with their amazing tricks, stunts, and athleticism. The Marvelous Mutts are generously sponsored by Supreme Source Pet Food.
MAIN STAGE
On the Main Stage, you'll find presentations from pet health and care experts, including popular holistic veterinarian Dr. Judy Morgan examining special care for senior pets and how to help your chubby pet shed some pounds- let's admit it, it's not all fur.
The Best Dressed Pet Competition returns as one of the most anticipated moments of the weekend. Pets compete in their best costumes, working the crowd and currying favor with judges. All attendees are eligible to enter and the event begins at 1:00pm on Saturday. New in 2019, The "Wow Me" Pet Talent Competition will take place 1:00pm on Sunday.
Dog lovers aren't the only ones who will enjoy Super Pet Expo. For those with purring pets at home, Cat Alley will be a must stop, with kitty-centered products and education.
In the expanded Repticon area, attendees can purchase reptiles and supplies and get quality advice directly from reptile breeders and experts.
On the Main Stage, The New Jersey Birdman will bring feathered friends and laughs.
Follow Super Pet Expo on Facebook for the latest event updates and contests. You won't want to miss a chance to win a year's supply of premium pet food from Supreme Source®. It's made in the USA and 100% grain-free.
The New Jersey Convention and Exposition Center is located at 97 Sunfield Avenue, Edison, NJ 08837. Save $3 on each ticket purchased when you buy tickets at superpetexpo.com and use promo code PETS.
Show hours are 3:00 PM to 8:00 PM on Friday; 10:00 AM to 7:00 PM on Saturday; and 10:00 AM to 5:00 PM on Sunday. Admission is $13 for adults, $8 for children ages four to 11, and FREE for kids three and under. Friendly, leashed pets are always welcome, so make sure the whole family comes along for a great day.