WHO'S THE BOSS?
FROM THE REAL HOUSEWIVES OF NEW YORK CITY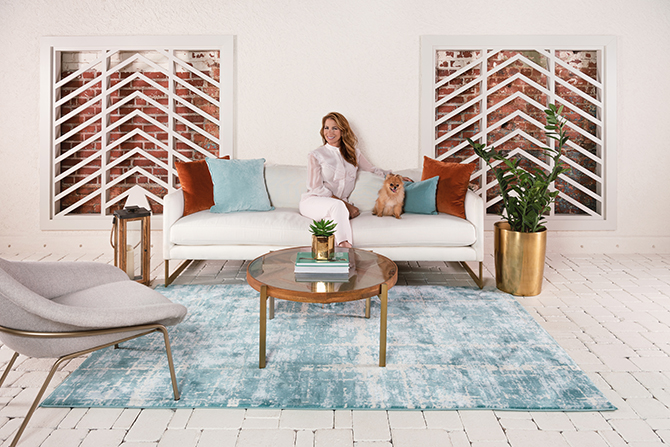 By Dean Eleanor
Jill Zarin is no ordinary housewife. Although she appeared on The Real Housewives of New York City for four seasons and will return for a few episodes coming up, she is also an author, entrepreneur, mother, and more. Jill co-authored the book Secrets of a Jewish Mother with her sister and mother, helps manage Zarin fabrics, and participates in a foundation named Creaky Joints, in order to raise awareness for arthritis, which her daughter Allyson suffers from. Jill Zarin holds a lot of titles, and with a fluffy Pomeranian called Miss Bossi, you can add Dog Mommy to the list.
MEET MISS BOSSI
Miss Bossi came from Serbia, by way of Instagram. "Miss Bossi speaks Serbian and English.
She has a foxy face, but she is cute like a teddy bear," Jill says affectionately. Miss Bossi showed up at a perfect time. "I got her six months ago at three years old - I lost my husband and my Chihuahua Ginger in less than a year, I really needed a dog to love." Miss Bossi adores being close to Jill. "She is not a big cuddler but she likes to stay near me - she loves to lick my face - a true lap dog."
Jill and Miss Bossi go everywhere together. "She is a great companion. She enjoys going shopping, watching tennis (whether it is the US Open or me playing in the Hamptons), and she has fun chasing balls!" And Miss Bossi's size is perfect for a New York gal. "I can tote her around in a travel bag, unzipped even! When we get home she stays in until I convince her to come out. She likes to be cozy and she loves to be carried."
Pomeranians are notoriously nippy and can be shrill, but not Miss Bossi. "Although Poms have a reputation for being snappy and yappy Bossi is not," Jill reports. "She is very well trained. She has some personality though! But she is never aggressive." In fact, this Dog Mom says, "She is always sleeping somewhere." Miss Bossi's not ridiculously pampered, no doubt she has an array of fancy beds and blankets, but what does she prefer? "She usually tries to find a cool place to sleep like the marble floor."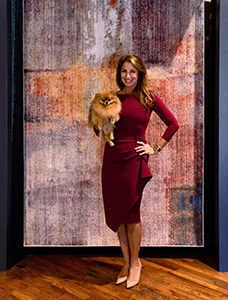 Jill Zarin and Miss Bossi - Inseparable Companions
COMFORT AND JOY
When Jill is busy, Miss Bossi gets attention from walkers. "I love apps for taking care of my dog," she says, "I using Wag right now but I think am going to try Rover next." As for medical care, she swears by Dr. Cindy Bressler, DVM. "She is wonderful; so caring, so devoted to the wellbeing of the dog." She adds, "Her bedside manner is unmatched."
The future for Jill and Miss Bossi may include helping others. "I want to get Miss Bossi certified to be a true therapy dog, I know she'd bring great comfort." She knows the value that therapy dogs can have, having seen it first hand. "Ginger visited my husband in the hospital. Having a dog to hold when illness takes hold is important, the love a dog can give sustains us all."
It sounds like the adorable Miss Bossi is already a therapy dog for Jill Zarin, so she is halfway there.