YOU GOTTA HAVE FAITHE!
Faithe Herman from NBC's This is Us and Her Dog Maverick
By Adrianne Frost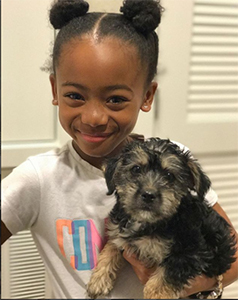 Faithe Herman and her Maltipoo Maverick
NBC's "This Is Us" is the biggest hit show to come along in a decade. The precious Faithe Herman is part of the remarkable cast that makes viewers tune in week after week. "This Is Us" chronicles the Pearson family and their lives; Faithe plays Annie, the daughter of Randall Pearson, a role that has earned her numerous accolades including a role that has earned her numerous accolades including a Screen Actors Guild Award for Outstanding Performance by an Ensemble in a Drama Series. Other series and ensemble awards include a Critics Choice Award, People›s Choice Award, TCA, AFI and a GLAAD Award in addition to Primetime Emmy and Golden Globe nominations. In addition to being part of the ensemble of this top-rated TV series, Faithe will be in the highly anticipated film Shazam! alongside Zachary Levi, opening in 2019. She plays Darla Dudley  the youngest of the foster siblings who is very talkative and loves the color purple.
MEET MAVERICK THE MALTIPOO
Faithe has her own family, of course, including her precious Maltipoo, Maverick, whom she absolutely adores. Maverick is a very intelligent puppy who enjoys learning new tricks. After being away for a long week of filming, Maverick is the first family member to receive a hug from Faithe when she returns home. We spoke to Faithe about Maverick and how he came to be part of her life.
Initially, Maverick belonged to Faithe's older sister, but he needed a little more attention than her sister could give. "She was going to take Maverick with her when she moved out of state but realized Maverick could not be left alone for long hours while she was at work. He was only two months old and he needed more attention, so my mom let us keep him."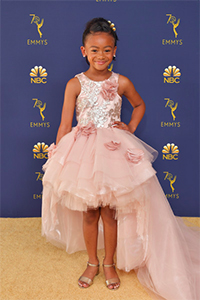 Faithe Herman of This is Us
INSTA-NAMING THE PUPPY
Faithe has more than 48,000 Instagram followers, and they helped her choose the name. "My older sister came up with the name Maverick," Faithe shares. " It was between Maverick & Cosmo. We did an Instagram Poll, and decided on Maverick." Maverick is Faithe's first dog, but she handles him like a pro. Faithe says, "We like to play tag with my sister Ceymone, go on walks, go to the park, or sometimes just watch TV. "She hasn't brought him to work yet and he hasn't been on camera yet, but "hopefully one day he'll be a star!"
Since Maverick is only six months old, he is still learning commands and training, so Faithe's holidays will be filled working with him to get the basics down. Other than that, her plan is just hanging out with family, she says, adding that Maverick has made his Christmas list, "Maverick wants lots of toys. Especially squeaky toys, he loves them!"
MAVERICK'S WISH LIST
In the New Year, Faithe will return to "This Is Us" and is looking forward to Shazam! opening on April 5th, 2019. Her New Year's Resolution is to find down time and play with Maverick (and his new squeaky toys)! As for Maverick's New Year's Resolution? "Stop jumping on my mom's couch," reveals Faithe. "He is only 6 months old, so he has been learning a lot, but that is a habit she does not like." Here's hoping Maverick can get this lesson down - and stick with it!