The Cook and the Canine
Celebrity Chef Katie Lee and Her Pooch Gus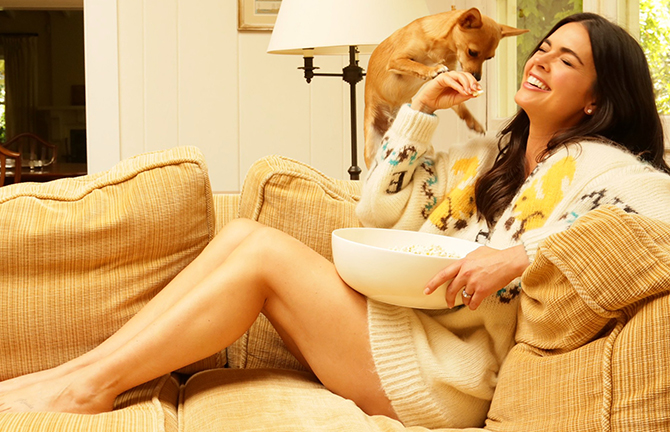 Katie Lee loves her fur kid Gus. His face is so expressive, get the camera out and he's ready to go.
By Chrysa Smith with Lori Zelenko
Photography by Erica Hampton
Life is good these days for Katie Lee. The celebrity chef/TV food star hosts Food Network shows The Kitchen and Beach Bites. She's written a couple of cookbooks and a novel. Regularly appears on the Today show and Rachael Ray. Add to that a new hubby named Ryan and you might think life couldn't get any better for this accomplished lady. Well it has. And it came with four legs and a tail.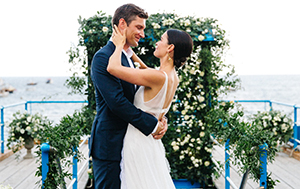 The trip to Italy for the wedding was too much for Gus but he was there in spirit as an image on the pillow for the rings
FINDING LOVE AGAIN
"Right now, I am just enjoying life; having fun" says Lee. The fun referring (at least in part) to little Gus. Part ShihTzu, part Chihuahua, this little boy stole her heart when her heart was breaking. "I lost Vanilla, (my pug) two years ago," Lee laments, "I did not want another dog. I could not replace her. I was so sad, I was just unable to recover." Lee is hardly alone. Getting through the loss of a pet is long and hard, making you wonder: Will I ever love again?
Enter Beth Stern—model, actress and the wife of radio-personality Howard Stern. Apparently Stern, a known animal-advocate, did know the best Rx for a broken heart-learn to love again. Stern advised Lee to take a trip to the North Shore Animal League where they were having an adoption event with 300 dogs. "I saw Gus and fell in love." Lee adds, "I took him right home. He is such a good boy. He isn't a replacement for Vanilla. He just helped me open my heart to another little creature." And open it, it did. "We have a routine every morning," says Lee. "We get up, he goes out for a little while to do his business, then comes back in and goes to sleep for about a half hour while I have my coffee." She calls him a creature of habit who loves his crate—where he can dig down deep and snooze away.
ABOUT GUS
Why call this little guy Gus? Short story: "Ryan and I were on face time. He was in the desert in Chile filming a show and we were just throwing out random names. Gus stuck!" But he may be a bit more than a cute cuddler. He is a well-heeled traveler who is small enough to go along for the ride on trips to favorite destinations like Martha's Vineyard.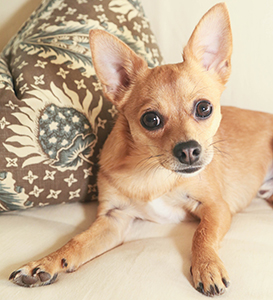 Gus is turning his parents into homebodies, reluctant to go out
when he gives them a soulful look.
And apparently, he's friendly enough to be the town mayor. "Gus loves to say Hi! to everyone—other dogs and people. You'd think he was running for office!" exclaims Lee. That is a bit different from her beloved Vanilla, who was, as Lee puts it, a bit ornery. But the differences are what make him special and unique. Like his love for salmon and the occasional egg. His swag in the spotlight when he debuted on The Bobby Flay Show and The Today Show. And his part in helping other adoptable dogs when he appeared with Lee and Stern on Clear the Shelters. He's even done his own spot. Lee says, "He was in the Nulo commercial which was great. He was perfect at the end when he was so tired, he laid down and had this angelic look on his face. People say never work with kids or animals, they will never do what you want them to. But not Gus; he was a pro!"
Lee's recent marriage to Ryan Biegel certainly hasn't kept Gus down. He loves hubby Ryan. And the feeling seems to be mutual. A pillow was made with Gus' face, which held the rings at the couple's wedding. He even trained the couple to be homebodies, giving them 'the look' if they're going out. We all know what that means, so he partakes as any family member would. He'll bite Lee's foot when she's doing leg lifts. He'll destroy mini-stuffed animals. He even has his own Instagram account (a must for any 21st Century canine).
OPENING HER HEART
So what are they planning this Christmas? "Christmas Eve we are doing a big party with the whole family, " adds Lee, "My husband loves Christmas. He starts listening to Christmas carols on Sirius (Yes, there is a channel) the day after Halloween (when Gus was embarrassingly dressed up as SpiderDog)."
Lee thinks Gus is really looking forward to salmon for Christmas dinner. "On Christmas Day, we will go to my husband's brother," Katie Lee shares. I surmise, Gus will be going along for the ride.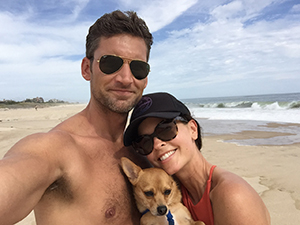 Katie Lee, her new husband Ryan Biegel, and Gus who's enjoying having another man around the house.
As for Katie Lee, The Food Network's show, The Kitchen has been going strong for five years now. "I'm so lucky to be a part of it. I love doing it; we are like a family now." Lee co-stars with fellow chefs Geoffrey Zakarian, Jeff Mauro and Sunny Anderson. "Three days after I got Gus, I brought him on set. I passed him around so everyone could hold him. It didn't take long before he got used to the sound of the camera equipment and having lots of people around. He's a terrific TV dog now."
Lee has to admit, "I love Gus so much but I still miss Vanilla. I think about her every day. I got a Victorian Mourning Ring with a heart on it because Vanilla will always have a piece of my heart." She has become an advocate for opening hearts and homes to new pets. "You're helping them as much as you are helping yourself," says Lee.
Gus got lucky. And so did Lee. After all, who could ask for a better combo than an adorable canine and a mom who
just happens to be one incredible chef?