Cats Take To The Catwalk At The Algonquin Hotel
Cat Fashion Show And Animal Fundraiser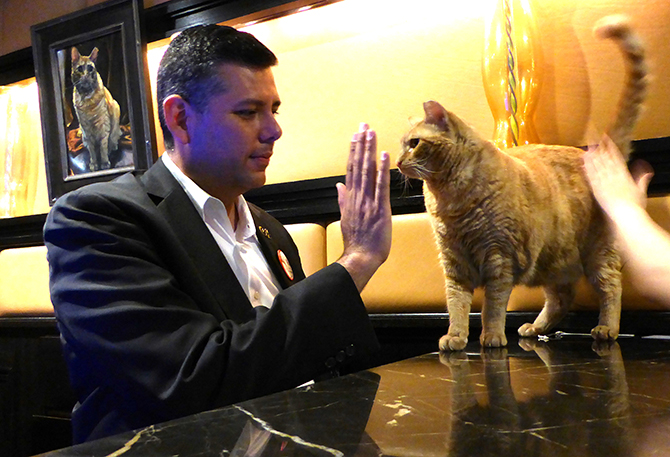 The Algonquin Hotel's resident cat Hamlet hams it up.
By Lori Zelenko
Purr-fect Party Celebrates the Official Debut of Algonquin Hotel's Resident Cat Hamlet VIII. New York City Cats Rally To Raise Funds For Mayor's Alliance for NYC's Animals**.
A glamour puss at the 2018
Algonquin cat fashion show.
A group of feline fashion "mewdels" took to the runway (held safely in the arms of their owners) in one-of-a-kind outfits designed by certified animal fashion designer Ada Nieves, in celebration of Hamlet VIII, The Algonquin Cat, the hotel's famous feline resident.
The Annual Celebration & Cat Fashion Show celebrated "The Purring 20's", the time of the great authors and celebrities who frequented the hotel's famous Round Table. Pet Lifestyle Expert and author, Sandy Robins co-chaired the official party debut of Hamlet, a young American Shorthair ginger cat who reigns over the Front Desk and observes from his own private treehouse, endearing himself to hotel guests and visitors alike.
100% of the proceeds for the cat-tastic event benefitted the Mayor's Alliance for NYC's Animals. Guests viewed advance copies of the new illustrated book, Hamlet – The Algonquin Cat, by Lesley Martini, with illustrations by Massimo Mongiardo. Cat owners wore their best feline-inspired outfit from The Purring 20's and shared photos socially, search for the hashtag #AlgonquinCat.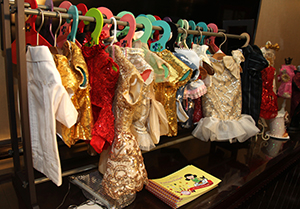 Cat couture at the Algonquin cat fashion show and fundraiser.
ABOUT THE ALGONQUIN CAT
For many years the history of The Algonquin Cat was believed to have its origins in the 1930's, when a hungry stray cat came wandering into the hotel for food and water. After the hotel acquired an out-of-print book written by the hotel's first general manager, Frank Case, a chapter was discovered about a cat named Billy. Based on the timeline of the book, the hotel is now proud to say the lineage of The Algonquin Cat dates back to the early 1920's. Each cat that has reigned at The Algonquin has been a rescue.
HAMLET HAMS IT UP
Hamlet has become so personable and engaging with guests that he has earned the nickname, "Hammy". He loves a good nuzzle behind the ears and is curious about everything and everyone. Hamlet can be found on Facebook, Twitter and Instagram.
He can also be reached via email: hamletalgonquincat@algonquinhotel.com.