NUTURING OUR BEST FRIENDS:
THE FRESH CHOICE OF HUMAN GRADE DOG FOOD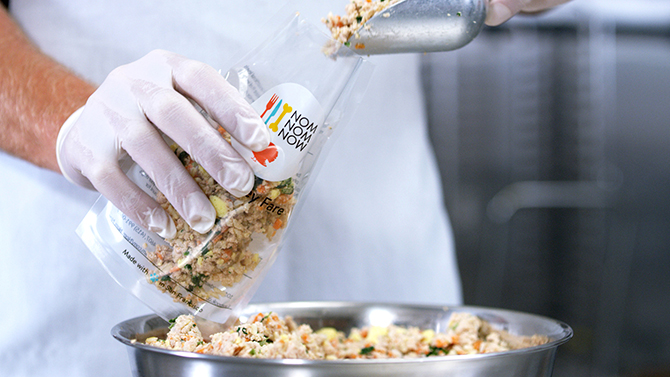 By Maryam ZiaSheikholeslami
Do you eat organic produce? Shop locally for pasture raised eggs and antibiotic free, grass-fed meats? For most people, the answer is yes. Humans care now more than ever about what we put into our bodies, but what about our pets? Our four-legged friends can benefit from a consciously sourced, well-balanced meal just as much as we can.
According to Certified Pet Nutrition Consultant Jodi Ziskin, M.S., who specializes in Holistic Nutrition, it's also important to rotate meats and other ingredients. "Not only does variety help to cover a full spectrum of nutrients, it can help a pet avoid developing food intolerances," she said. "Plus, who wants to eat the same thing day after day, month after month, year after year? Many of the companies creating home cooked food for pets have done an outstanding job meeting these needs."
What is human grade food?
Luckily, with the rising popularity of human grade dog food, getting healthy meals for your pet is easier than ever. It's a diet free from by-products, rendered ingredients, fillers, artificial additives, and flavorings. Proper nutrition is a major factor in helping cats and dogs thrive, not just survive.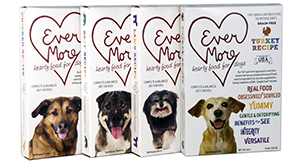 The Farmer's Dog
Co-founders Jonathan Regev and Brett Podolsky created The Farmer's Dog after Podolsky's Rottweiler, Jada, kept getting sick from store brands. Hoping to provide healthy, safe meals for other pet owners, they use only USDA human grade ingredients and vet-developed recipes. Have a picky dog? Not to worry! Each meal is customized for your furry friend based on individual profiles factoring in size, breed, activity level and eating habits of your dog. Select from three options: chicken, pork and beef to start serving your dog smarter, healthier meals. www.thefarmersdog.com
NomNomNow
NomNomNow was founded in 2015 after co-founder Alex Jarrell's dog began experiencing health problems. Unable to find high quality dog food in pet stores, Alex, along with Zach and Nate Phillips, decided to take matters into their own hands and with a board-certified veterinary nutritionist created recipes for highly nutritious human grade dog food with five fresh choices: beef, chicken, turkey, pork and egg & veggie. www.nomnomnow.com
Evermore
Alison Blumberg and Hanna Mandelbaum started Evermore after realizing the difference a gently cooked, high quality meal can make in a dog's life. Offering options of chicken, beef, lamb or turkey, Evermore cooks with the highest quality grass-fed and grain-free meats. Trust that your pups gets all of the nutrients they need to stay in tip top shape. www.evermorepetfood.com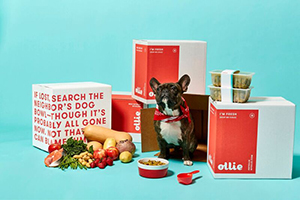 Ollie
Alex Douzet, Gabby Slome and Randy Jimenez founded Ollie when Alex and Gabby realized their rescue dogs were gaining weight and there wasn't a healthy alternative to processed kibble or canned food. Made with 98% natural, human-grade ingredients, you can choose between turkey, beef, chicken, or lamb-based meals. Ollie also offers custom meals based on your dog's profile. www.myollie.com
An expert's opinion
These companies get a thumbs up from Ziskin. "The foods from these companies are biologically appropriate. The body will naturally digest and assimilate the nutrients. The foods are pure."