How to keep your pet calm this July 4th
Treatibles Will Soothe Them Through Fireworks, Travel, and More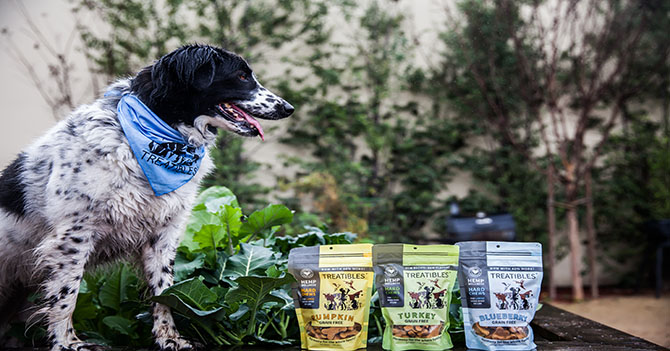 By Jodi Ziskin
Pet anxiety comes in many forms - general, separation, situational, and noise phobia, to name a few. Summer travel, celebrations and especially July 4th festivities and fireworks can be frightening to our animal companions and trigger anxiety even in cats and dogs that are normally chill.
SIGNS OF ANXIETY
There are obvious signs to look for when a pet is suffering from anxiety, which include panting, whining, trembling, and hiding. Other signs may be less obvious and can be confused with other types of behavioral problems, such as excessive barking, repeated destructive behavior and showing aggression. Proactively working to prevent anxiety can help your pet and you from feeling stressed.
Non-psychoactive phytocannabinoids have emerged as a very effective tool to help restore calm and balance in pets suffering from anxiety without them feeling sedated or altering their personalities.
Cannabinoids are a group of chemical compounds present in all animals (except for insects) and in the plant genus cannabis, which includes hemp. When found in plants, cannabinoids are known as phytocannabinoids (phyto meaning plant). When found in animals, cannabinoids are referred to as endocannabinoids.
CREATING BALANCE
The endocannabinoid system assists in maintaining the physiological, neurological and immunological systems of the body. If there is a deficiency of endocannabinoid production, the system's multiple receptors utilize the addition of phytocannabinoids to help create balance and provide support for relaxing, repairing or restoring. Naturally occurring phytocannabinoids are important for the overall health of dogs, cats, humans, rabbits, and all animals.
Dogs are especially responsive to phytocannabinoids as they have the highest concentration of cannabinoid receptors in their brains and bodies (even in their hair follicles) compared to other animals, including humans.
ABOUT TREATIBLES
Treatibles, recognized as a leader in phytocannabinoid nutraceutical products for pets, offers a line of products that interact with a pet's cannabinoid receptors to bring calm to an overactive nervous system. For those suffering from noise and situational onset, such as fireworks, providing an appropriate serving size 30 - 60 minutes before the stimulus can help cats and dogs (and all animals) avoid feeling anxious. This is an ideal approach to the Independence Day festivities.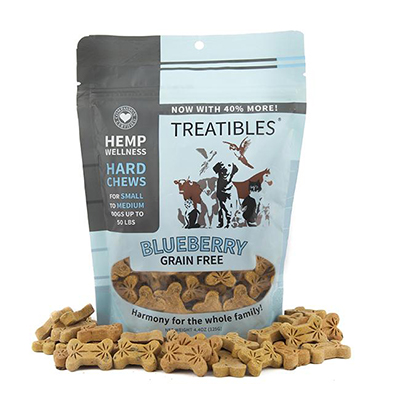 Born from a passion to help pets thrive, Treatibles was founded in 2013 on the values of compassionate care, superior ingredients sourced in the USA, consistent, reliable information and integrity. All Treatibles products are Compassion Certified™ and proudly made in the USA.
The product line features phytocannabinoid rich (PCR) grain-free dog chews (available in a variety of sizes and flavors), PCR oil dropper bottles with MCT coconut oil (great internally and as a topical) and PCR oil gel caps.
In addition to helping ease anxiety, phytocannabinoids can be very effective in promoting healthy joints and digestion, maintaining the body's natural inflammatory response addressing discomfort, loss of appetite, nausea, seizures, end of life comfort, and more.
To learn more about Treatibles, visit Treatibles.com.
Connect Socially:
Facebook: facebook.com/treatibles
Twitter: twitter.com/treatibles
Instagram: instagram.com/treatibles