HIKE FOR LIFE: How Walking Your Dog Can Save Your Life
By Megan O'Brien
Your dog loves their walks, we love to make them happy but fall a little short on LOVING the long stroll. Get over it! Walking your dog can change your life, let's add to that-walking your dog can SAVE your life. Whether Central Park or a gorgeous Hampton's Long Pond Greenbelt hike, the social and health benefits are wonderful (it's also good for the dog.)
Let's Get Zen
Walking your dog lowers your stress hormone cortisol (the stuff that causes anxiety) which is why you see so many people that have PTSD assigned dogs. Not only that but The American Heart Association has stated, "Pet ownership, particularly dog ownership, is probably associated with decreased [cardiovascular disease] risk. That includes a lower risk for stroke, a leading cause of disabling brain injury."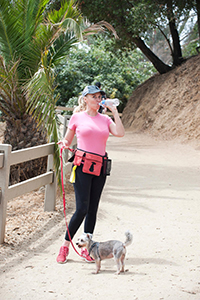 Let's Make A Love Match!
Are you having trouble meeting "that special someone?" Well, that's probably because you're not walking your dog. If you're single and looking for a mate the there is no better app then getting off your app and walking your dog.
Here's some science, according to a study published by Psychology Today, dog lovers are more outgoing and lively. An easy group to strike up a friendly conversation with 82% of people would feel more comfortable introducing themselves to someone while walking their dog. Are you putting on your sneakers yet?
You And Fido Want "Summer Bodies"
People who walk their dogs get more exercise than those with a gym membership. On average, someone walking their dog spends 24 minutes average twice a day-a total of 5 hours and 38 minutes a week. That's more than you're spending pumping iron at Equinox and it's free! Hiking three times a week can help the average person lose a pound every seven days. The weather is gorgeous now! Get out there and enjoy nature. If nothing else you and Fido (or Fifi) will get in shape while you bond together outdoors.
Make it easy.
Imagine the bliss of a walk where there is no more struggling for poop bags stuffed in random pockets. No more missed puppy-petting opportunities because your hands are full with water bottles or treats or whatever else you need to bring on a walk. There's a new invention that solves all these issues, Dogipack (www.dogipack.com) the must-have accessory for dog parents, it's a hands-free belt with everything you need to make outdoor-time with your dog easy. Put your cellphone on flashlight mode and slip it into the Dogipack for safe evening strolls! There's no end to the enjoyment of having necessities and luxuries close at hand while you're out and about having fun with your four-legged best friend.
You can find Dogipack easily in a range of fun, fashion colors at amazon.com.