Planes, Trains & Automobiles
How to Make the Most of Traveling With Your Pet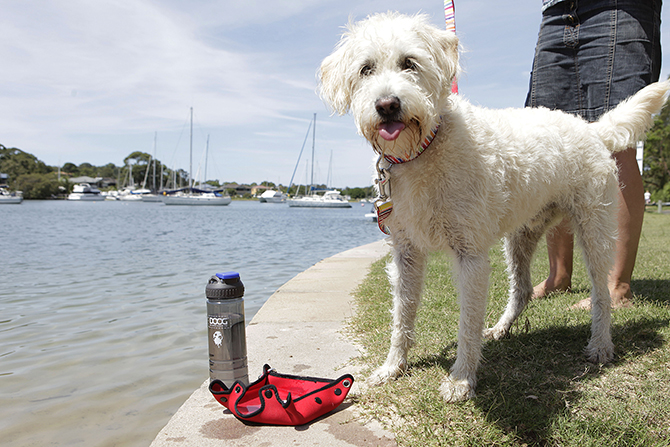 By Crystal C. Long
Escaping the blistering heat of Summer with your four-legged friend in tow? We asked the experts to share their tips for the best ways to enjoy a road trip, a plane ride or train travel while keeping your pet's wellbeing top of mind.
When Summer arrives bringing blistering heat and a desperate need to chill, escape is on the agenda. Whether it's on a short road trip to the beach, or jetting off to a coastal destination, or taking a long scenic train ride to a breezy beachfront property, we New Yorkers love to get out of the city and travel near and far during the summer months. But don't feel like you have to leave your four-legged friend at home − taking your furry buddy on your trip with you can increase bonding and love between you and your pet, and make some fantastic memories along the way.
One product we can't leave the house without is the Walkie Bag from DOOG, a versatile and convenient (and also fun!) crossbody bag that you will want to take on any excursion with your beloved pet, long or short. Developed by Jamie and Jessica Knight, the Walkie Bag was created as a stylish yet practical way to manage the active lifestyle of their dogs. Large enough to hold all essentials but small enough to carry effortlessly, the bag features a water bottle holder, a purposely designed waste bags holder, and an inner waterproof sleeve to protect your precious valuables. Be sure to pick up yours at www.doogusa.com for a functional and fashionable way to carry all your essentials while traveling with your pet. The range of colors allows you to coordinate with whatever your fashion choice might be for a stroll, a hike or a ride. This Summer, take your pet when you travel, you'll be glad you did when you have endless selfies of the two to look back on. As with every trip, it is important to travel safely and smoothly – and it is no different with your pet in tow, read on to learn what the pros say are essential precautions when traveling with your pet.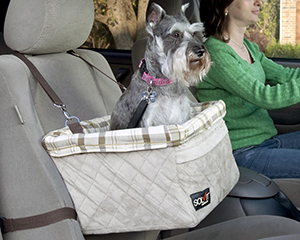 By Car
For all you road-trippers out there, one of the most important things to remember is to give enough ventilation for your dog in the car. Nicole Ellis, a certified dog trainer and pet expert from Rover.com, reminds us that "in the summer, it's critical that you're conscious about your dog overheating. Cars can get hot in a hurry, so keep the windows down, the air conditioning on, or both. Never leave a dog unattended in a car, especially in the sun. And, make sure they have access to cold water, so they can remain hydrated." She also suggests taking frequent breaks with your fur baby and letting everyone stretch their legs, and/or take a water/potty break. This is also a great time to run and play with your dog, that way, they'll be more likely to sleep on the road.
Safety is always a top priority when taking your pet in a car. That's why we love the Deluxe Dog Car Seat from Improvements (www.improvementscatalog.com). This nice-looking dog booster seat (for dogs up to 18 pounds) will give your little guy an unobstructed view of the road, offering more sights to take in on your road trip. It comes in a rich faux suede with a removable plaid liner which allows for easy washing, and a safety leash to secure your pet comfortably.
By Plane
The number one thing to do while taking your pet on a plane ride is plan, plan, plan! Do your homework and find out what the requirements are for bringing your fur baby with you on your flight. World leader in pet insurance Healthy Paws Pet Insurance (www.healthypawspetinsurance.com) advises, "Most airlines have guidelines for travelling safely with pets. These guidelines include vaccination requirements, health certificates, kennel requirements, date restrictions to fly to certain destinations (usually due to extreme temperatures), breed restrictions (short-nosed dogs cannot ride cargo), and special requirements for different countries, as well as for Hawaii, a rabies-free state, which can take up to 6 months to clear quarantine."
They also advise to do thorough research on which airlines to travel with, as not all airlines have the same track-record for safely transporting pets in the cargo department or even on rare occasion, in the cabin. Preparing by doing this will guarantee peace of mind on your flight. If your pet is feeling uneasy flying, put a shirt that you've been wearing for a day or two with your four-legged friend for comfort; they will feel immediately at ease.
Avoid using calming pills or tranquilizers if possible, they tend to increase the chances of your pet getting off the plane being dehydrated and overheated, a risky situation if not remedied fast. Make sure to bring a water bottle and a portable bowl for your dog – this will make your traveling buddy a happy camper (um, flyer). We especially love the 3-in-1 water bottle from DOOG. Available in blue or red, this innovative water bottle features an ingeniously designed water bottle and dog bowl in one. A wrap with water-proof lining around the bottle keeps the contents cool. Unwrap the insulated neoprene wrap and it can be quickly converted into a bowl by simply snapping the corners together.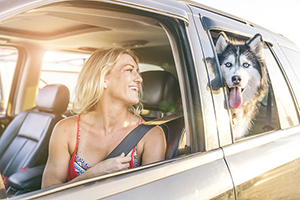 By Train
For those traveling by train, NYC rescue dogs Boogie and Marcelo and their mom, Candy Pilar Godoy, reminds us, "Be aware of pet rules before booking your tickets, and print out a copy or have a screenshot on your phone. Different companies have different rules, so never assume train regulations." The two furry adventurers and their explorer mom have a pet travel blog (www.boogiethepug.com) where they share their countless travel adventures.
Traveling with your four-legged friend is a lot of fun but finding dog-friendly places suitable for them can often be a challenge, especially when you are not local. That's why we love the BarkHappy phone app (www.barkhappy.com), available for both IOS and Android, this intuitive app is your best friend when it comes to finding dog-friendly places. Creator and founder Ninis Samuel tells us, "Our dog friendly map is full of information you can't find anywhere else. We tell you for example if a restaurant has water bowls, treats, covered seating. For hotels we tell you the pet policy (which for many is very hard to find) or where the closest vet or dog park is. It really makes it easy to plan your travel with your dog in mind. But it also uniquely combines this with ways to make friends (for you and Fido or Fifi to share) and find activities like events you can go to together."
So whether traveling by plane, train or automobile this Summer, remember the most enjoyable journey with your four-legged friend will be the one that keeps them cool, comfortable and most of all, safe.