Beth Stern and Olive
"Giving humans another chance"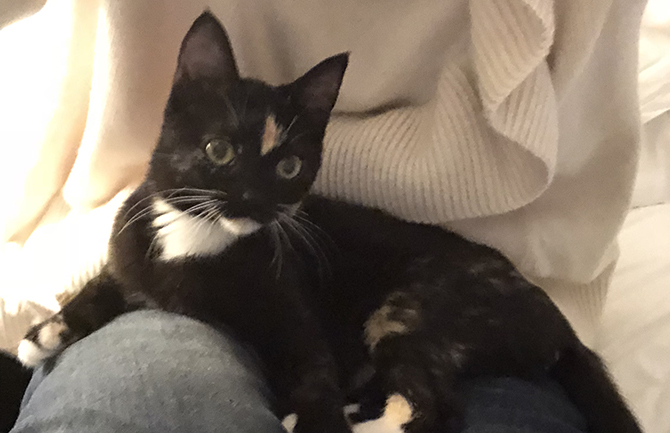 By Beth Stern
Through her work with North Shore Animal League America, Beth Stern has fostered more than 600 cats and kittens during the past five years. She and husband Howard Stern (famous television and radio personality) will never forget a special little one named Olive.
When Olive's story popped up on Howard's news feed in February, he immediately called me. "We have to get her," he said. And as I read about the awful abuse inflicted on this beautiful Tortico kitten, I knew he was right. In fact, I felt physically ill. Only a monster could do this. I knew I had to help her.
Olive was only three months old when she wandered into the wrong apartment in Fontana, California. She was probably just looking for food and attention. What she found instead was a nightmare.
The man who lived in that apartment picked her up and stuffed her into a freezer. After a while, he pulled her out, squeezed her until she screamed in pain, and threw her off a second-story balcony, like garbage. He was "upset" that this helpless kitten had walked into his apartment. He wanted to "punish" her — and he did all of this in front of his own children. He was later arrested and charged with animal cruelty.
I contacted my colleagues at North Shore Animal League America who learned where Olive — as her wonderful West Coast rescuers had named her — was being cared for. Before I knew it, I was on a plane heading west to scoop her up and bring her to New York.
When I met her, Olive was recovering from a fractured leg and surgery for major injuries to her chest. But she was alive, thank goodness, totally sweet, and ready for a miracle. Although her story is dramatic, she shares one important trait with all of my feline fosters: resilience.
Olive and I spent our first night together at the beautiful, pet-friendly Four Seasons Hotel, in Beverly Hills, where she immediately made herself at home. I was so touched by her sweetness and willingness to give us humans another chance. I realized that she'd survived because she possesses a powerful, forgiving spirit — and also because of the swift actions of several local heroes, including the Fontana California Police Department, Fontana's mayor, and a compassionate veterinary team. I'm so grateful to all of them.
Olive traveled to New York like a champ, and during the next six weeks she continued to heal, make friends with our other fosters, play like a little fiend — she is such a jokester! — and endear herself to all my Instagram followers.
I can't even estimate how many hours I spent gazing into her magical eyes and marveling at her love of life. At one point I decided she was the most interesting kitten in the world.
As I reviewed Olive's adoption applications with my colleagues at Animal League America, I reminded myself of all this feisty little girl had endured and how valuable her life truly is. I was thrilled to deliver this perfect kitten to her perfect home on April 21.
It's truly inspiring to work with Animal League America and others across the country to rescue and nurture these plucky little beings and, when they're ready to fly, to find them responsible, loving homes.
As a foster parent, you quickly learn that there is always another cat or kitten who needs you. But you also learn that you need them, too. Each one has something unique to add to your life. As I wrote on Instagram, Olive is a true survivor. We should all learn from her. I know I did.
Thank you, Olive, for allowing me to be a part of your journey. I'll love you forever. Xo Beth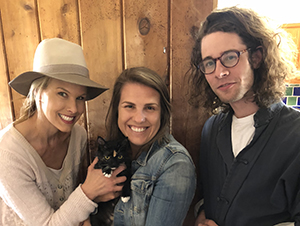 Beth, Olive & Her Adopters
Home at last!
• To read more about Beth Stern and her foster "nuggets," go to Instagram @bethostern.
• To follow Olive's fairy tale future, go to Instagram @olive_bythesea.
• To learn more about North Shore Animal League America, visit animalleague.org.