A (Literal) Ankle-Biter Finds a Loving Home
Lin Manuel Miranda and Tobillo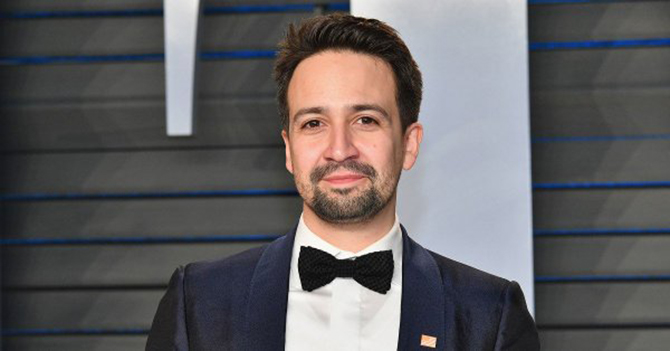 By Adrianne Frost and Lori Zelenko
If you don't know who Lin Manuel Miranda is, you must have been living in a cave for the last few years. Or, as in the case of his rescue dog, Tobillo (Tobi for short), living on the beaches of the Dominican Republic. Miranda and his wife were on the beach, relaxing on vacation, when a special little sato came barking.
Lin Manuel's family wasn't looking for a new family member. "Tobillo found us." He says. "She was a beach dog, an abused, half starved four-pound puppy. We were on the beach, she jumped into my wife's beach chair, nibbled her ankle and we've been with her ever since. The whole week we were there was extraordinary, we never anticipated we'd come back with something so special. My wife was a cat person. I was always a dog person. But from the moment Tobillo (Spanish for ankle) came into our lives she has made a contribution that we treasure. In fact, you could say she is my closest confidante. She is seven now and the most popular member of my family – neck and neck with my wife."
Lin Manuel admits Tobillo isn't necessarily impressed with his numerous Tonys and immeasurable talent. We should all be so lucky to have him compose for us. "Although it's true there is not a bone of music in her body, I confess I think she is indifferent to my music, it just doesn't phase her - except when it comes to her own private melody – I whistle and she comes, but I'd never do this where anyone could learn her tune and kidnap her."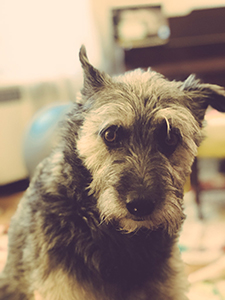 From sun and sand to city streets. Lin Manuel raves, "It's great to be a dog person in New York. It's a secret world. It becomes a whole other life, long walks, trips to the dog park... I have lifelong friends I have met through my dog." But the extended family isn't just human. "Tobi has friends too. We go for hours in the Heights (Washington Heights where we live now). It gets my mind going when I am out with Tobi, I sing, work on lyrics, her ears perk up with certain notes but overall my words, music, nothing phases her." The city brings out her guarding instincts. He recalls "We had a narrow escape at Easter. Tobi thought she was doing us a favor protecting us from a strange green bird. But the bird was unharmed and Tobi chastened."
"In the mornings now, it's different." He says, talking about how as family grows, so does your pet. "I am the one up early at 6 or 7 am, making breakfast for everyone. It used to be me and Tobi out the door for a walk now Tobi sleeps in, snuggled in bed with my wife and our newborn." And, like most people, "Tobi has mellowed with age. She covers my son and the baby in kisses, she is so understanding with my toddler who doesn't know the difference between a soft pet and a hard pet."
This lucky dog has also rubbed tails with Hollywood royalty. "Tobi is the unofficial mascot of Mary Poppins Returns," he says, referring to the film coming out Christmas day, "she came on set with me, she met Meryl Streep." While on set, Miranda put Tobi in front of a green screen and invited fans to play with the picture. "That's the beauty of the Internet, you can have fun with it."
Even though she's travelled the world and lives in the big city, this blessed pup hasn't forgotten her roots. Her proud daddy says, "Tobi's favorite thing is chasing waves, she will spend hours doing this. She will spend hours dodging the tide and never get swept in, after all she is a beach dog. The beach is her default happy place."
We're pretty sure anywhere she's with Lin Manuel Miranda is her happy place, too.