WIZSMART THE PERFECT PEE PAD
ECO-FRIENDLY AND SUPER-ABSORBENT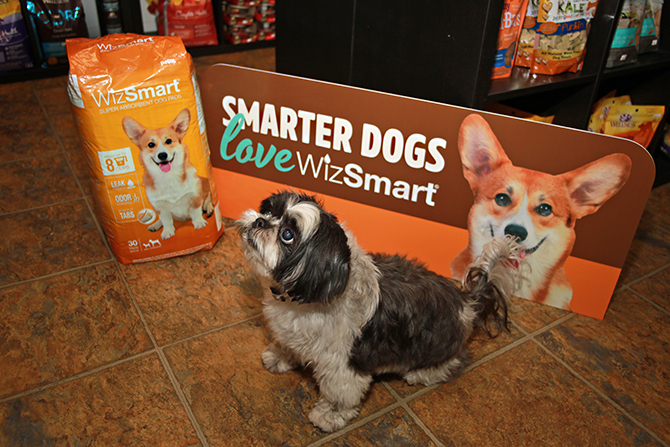 By Lori Simmons Zelenko
ABSORBING ALL
It doesn't matter how long I walk Bikini, my Pekingese. It could be around the block or over to Central Park. When we come home, he makes a beeline for his pee pad on his favorite corner of the apartment. And then he soaks it. And then it soaks through. But that's all changed now since I discovered WizSmart super-absorbent dog pads. What's great about them? They dry quickly, so no messy tracking. They don't leak, so forget spills and smells. They stay put with adhesive tabs, and thanks to their one-of-kind attractant formula, my dogs (actually two, Bikini's companion is Annabelle, my ShihTzu who is a senior too, both are about ten years old) can always find their pad.
SNOW, SLEET, OR RAIN – WIZSMART HELPS
WizSmart pads work exceptionally well when I'm out and can't get back on time for an afternoon walk. Or when the weather is bad and my two are stuck in the apartment while it's snowing, sleeting, or even just raining, Annabelle refuses to walk in the rain – she won't even go out the front door of the building if she can help it. However, when she's inside she makes using the pee pad a performance, sniffing, circling, and pawing so the fact that WizSmart has adhesive strips is truly helpful.
DOCTOR ON CALL
Dr. Jeffrey Levy, DVM, CVA (Certified Veterinary Acupuncturist) is a veterinarian with a 100% house call practice. Dr. Levy, known as House Call Vet NYC, observes "In my practice, I see many uses for pee pads. They are a good solution until a puppy is fully vaccinated at 16 weeks and for senior pets, particularly adult dogs, extra absorbency is a plus. As an acupuncturist I often treat cases of urinary continence, and pads are helpful while a dog is regaining bladder control.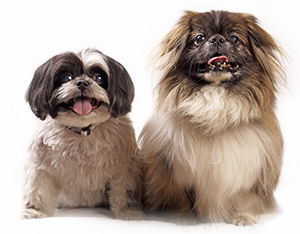 Bikini and Annabelle the author's
pets and fans of WIZSMART. ©petphotographyny.com
PUPPY LOVE
"Of course, as a pet parent, I've recommended WizSmart to other pet parents as well, even those with frisky puppies. They're loving WizSmart too. Especially for the boy dogs like my Bikini (yes, I know Bikini is a little unexpected for a boy, but I rescued him and kept his original name.) What's great about these pads is their four patented stay put adhesive tabs that make sure the pad stays put, even halfway up the wall on a 90-degree angle. Now Bikini has a pee pad solution that he can actually use when naturally lifting his leg.
It's terrific that one WizSmart pad is good for up to 24 hours. Economical and practical for sure, but it also helps to reduce the amount of plastic waste and materials that end up in landfills. I love that WizSmart is ecofriendly, the pads are made from over 80 million unused diapers every year. After all, if dogs and cats are our fur babies too what better way to absorb their messes than with diapers? Though I am not a cat owner, I do hear of cats using pee pads when they miss their litter box.
A BETTER PEE PAD
WizSmart is from Petix, a family-owned company that began 10 years ago in Brazil. The pads were created by pet parents who were frustrated by dog pads that did a lousy job absorbing liquids and leaked or smelled. So rather than settle, they built a better pad, one that works for everyone—city dwellers, busy families who work long hours, breeders, parents who are puppy training, dogs confined to indoor spaces, older dogs with incontinence, and more. They're the top pad in Brazil and new to the USA. They're my new discovery and as a pet parent to two dogs, I have become a dedicated fan and certified member of the WizSmart pack.
For where to buy WizSmart dog pads check out petixco.com/retail-stores. Make a purchase before 3/31/18 and Petix will donate $1.00 to the Mayor's Alliance for NYC's Animals for every package sold.