JOHN O'HURLEY LIFE LESSONS LEARNED FROM DOGS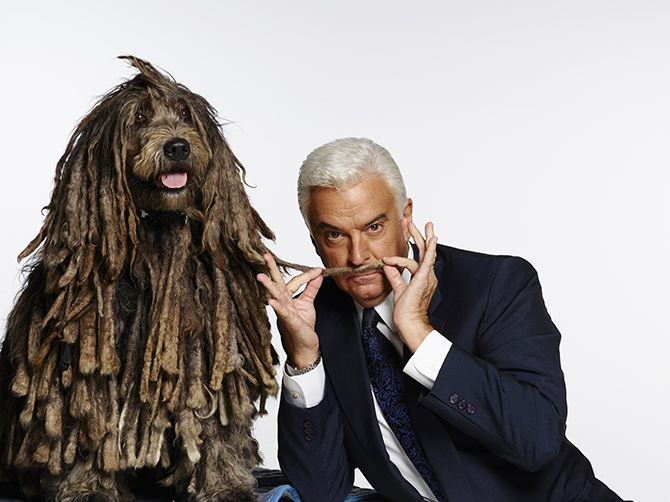 John O'Hurley
By Jaclyn Waller
We all fell in love with John O'Hurley for his roles as J. Peterman, Elaine's unconventional boss, on Seinfeld, and for the last 16 years, we have watched him host The National Dog Show every Thanksgiving Day. We tune in like clockwork to see our favorite breeds strut their stuff, and with equal enthusiasm, we tune in for John's commentary. Famously funny, no one is better to host such an iconic family event than he is. In fact, there was no other host in mind for the job. He recalls never searching for the opportunity, but rather the opportunity coming to him. It was in the form of a phone call between John O'Hurley and Jon Miller, the NBC head of sports programming, which got Purina and The Kennel Club of Philadelphia on board. The National Dog Show hosted by John O'Hurley was the perfect fit to follow the Macy's Thanksgiving Day Parade. With almost 200 different breeds participating, and 30 million viewers watching, not many events are as iconic.
A PASSION FOR DOGS
From years of experience rooted in a passion for dogs, John O'Hurley has come to be a reliable source of information and a voice for animals. Through his platforms, John is actively promoting healthy pets. He shares tips for dog owners, expressing great emphasis on avoiding such issues as dehydration and obesity. He also advocates making time for play and attention. With dogs of his own, there doesn't seem to be a time when he isn't surrounded by loveable canines. This has always been true, noting that John grew up around dogs, and is actively building a similar upbringing for his son, William. Let's not forget that John is also a best selling author, inviting us to indulge in a selection of playful and mischievous doggy literature. Employing his notorious humor, John serves up life lessons learned from none other than, dogs!
PET SHOPPE
It is no wonder John is so knowledgeable about dogs. After all, The National Dog Show features thousands of them every year! So naturally, it was the perfect fit for him to join evine in presenting Pet Shoppe. With an emphasis on fun, Pet Shoppe offers smart and affordable products for pets, as well as their owners. Some particularly notable items would have to be the LED Dog Leash for those late night walks and even Balcony Dog Houses! Of course, in true John O'Hurley fashion, each show presents us with a feature breed. It is a goal of John's to offer the best products and advice tailored to specific breeds, and even tailored to our feline friends! So, with exciting products like these, a live showcase of diverse pups, and a passionate host, it is no wonder the program is so well received with new viewers every segment.
MAN'S BEST FRIEND
When it comes to dogs, few are more familiar than John O'Hurley. Whether he's taking us backstage at The National Dog Show or shopping with us on evine, he shares with us remarkable knowledge accompanied by a remarkable passion. The love he has for dogs is contagious and ought to be. He advocates for the best quality care and upmost appreciation for our furry friends as we "are the most important thing to them". There is a reason why dogs are man's best friend, after all.