KRISTIN CHENOWETH AND THUNDER ADVENTURING TOGETHER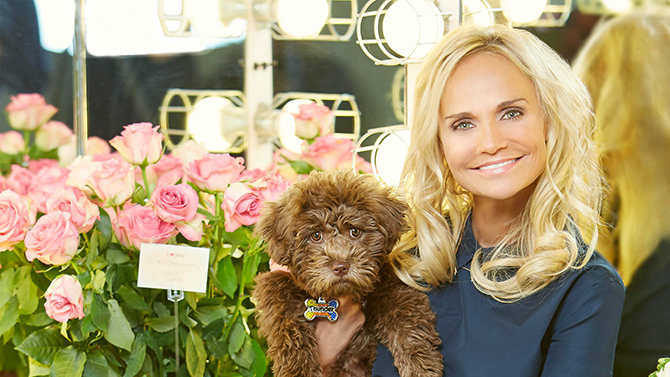 Kristin Chenoweth with her dog Thunder
By Jaclyn Waller
Leading a busy life as a Broadway and film star, Kristin Chenoweth has found solace in her rescue dog, Thunder. As a Remember Me Thursday ambassador, Kristin is using her platform to give a voice to the voiceless.
LIFE WITH THUNDER
With her award-winning voice, Kristin Chenoweth has graced the Broadway stage delightfully charming her way into our hearts; she's been a hit too in Hollywood, with popular roles in movies, and TV ("Pushing Daisies".) But her star turns as Glinda the Good Witch in Wicked, and Sally Brown in You're A Good Man, Charlie Brown have made Broadway magic.
But she uses her voice not to just to entertain but to inform. She speaks for animals in need through her work with Remember Me Thursday, an organization dedicated to bringing shelter pets together with forever homes. Kristin recently adopted her adorable pup, Thunder, and now, they are inseparable. She describes Thunder as the ideal travel companion, "She is perfect. She just lays there in my arms." We can always expect to see adorable Thunder updates on Instagram; the video of her chasing her own tail is a hit! Kristin says, "I don't think I can imagine a world where people don't get Thunder updates, whether they want them or not."
RESCUING THUNDER
As a Remember Me Thursday ambassador, Kristin offers this advice on adopting pets from a shelter rather than purchasing from a store, "I understand the temptation because you know, I love to shop and if I walk by a pet store in a mall, it's very heartwarming and sweet, but really, it's not great that we have that. So, there are lots of dogs that need homes, and there's lots of older dogs too…and they just need someone to love 'em." It is true that through adoption, Kristin has changed Thunder's life. In return, Thunder gives her unconditional love and support. Kristin says, "I just can't imagine my life without her. I mean she brings me such happiness. Just last night, I was packing and she was just watching me. I was really not wanting to do it; this whole process of unpacking and packing, and she was just looking at me like 'I'm here.' It's just so lovely to never feel like you're by yourself."
DOGS, A CAT AND A BIRD
Kristin's love for animals goes back to her childhood. She grew up with dogs, a cat, and a bird named Johann Sebastian Bach. But it doesn't stop there; many of her relatives were farmers, allowing her to fall in love with all types of farm animals. So, it's no wonder Kristin is rarely seen without Thunder in tow. Thunder is quite the traveler, noting that she is particularly fond of Cabo San Lucas, the Mexican resort just a quick hop from L.A. Kristin says, "Getting to go in the ocean, and to splash around in the pool whenever she's hot…she's just a Queen bee there." And Thunder's travel essentials? Her expandable bowl, food, and treats! Kristin would love to grow her furry family, however her constantly on the go lifestyle restricts her from doing so. And when she can't bring Thunder along for the trip? She only trusts a handful of friends and her assistant, Seph, to look after the pup.
UNCONDITIONAL LOVE
Kristin describes Thunder as her emotional support animal, and she is exactly that. In return, Kristin spoils her with love and affection. They travel the world together, dipping their toes (and paws!) in the ocean. When they aren't soaking up the sun in Cabo, Kristin finds herself busy with her career. In the face of exhaustion, it is those loving glances from Thunder that console Kristin. After all, "The love that you get from an animal is unconditional." It is this love that has inspired Kristin to work with Remember me Thursday in raising awareness for pet adoptions.
---
Hailing from New England, Jaclyn Waller is a recent college graduate with a BA in Communications from Manhattan's Pace University. Currently a writer, she possesses a strong fashion and arts background as a model, actress, impressionist painter, and former Assistant Lifestyle Editor of Mood of Living.