ELLEN DEGENERES AND HER PACK
Introducing her inspiring new pet collection for PetSmart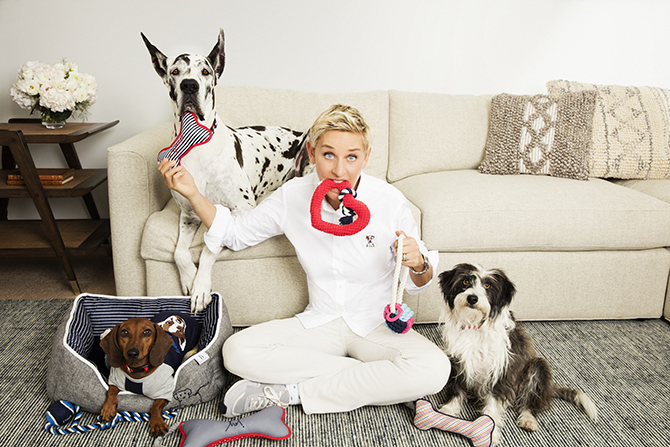 By Jaclyn Waller
With a household full of rescue pets, Ellen DeGeneres is thrilled to collaborate with PetSmart in designing just about everything dog and cat could desire. Through the platform she has built with comedy, she is working with PetSmart to spread the word about the importance of rescuing pets and the joy they bring to pet parents everywhere.
PET PLEASER
Who doesn't love Ellen? One of TV's favorite personalities, Ellen DeGeneres brings messages of happiness and positive energy to all through her show and now through her sophisticated PetSmart collections. Inspired by her own dogs and cats, her pet products include everything from scratching posts to woven beds. With natural colors and classy designs, each quality piece of the collaboration is sure to please each member of our fur families.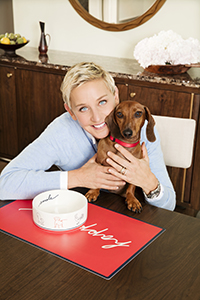 A LOVING HOME
Ellen's love for animals began in childhood and has stayed with her ever since. With trademark humor, she says "I can barely contain how excited I am to be working with PetSmart. My dogs and I have been running in circles for hours." Her dog and cat lines offer stylish pet products with a message. Many of the products feature such words as "love" or phrases like, "take life one toy at a time." Ellen's goal is to send positive energy out into the world and so she does with her collection. A dog's bandana or a cat's toy basket from Ellen's PetSmart collection can be a friendly reminder to smile.
Ellen's work life is hectic but home is where her heart is. With the company of her three dogs and three cats, Ellen and her wife, Portia (actress, Portia de Rossi) have devoted much of their time to rescuing these members of their furry family. Among her animals, is Wolf, a Maltese-Poodle mix, whom Ellen brought from the streets of Mexico into the United States. The neglected pup was being publicly mistreated, so Ellen took action. Her Jack Russel mix, Augie also was in need of special care when adopted from an L.A. shelter. Augie required tender, personalized attention and training. For Ellen, the reward she gets from her fur children, Wolf, Augie, and all of her animals, is simply love, she's proud to see them gain strength and confidence in a nurturing environment.
A GOOD WORKOUT
Keeping up with all of the animals Ellen and Portia have in their life is a joyful task. Each has a unique personality and their own set of quirks. But all enjoy a good workout. Ellen and Portia love to exercise their dogs on long walks, scenic hikes, and even at the barn where Portia rides horses daily, giving their dogs a chance to socialize and burn off excess energy. Their pups are often documented on the couple's Instagram accounts, along with a trove of kitty antics. With a house full of critters, the couple often alludes to their bed being taken over by their four-legged companions. Ellen's dream has always been to fill a home with rescue pets and she is making that dream come true every day.
HAPPY PAWS
As a child, Ellen dreamed of being a vet and she's surrounded herself with animals ever since. Though she's devoted herself to comedy, she's never taken a break from helping animals. Through her TV comedy and her PetSmart collections, she spreads positive messages of love and happiness. Ellen and Portia's animals have become celebrities in their own right, gaining exposure through entertaining snapshots posted to social media. As we follow their lives on Instagram, it's apparent that Ellen's furry family is truly living the good life in their California home.
---
Hailing from New England, Jaclyn Waller is a recent college graduate with a BA in Communications from Manhattan's Pace University. Currently a writer, she possesses a strong fashion and arts background as a model, actress, impressionist painter, and former Assistant Lifestyle Editor of Mood of Living.